Badgers 'Jump Around' Buckeyes at Amsoil Arena to win seventh NCAA title
A freshman, Kirsten Simms, scored the lone goal and a first-year starting goalie, Cami Kronish, got the shutout for Wisconsin against Ohio State
DULUTH — The Minnesota Golden Gophers came to Duluth this week with its super team of Olympians and a past Patty Kazmaier Award winner, hoping to capture its first NCAA title since 2016.
The Ohio State Buckeyes hit the shores of Lake Superior hoping to start a dynasty by winning a second-straight national championship.
Instead, it was the sixth-seeded Wisconsin Badgers bouncing on the ice and in the stands to House of Pain's "Jump Around" on Sunday afternoon following a 1-0 victory over the Buckeyes in the NCAA championship game at Amsoil Arena before a pro-Badgers crowd of 3,940 that made you question what side of the border you were on.
Breaking news, photos, bracket info and more from the 2023 NCAA Women's Frozen Four set for March 17 through 19 at Amsoil Arena in Duluth.
It's Wisconsin's seventh NCAA championship — putting them one up on the Gophers all-time — and third national championship in four tournaments. Mark Johnson has been coach of the Badgers for all seven of them, and this one left him initially struggling to find the right words.
"I'm not sure what to say right now. I'm trying to process what transpired the last couple of hours," said Johnson, whose Badgers were previously 0-2 in NCAA title games in Duluth, falling to Minnesota at Amsoil Arena in 2012 and to the Bulldogs in 2008 at the DECC.
"When they played Jump Around, man, it doesn't get any better than that," Johnson said later in a lengthy press conference. "That was awesome."
The Badgers upset No. 3 Colgate, No. 2 Minnesota and the top overall seed, Ohio State, to reach the NCAA title game, getting an overtime goal from 2022 Olympic silver medalist and freshman defenseman Caroline Harvey in overtime on Friday to end the Gophers' run via a 3-2 overtime win.
On Sunday, the heroes were a third-line freshman center and a goaltender sat and watched others patrol the Badgers crease for four years before taking over as the No. 1 goalie in January.
Ohio State's Amanda Thiele and Wisconsin's Cami Kronish had to fight to be their team's go-to-goaltender, and to get their team to the Frozen Four.
Freshman forward Kirsten Simms, a native of Minnesotan from Plymouth, scored the lone goal 13:28 into the first period while redshirt senior Cam Kronish made 31 saves for the shutout.
"This girl saved us in I don't know how many games this year," Simms said. "We couldn't have done it without her on the back end. We're so happy that she's the one that was in net for us. She stole the game at times for us and saved the day, throughout the whole season. It's not just this game. It's from September on."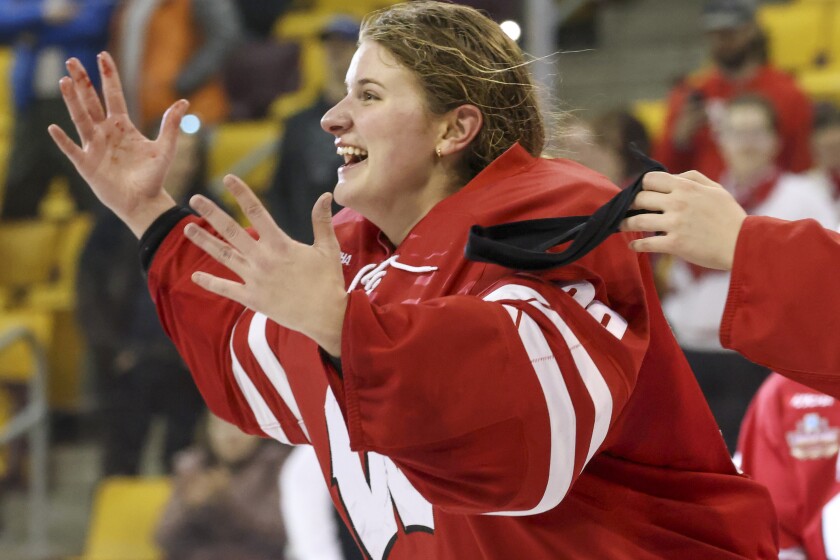 Kronish was named the tournament's most outstanding player after stopping 37 shots on Friday in the Frozen Four semifinals. Like her coach, Kronish struggled to put into words what happened on Sunday.
"This is going to take a few days to process. This doesn't feel like real life," Kronish said. "I cannot believe this is my life right now. I think about the past five years and the people I've played with — like Kristen Campbell, Kennedy Blair, all my golden partners, Bre Blesi — these people that helped make me the goalie that I am today, the person I am today. This is not real life. I'm just so thankful for everyone and everything that's been a part of my journey."
Cami Kronish pitched a 31-save shutout and Wisconsin held off wave after wave of Ohio State attack to seal its seventh national title.
The Buckeyes outshot the Badgers 16-5 in the opening 20 minutes, but still trailed by a goal at the first intermission. Junior goaltender Amanda Thiele made 21 saves for the Buckeyes, who won their first NCAA title in program history a year ago at Penn State with a win over Minnesota Duluth.
The Buckeyes and Badgers met four times during the regular season with Ohio State sweeping a January series in Columbus and taking four out of six points in a series in Madison to close the regular season.
In that last meeting on Feb. 19 in Madison, the Badgers led the Buckeyes 1-0 going into the final five minutes of regulation. OSU scored a trio of goals, including two in the final minute, to beat Wisconsin and clinch the WCHA regular season title on the Badgers' home ice.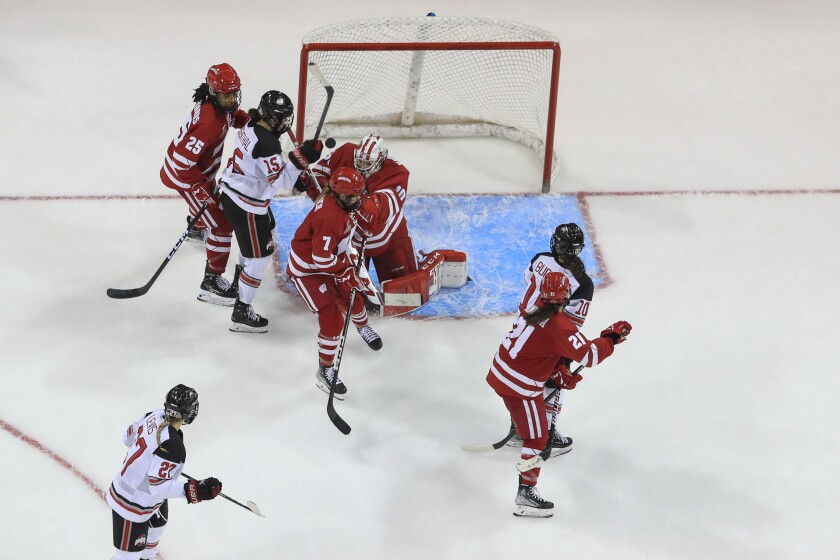 Johnson said he remembered watching the Buckeyes celebrate with the WCHA's Julianne Bye Cup that Sunday afternoon. With four minutes to play Sunday in Duluth, he challenged his team not to let that happen again.
"I pulled out the chalkboard and said, 'Hey, if they pull their goalie, here's what we need to do. Can we can we execute it?'" Johnson said. "We learned from the last time. The lesson, as hard as it was that Sunday afternoon in Madison, watching them take the trophy on our ice, it paid dividends this afternoon.
"I like the trophy we got," said Johnson.