College men's hockey: One-goal NCAA tournament games are all these Bulldogs know
ALLENTOWN, Pa. -- As Minnesota Duluth's NCAA Midwest Regional semifinal game on Saturday reached the midway point of the third period, Bulldogs fans and followers were understandably nervous.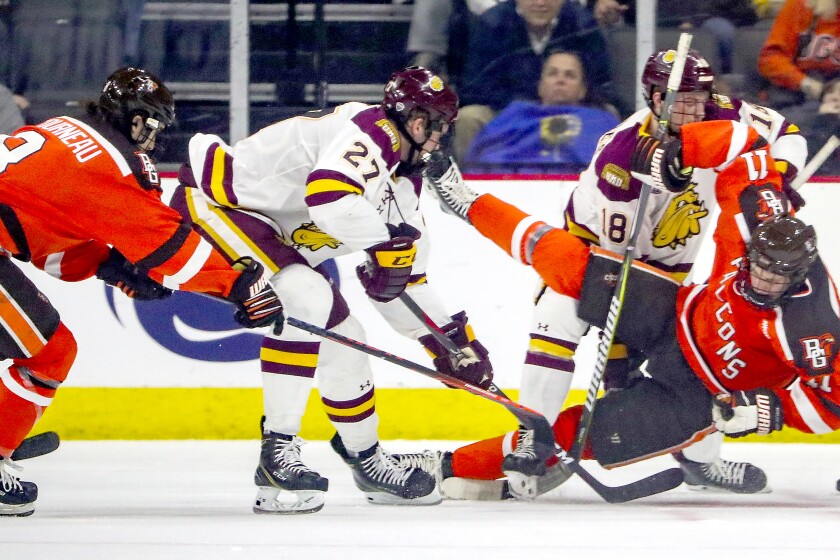 ALLENTOWN, Pa. - As Minnesota Duluth's NCAA Midwest Regional semifinal game on Saturday reached the midway point of the third period, Bulldogs fans and followers were understandably nervous.
Anxiety was likely at an all-time high with the defending national champions, the top seed in the Midwest and second overall seed, trailing by a goal to a Bowling Green team that was seeded fourth in the region, 15th overall and playing its first NCAA tournament game in 29 years.
By the time the night was over, the faithful were reminded that they'd seen this movie before. The characters and script were different, and they built a new set, but the plot was essentially the same. The Bulldogs rallied to win another one-goal NCAA tournament game, this time 2-1 over the Falcons at PPL Center.
The captain, this time played by senior wing Parker Mackay, was of course the hero, scoring both the game-tying and game-winning goals. He was assisted by a newcomer in freshman Cole Koepke as his shots on net allowed UMD to tie the Falcons with 3:01 remaining in the third and win it 11:45 into OT.
"I don't think this group has been fazed by being in a lot of tight games. I can probably say that for the last few years," said Sandelin, who improved to 9-0 as coach of the Bulldogs in first-round NCAA tournament games. The program is 10-0 in the first round since the tournament went to a regional format in 1987-88. "These guys are used to being in close games and when your captain steps up and does what he does, that tells it all."
Saturday was the Bulldogs' 12th consecutive NCAA tournament game to be decided by a single goal going back to a 3-2 loss to Boston University in the 2015 NCAA Midwest Regional in Manchester, N.H.
UMD has won nine of those 12 consecutive games. The last four have all had 2-1 scorelines in favor of UMD while Saturday was also the fifth game in this stretch to go to overtime.
And yes, the Bulldogs have won all five of those overtime contests. In fact, UMD has won eight straight overtime NCAA tournament games and nine of 11 all-time.
"It's obviously exciting when you can get into these types of big games. I'm sure for the fans and for our parents, it's probably not as fun," Mackay said. "We kind of calm ourselves down when we get into these situations. It doesn't matter who steps up, as long as somebody is doing it. We're fortunate enough to be on the right side of those games for quite a bit of them in the last four years here."
Bowling Green coach Chris Bergeron, whose team was 181 seconds away from its first NCAA tournament win since 1988, expressed his curiosity after Saturday's game about how much NCAA tournament hockey the Bulldogs' senior class has played during its time.
Senior wing Billy Exell has played in nine NCAA tournament games over the last three seasons, the same for junior wing Riley Tufte and junior defenseman Nick Wolff.
Mackay leads the way having just completed his 11th career NCAA tournament game - all during the Bulldogs' current run of 12 one-goal games.
These Bulldogs literally know nothing else this time of year and fans should expect a similar story on Sunday when they take on Quinnipiac (26-9-2), a 2-1 winner over Arizona State, in the NCAA Midwest Regional final at 5:30 p.m. at PPL Center.
"Their experience made them very difficult to play," Bergeron said of UMD. "Unfortunately, as the boys said, we were three minutes away from finishing the game the way we wanted to finish it, but their experience, their players, made it very difficult for us."
Matt's Three Stars
3. UMD junior goaltender Hunter Shepard: The Cohasset native finished with 30 saves, including two huge ones in overtime. He stopped a solo breakaway by Bowling Green and a good wraparound attempt as well.
2. UMD freshman wing Cole Koepke: The Hermantown native assisted on both Bulldogs goals, putting pucks on net that his captain could score with.
1. UMD senior wing Parker Mackay: Like the man who wore the 'C' before him - Karson Kuhlman - Mackay has elevated his game for the NCAA tournament, scoring the game-tying and game-winning goals on Saturday.