College men's hockey: Bulldogs contrasting captains are more similar than they seem
The outspoken Nick Wolff and soft-spoken Hunter Shepard will wear the 'C' for the first time at 7:07 p.m. Saturday in an exhibition against Alberta at Amsoil Arena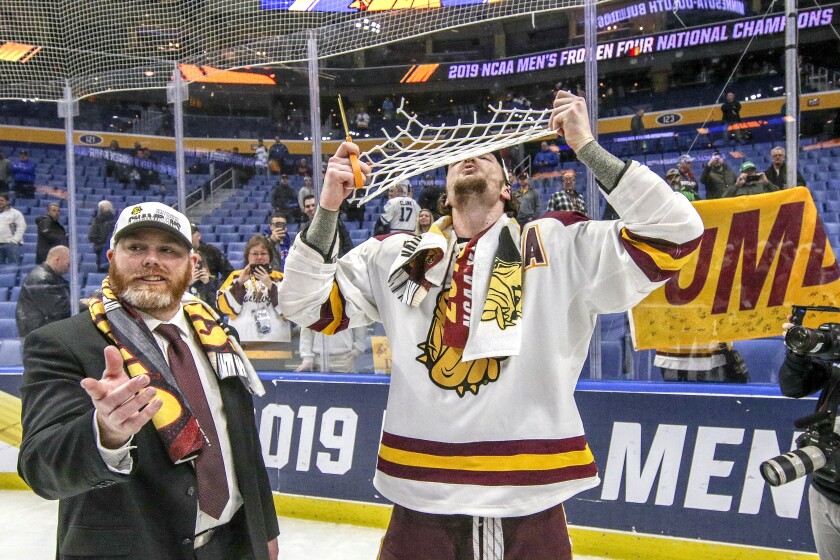 Much has been made about how contrasting Minnesota Duluth's co-captains are this season as the program chases a third-consecutive NCAA title.
Hunter Shepard, a 23-year-old senior goaltender from Cohasset, is described as the mature, humble, soft-spoken one while Wolff, a 23-year-old senior defenseman from Eagan, is the vocal, hard-hitting goofball.
"They're awesome because they're completely opposite," Bulldogs coach Scott Sandelin said. "Those guys balance each other out."
For all their differences, Shepard and Wolff's teammates actually see a lot of similarities between the two men who will wear the 'C' this season, starting at 7:07 p.m. Saturday in an exhibition against Alberta at Amsoil Arena in Duluth.
Not only do both lead by example, they're both loud in their own unique ways, according to senior forward Jade Miller.
"Shep may be quiet around you in person but the way he plays, he plays pretty loudly," Miller said. "Wolff is a good, good vocal leader and he leads by example. The way he plays guys definitely follow after that. You see Shep battling the way does game in and game out, you want to play for a guy like him and make sure you're battling your butts off for those two guys for sure."
Wolff is entering his fourth season on the Bulldogs' blue line, having been a regular in the lineup since his freshmen year in 2016-17 when UMD made the first of what is now three-consecutive trips to the NCAA championship game, with the last two resulting in national championship victories.
While Wolff did serve as an alternate captain a year ago as a junior, he might seem like an odd choice to be the guy wearing the 'C' after leading the Bulldogs in penalty minutes each of the previous two seasons.
After all, your captain needs to be the one talking to the officials defending the teammate in the penalty box, not the guy in the box being defended.
Wolff took 25 penalties for 80 minutes a year ago, but more than half of those minutes came from a series of three calls in the first 14 games of last season. He was given a 10-minute misconduct for arguing his own kneeing minor at Notre Dame on Oct. 26 and then received a five-minute major and game misconduct in back-to-back home games against North Dakota on Nov. 30-Dec. 1. The first night he was in a scrum and called for facemasking. The next night he was ejected for contact to the head.
Despite opponents' best efforts, Wolff didn't take another major penalty — which would have resulted in a suspension — after that heated series with North Dakota. He took just 14 minors for 28 total minutes over the final 28 games.
Wolff said he didn't change his style of play after the series with North Dakota, he was just smarter about how he played his aggressive and social style of hockey.
"Nick Wolff is Nick Wolff," said Nick Wolff. "I'm still going to be goofy and still going to be that weird guy who's always cracking jokes. I'm not going to change too much.
"I'm still hitting everything. The game of hockey has changed so much. You can't just go blow kids up. I'm 6-4 and the guys are 5-9. I'm going to get a penalty. That doesn't change my mindset. I'm still going to try and bring a big hit and get the guys going, change the momentum of the game. Anything I can do to help the guys out, I'm going to do, but I don't think my mentality has changed at all. I'm just going to play the way I play, and keep doing it."
If Wolff being named captain didn't raise any eyebrows, Shepard did. He's the first goaltender to wear a 'C' under Sandelin and the first goalie at UMD to do so since Rick Heinz in 1976-77.
But after what Shepard has accomplished the previous two seasons, how can teammates not look up to the guy, Wolff said.
"When he talks people listen and we really respect what he says," Wolff said. "He's the biggest leader on our team. He's the cement block behind everybody."
After playing just two games as a freshmen behind Hunter Miska, Shepard has started 81 consecutive games over the past two seasons. During that run, he's posted a .926 save percentage and 1.79 goals against average.
In the NCAA tournament, Shepard is a perfect 8-0 in his college career with a .954 save percentage and 0.97 GAA.
"He's the backbone of our team," Sandelin said. "He's one of our hardest workers, one of our fiercest competitors. To me that says a lot. The hard part for guys is they don't recognize goalies as wearing a letter, and I think that's understandable. If there is one guy in our room that has the utmost respect of his teammates, it's that one."
Like Wolff, Shepard said he doesn't plan to change now that he's a captain. And he doesn't want Wolff to change who he is, either. That philosophy comes from watching the Bulldogs' last two captains, Karson Kuhlman and Parker Mackay. They were both leaders before wearing the 'C' and were successful as captains because they didn't change who they were with that letter on their chest.
So When something needs to be said this season, Shepard said he's going to let Wolff do the talking.
For the most part.
"I'm not a super vocal guy, but I'm going to put in the time and do whatever I can to help the team win," Shepard said. "When something needs to be said, I think I have the respect of the guys in the locker room and they are gonna listen. Last year, there were a lot of times I probably could have said something, but I saved it for the right times. When we really need to get guys attention, I'll say things.
"I'm not going to change what I've done and what has worked."