Thumbs Up, Thumbs Down, Three Stars: Giguere comes to rescue of UMD women, Bulldogs men stuck in Splitsville
Elizabeth Giguere's game-winning overtime goal on Sunday against Minnesota State kept the UMD women's season rolling along, while the Bulldogs men are unable to finish a sweep at Miami.
DULUTH — It was a rollercoaster of a weekend for both Bulldogs hockey programs.
The Minnesota Duluth women survived a best-of-three WCHA quarterfinal series with Minnesota State to advance to the WCHA Frozen Faceoff, getting an overtime goal from fifth-year senior Elizabeth Giguere to win Game 3 in overtime and clinch the series.
The UMD men, meanwhile, settled for another split in NCHC play via a 3-1 win and 4-0 loss at last-place Miami over the weekend.
Here's a look back at last weekend's UMD hockey action via the Thumbs Up, Thumbs Down and Three Stars by hockey reporter Matt Wellens, plus what's to come this weekend.
Fifth-year senior Elizabeth Giguere scored the overtime game-winner on Sunday to give the Bulldogs a 3-2 win over Minnesota State. UMD now advances to play at Minnesota in the WCHA semifinals.
Thumbs up to Elizabeth Giguere
Knowing that senior defenseman and captain Ashton Bell — the hero of last season's NCAA quarterfinal OT win over Colgate — would be centralized with Canada this season for the 2022 Olympics, the Bulldogs decided to go out and get a game-changer in women's hockey in Elizabeth Giguere.
A national champion, three-time All-American and Patty Kazmaier Memorial Award winner, Giguere was brought in to help the Bulldogs win big games at this time of the year, and she came through Sunday when UMD's season was in serious danger of not reaching the month of March.
Giguere scored 2:30 into overtime with a fabulous dangle to beat Minnesota State 3-2 in overtime, recording her team-leading 20th goal and team-best 55th point of her fifth-year senior season.
"Good things happen when the puck is on Giguere's stick in OT like that," Bulldogs coach Maura Crowell said Sunday. "Credit to her for making that play and credit to everybody for just sticking with it and getting through a tough weekend. Now we move onto Minneapolis next weekend."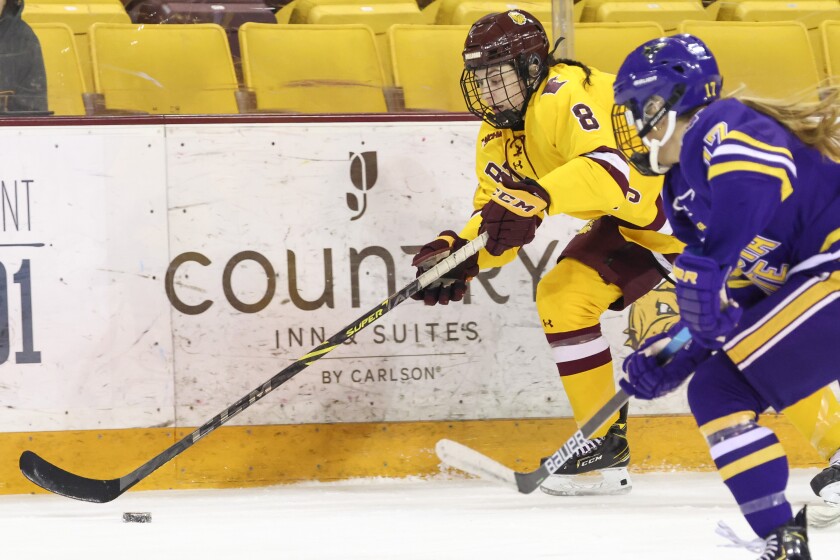 Giguere's goal likely puts the Bulldogs in Minneapolis for the next two weekends.
The Bulldogs will play WCHA regular season champion Minnesota at 1 p.m. Saturday in the first of two WCHA semifinals at the Final Faceoff. The winners meet either Wisconsin or Ohio State in the WCHA Championship at 1 p.m. on Sunday.
Win two, one or no games this weekend, UMD appears to be a lock for back-to-back NCAA tournament berths at No. 8 in the Pairwise rankings . The Bulldogs shouldn't slip any lower with No. 9 Harvard — the ECAC regular season champion — and No. 10 Clarkson both out of the ECAC tournament.
It's also seems unlikely that UMD will be able to jump the three ECAC teams ahead of it — No. 5 Colgate, No. 6 Quinnipiac and No. 7 Yale — with all three in the league semifinals. That means the Bulldogs, as either a No. 2 or No. 3 seed, will be sent to the regional closest to home, and that's Minnesota's at Ridder Arena.
Ridder is an arena the Bulldogs are very comfortable in. Some of the Minnesotans at UMD have even called it a second home, having played there in their youth, not to mention how many friends and family make the trip.
Even Giguere has a history at Ridder. It's where she won that national championship with Clarkson back in 2018.
"We talk about having a lot of belief in our in our room. That's a character when that we just got," Crowell said Sunday. "We talk about it all the time. We find different ways to win and it's not ever easy, especially in the playoffs. But when we stick together and stick to our game plan, good things tend to happen. So that's what we did today. And that's what we'll continue to do."
Thumbs down to Splitsville
Three months have now passed since the Bulldogs men's hockey team won back-to-back games.
The last time it happened was Thanksgiving weekend at Amsoil Arena when UMD beat Alaska 5-1 on Black Friday and then needed overtime to beat the Nanooks on Saturday, 1-0. That was also the last time the Bulldogs swept a series. UMD was 10-3-1 when November closed, having also swept Bemidji State and Minnesota back in October.
Over the last three months of December, January and February, the Bulldogs have gone 6-11-3. They've followed their six wins with five losses and a tie. UMD has yet to sweep an NCHC series going into the final weekend of the regular season — a home series with St. Cloud State at Amsoil Arena — and while the schedule has been a grind in February with makeup games scheduled for Tuesdays prior to road trips, fifth-year senior Kobe Roth said that's not a valid excuse for what's transpired.
"Obviously it's been a problem all year," Roth said Saturday. "This point of the year it is just unacceptable, to be honest. I wish I had an answer for it so we could solve this problem, but you got to keep going, keep working. We have a couple games left here. We got to try and move past it and keep going."
Four of the Bulldogs' six wins over the last three months have come on Fridays, setting them up for a possible NCHC series sweep. UMD has gone 0-3-1 with a chance to sweep on Saturdays in the second half, and is 0-4-2 overall this season with a shot at sweeping an NCHC series.
Scott Sandelin vented Saturday about his team's inability to get points on Saturdays in NCHC play this season following wins on Friday. He admitted you can't win them all, but the 15 points the Bulldogs have left on the board is why they are just two points ahead of the Huskies in the battle for home ice in the NCHC quarterfinals instead of being two points back of North Dakota in the chase for the Penrose Cup.
"We've done it all too much this year where we come out hot on Friday and lay an egg on Saturday — whether it's our energy or our execution," UMD senior captain Noah Cates said Saturday. "Saturday is always harder. We preach that, but I think when we come out and teams come out a little harder than they were on Friday, it kind of shocks us a little bit. We've seen it all too much this year. Obviously only one regular season weekend left and then its the playoffs. We need to be ready for Saturday because they're such big games."
3. Miami sophomore goaltender Ludvig Persson — The undrafted Swedish netminder stopped 49 of the 52 shots he saw Friday against UMD and all 44 shots he saw Saturday for Miami's first shutout since Dec. 17, 2020.
2. UMD redshirt senior Naomi Rogge — It took her five seasons, but Rogge finally got a hat trick in college and it came at the right time, rallying the Bulldogs to a win in Game 2 against Minnesota State.
1. UMD fifth-year senior Elizabeth Giguere — The former Clarkson Golden Knight kept the Bulldogs' season rolling along with the game-winning OT goal on Sunday. She posted two goals and two assists in the series.
The Bulldogs men close the regular season against St. Cloud State at 7:30 p.m. Friday and 7:07 p.m. Saturday at Amsoil Arena, with the team's 14 seniors being honored after Saturday's game.
The UMD women are in the WCHA Final Faceoff at Ridder Arena in Minneapolis taking on Minnesota at 1 p.m. Saturday. The winner gets Ohio State or Wisconsin at 1 p.m. on Sunday. The NCAA tournament bracket will be announced at 8 p.m. on Sunday night.