Steeves off to hot, historic scoring start for Bulldogs
Minnesota Duluth freshman wing Ben Steeves has six goals in his first 10 games as a Bulldog, the most goals by a UMD rookie since J.T. Brown had five in his first 10 games of the 2010-11 NCAA championship run.
We are part of The Trust Project.
DULUTH — With six goals in his first 10 games at Minnesota Duluth, freshman wing Ben Steeves is off to the fastest start for a UMD freshman in over two decades.
Steeve's six goals lead the Bulldogs heading into this weekend's NCHC series at Western Michigan. It's the most goals for a UMD freshman to start the year since J.T. Brown scored five in his first 10 games at UMD, en route to finishing with 16 goals during the 2011 national championship run.
Brown's 16 goals in 2010-11 are tied with Austin Farley — 16 in 2012-13 — for the most goals by a Bulldogs freshman in 24 years.
"It feels really good," Steeves said on Saturday after scoring twice in the 3-2 overtime win against Omaha at Amsoil Arena. "Common theme is getting to the net, and that's my mentality. I don't want to change that. I always want to be shooting pucks. Usually that's been working for me, shooting pucks."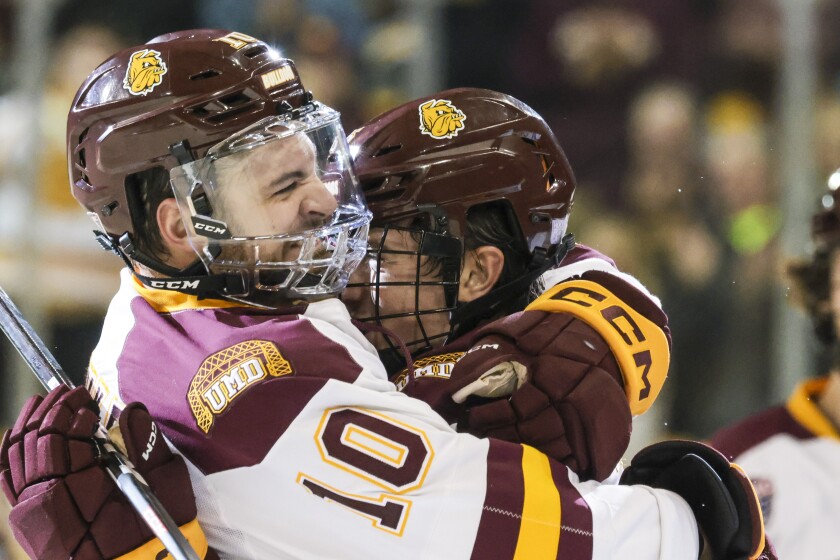 Steeves — a native of Bedford, New Hampshire who played his senior year of high school hockey at Eden Prairie — came to UMD this fall with a reputation as a goal scorer in the USHL. His 39 goals during the 2021-22 regular season were tied for most in the league. He also tallied six goals during the Sioux City Musketeers' run to the Clark Cup title.
The Bulldogs were looking for its freshmen class to produce offensively this year after averaging 2.6 goals per game last season. That was tied with Miami for sixth in the NCHC, just ahead of last-place Colorado College, which averaged 2.2.
UMD hasn't had a ton of offensive production from its freshmen classes the past few years with Dominic James scoring six goals in 39 games a year ago and Quinn Olson posting seven in 2019-20.
The last freshmen class to really light the lamp for UMD was from the 2018-19 national championship team when Noah (9) and Jackson (8) Cates, Cole Koepke (7), Tanner Laderoute (7) and Jesse Jacques (1) combined for 32 goals.
The last two UMD freshmen to hit double-digit goals were Scott Perunovich (11) in 2017-18 and Joey Anderson (12) in 2016-17.
The most goals for a UMD freshman in a single season is 32 by Brett Hull in 1984-85. Steeves is currently on pace for 19 goals by the end of the regular season — 25 if UMD reaches the Frozen Four like Hull's Bulldogs did that year — so he's nowhere close to threatening Hull's record at the moment.
A 20-goal season for Steeves would be the most goals by a Bulldog since Adam Johnson scored 18 and Alex Iafallo had 21 back in 2016-17, when UMD reached the NCAA title game in Chicago.
"He's a very talented player. His shot is lethal," Olson said Saturday. "He shoots it when he can. He's playing the right way all over the ice and he's getting rewarded. Good for him."
Steeve's six goals have him tied atop the NCHC for goals by a freshman, and tied for fourth nationally among rookies.
Bulldogs coach Scott Sandelin cited two things on Saturday that have stood out about Steeves' goal-scoring ability so far. The first is that Steeves is always in the right spot — whether that's the two goals he scored in front of the net or the four he's fired from the faceoff circles. The second is that he shoots the puck — first on the team averaging 3.6 shots on goal per game — and doesn't waste time stick handling it.
Steeves has scored three goals this year off one-timers from the faceoff circles and another with a quick shot from the top off the faceoff circle on the rush.
"He puts himself in spots and likes to shoot. That's what he is," Sandelin said. "He's one-timed some pucks, especially from those spots. He's a good shooter of the puck. He's not always looking for the perfect play. He's got a great release. It's great. Hopefully we get a few more guys finding the net."
The Bulldogs are in need of "a few more guys finding the net" as they head to Lawson Ice Arena in Kalamazoo, Michigan. UMD is averaging just 2.1 goals per game this season, tied with Miami for fewest in the league and 48th out of 62 teams nationally.
Junior wing Blake Biondi and James — the sophomore center who missed last Saturday's game against Omaha due to an injury — are tied for second on the team in goals with three each. Biondi led the Bulldogs in goals last season with 17.
Issac Howard, a winger who had 33 goals last year with the USA Hockey National Team Development Program, is the only other Bulldogs' freshman to score a goal this season.
Sandelin is optimistic the team can start putting up more than two goals a game soon, especially after what he saw last weekend against Omaha. Unlike the start of the season when the team had a lot of one-and-done scoring chances — "flybys" as Sandelin called them — UMD was able to establish meaningful offensive zone time against Omaha.
UMD posted 82 shots on goal in the loss and OT win against Omaha and was credited with 40 scoring chances, the most since putting up 84 shots on goal and getting 53 total scoring chances in the sweep of Arizona State to open the season.
"We had some pretty good chances," Sandelin said Saturday. "We had some opportunities this weekend that maybe we haven't had a lot of over the course of two games. So we got to keep working for those. If we keep working for them — and not cheating for them — we'll be in good shape."