Sandelin 'OK' winning tight, low scoring games: 4 takeaways from UMD hockey this week
The UMD men host St. Cloud State this weekend looking for more diverse scoring, while the Bulldogs women dance into a home series against Minnesota.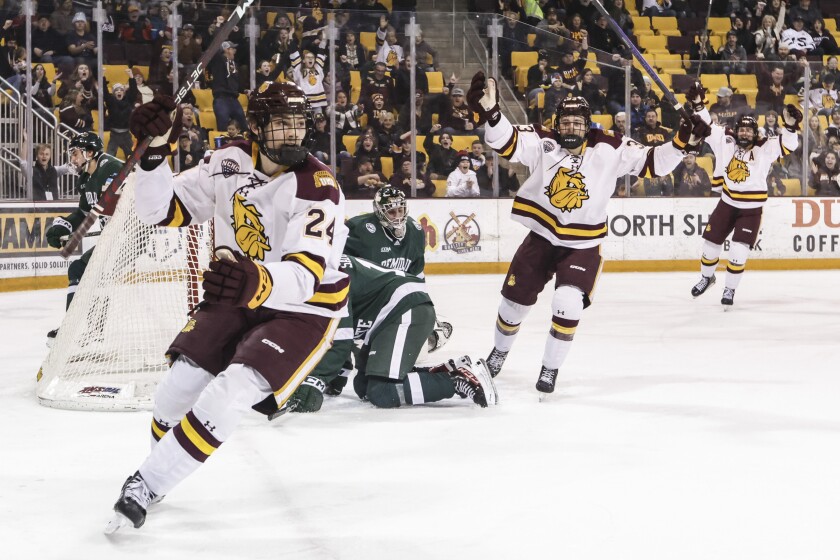 We are part of The Trust Project.
The Minnesota Duluth hockey teams are both back at Amsoil Arena this weekend with the sixth-ranked women hosting No. 3 Minnesota in WCHA play at 3 p.m. on Friday and Saturday while the men host No. 1-ranked St. Cloud State at 7 p.m. both nights in NCHC play.
Here's are four takeaways from Wednesday's media availability at Amsoil Arena from Bulldogs beat reporter Matt Wellens:
Sandelin 'OK' winning games 2-1
UMD men's coach Scott Sandelin said it was nice to beat Bemidji State back on Jan. 7 at Amsoil Arena by a 5-2 margin , however, that's not his team's identity. If the Bulldogs are going to win games, it's like they did Saturday at North Dakota via a 2-1 score .
The Bulldogs rank seventh in the eight-team NCHC in goals per game at 2.29 a night. To compound things, UMD's power play is 0-for-8 in the last four games after going 2-for-2 against the Beavers on Jan. 7.
"We're just not a high-scoring team. That's just the way it is," Sandelin said. "Are we generating chances? Yes. Could we score more? Yes. But it's just the way games are going. The power play has dried up a little bit here the last few games, so that hasn't helped. I'm OK winning 2-1. I'm totally fine."
Veterans need to start scoring
Sandelin likes the way his freshmen class has progressed in the second half, saying his rookie line of Isaac Howard, Cole Spicer and Luke Johnson has arguably been the team's best line the last three games. Meanwhile, freshman wing Kyle Bettens leads the team in goals scored in 2023 with three over the last six games.
But Sandelin wants for more from his upperclassmen.
"I like our freshman group. Some guys have progressed. I think they're all getting better," Sandelin said. "We've been really happy with the direction that they've all gone. It's a good thing. We need a little more help from some other guys, but they're doing just fine."
Freshmen scored three of the Bulldogs' four goals last weekend in North Dakota, with senior wing Luke Loheit getting the game-winner off his skate on Saturday. The weekend before that in Omaha, it was Howard — who has goals on back-to-back weekends — and a pair of sophomores — Dominic James and Owen Gallatin — scoring.
Freshman wing Ben Steeves still leads UMD in scoring this season with a team-high 12 goals and 16 points. He had a six-game point drought end in the closing minutes Saturday when he assisted Loheit on the game-winner at North Dakota.
"Those guys aren't going to carry us," Sandelin said of the freshmen. "We need it by committee. We need some other guys chipping in here and there."
The right song came on Saturday at St. Thomas
It took two video reviews late in Saturday's game at St. Thomas to confirm the second goal of the evening for UMD women's fifth-year senior wing Anneke Linser, giving UMD a 3-0 lead. The first review was initiated by the officials for a potential major penalty. The second was a coach's challenge by the Tommies for goaltender interference.
It was during the second challenge that the Bulldogs were caught on B1G+ dancing on the ice to the "Cupid Shuffle" to pass the time. Coach Maura Crowell said she has an experienced team that knows when to have fun and when to get serious. The right song, came on at the right moment, triggering the right time to have some fun, she said.
"You can see my face. I didn't want to smile too much, but how can you not?" Crowell said.
"That's who we are. I like our players to have fun. We have fun when we're working hard. They earn those moments. They have them at practice when we're in between drills or something. They're dancing out there. They're hitting the Griddy, and I love that. If you're having fun with your teammates and you're having fun playing hockey, you play some of your best hockey."
Hughes relishes the spotlight, but not for her
It was a week of milestones for UMD women's fifth-year senior center Gabbie Hughes. On Saturday at St. Thomas, she became the seventh Bulldog and 23rd player in WCHA history to record at least 200 points in her college career. Days earlier, she was named one of 15 nominees for the Hockey Humanitarian Award for the second consecutive season.
A top-five finalist for the award last season, Hughes said it's "unbelievable" to be up again for the all-gender, all-division college hockey award as it's another opportunity for her to further promote the message of Sophie's Squad.
Thanks to the return of an Olympic gold medalist and a goaltender who has broke out on the international stage in the past year, Bulldogs fifth-year senior center Gabbie Hughes hasn't been in the spotlight as much as you might expect for a player coming off a season in which she was a top-three finalist for the Patty Kazmaier Memorial Award and finalist for the Hockey Humanitarian Award.
Listen Now
"Being able to have it on this platform is unbelievable and hopefully can bring a lot more awareness to our organization and to mental health," Hughes said. "That's what's so special about it for me, is being able to get Sophie Squad's mission out there to everybody. Having it on the stage of the Hockey Humanitarian Award is huge for our organization and getting mental health awareness out there. So just being able to put it out there on that stage is the most important for me."
For more on this weekend's series against Minnesota and St. Cloud State at Amsoil Arena, subscribe to the News Tribune's Bulldog Insider Newsletter. Sign up here for free to have weekly previews delivered to your inbox every Friday morning .