Gophers finish season sweep of Bulldogs on physical, chippy day in Duluth
Minnesota Duluth scored two power play goals, but was denied a major power play in the second after losing a controversial challenge.
DULUTH — Last spring, Minnesota was knocked out of the NCAA tournament on its own ice by Minnesota Duluth in a regional final. On Saturday, the WCHA-leading Gophers enacted a bit of revenge by finishing off a regular-season sweep of the Bulldogs via a 4-3 victory at Amsoil Arena.
Minnesota took 11 of 12 league points from the Bulldogs this season, including all six over the weekend in Duluth. UMD took Minnesota to overtime in their first meeting on Nov. 4 at Ridder Arena in Minneapolis, losing 3-2, but since then fell 5-3 on Nov. 5 in Minneapolis, 3-1 on Friday in Duluth and then Saturday's result.
"We have to be able to piece it together if we want to beat teams like that," UMD coach Maura Crowell said. "I have to give credit to Minnesota. I thought they played really, really well both games here this weekend. We'll probably see them again somewhere down the line and we'll be ready for it."
Sophomore wing Peyton Hemp finished with two goals and an assist Saturday to lead No. 3-ranked Minnesota, which also got goals from freshman wing Josefin Bouveng early in the second to put No. 6 UMD down 2-0 and from fifth-year senior wing Abigail Boreen in the third to put the Bulldogs behind 4-2.
Sophomore wing Gabby Krause, senior center Mannon McMahon and fifth-year senior wing Taylor Anderson scored for UMD, with all three pulling UMD within a goal of the Gophers, but no closer.
Krause cut the Gophers' lead to one midway through the second period, McMahon made it a one-goal game early in the third and Anderson scored on a 6-on-4 advantage for the Bulldogs with 2:30 left in regulation after UMD pulled fifth-year senior goaltender Emma Soderberg for the extra attacker on a late power play.
"Today we played much better and we were really happy to see that Friday to Saturday, we were able to step up more, but I think we want that one back," Anderson said of Saturday's loss. "There are certain plays we really want back, but just to see that we can put pucks in late during the game is really important. I think we showed ourselves a lot there, at least."
UMD finished 2-for-6 on the power play Saturday in a physical, chippy game that featured 11 called penalties, totaling 22 minutes. Many more penalties for many more minutes went uncalled, with the most significant no-call being a failed challenge by the Bulldogs five-plus minutes into the second period.
Gophers junior fourth-line center Audrey Wethington hit Bulldogs fifth-year senior first-line center Gabbie Hughes in the head as Hughes entered the offensive zone.
Wethington was initially accessed a two-minute minor penalty for interference by the WCHA officiating crew of Mike Kaehler and Robert Ludwig, but Crowell challenged the play for a contact to the head major. After a lengthy review and brief discussion, Kaehler and Ludwig elected to leave the penalty a minor one, costing UMD a timeout and five-minute power play down 2-0 in the second.
Crowell said the explanation she received for the failed challenge was that because Hughes' head was down, Wethington had nowhere to go but hit Hughes in the head.
Here is the hit on UMD's Gabbie Hughes that was called an interference minor. UMD challenged for a major penalty and lost the challenge.

"The explanation I got was because Gabby's head was down, the defender had nowhere else to go, basically, then to her head." - Maura Crowell pic.twitter.com/o6T0FeSoT0

— Matt Wellens (@mattwellens) January 29, 2023
"The rulebook says contact to the head is a penalty," Crowell said, correctly citing the rulebook. She said she would be contacting the league this week about the incident.
"I thought it was a clear contact to the head major penalty," Crowell said. "I don't think it's on the puck carrier to have to have her head up in order to avoid contact to the head. You're not supposed to hit somebody in the head regardless of where they are. If it's a shorter player, you're still not supposed to hit them in the head. Her trying to control the puck is what she's allowed to do and you have to control how you're going play that as the defender. I thought it was an unfortunate call. I liked our challenge and I would challenge it again if we had another opportunity."
The Bulldogs were without fifth-year senior center Kylie Hanley on Saturday. Hanley left Friday's game with a non-contact injury and did not return. Crowell didn't have an update on Hanley after Saturday's game, only saying the injury is not believed to be season-ending.
UMD is on the road next weekend to play Minnesota State in Mankato.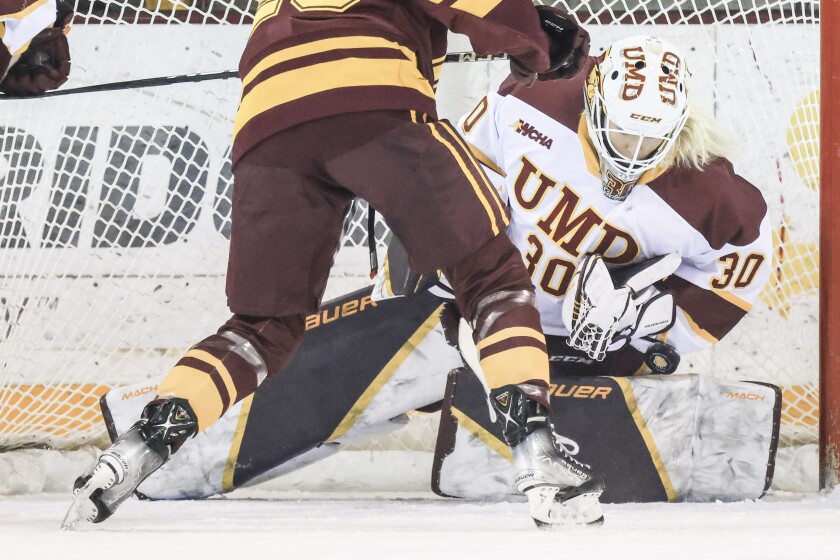 3. UMD fifth-year senior wing Taylor Anderson — She scored a big extra-attacker goal on the power play to give UMD a shot at tying the game late. It was Andrson's ninth goal of the season.
2. Minnesota freshman wing Josefin Bouveng — A goal and an assist for the Gophers' rookie from Sweden.
1. Minnesota sophomore wing Peyton Hemp — Two goals that gave the Gophers 1-0 and 3-1 leads on Saturday.
Minnesota 1-2-1—4
Minnesota Duluth 0-1-2—3
First period
1. MN, Peyton Hemp (Crystalyn Hengler, Emily Zumwinkle), 12:02 (pp)
Second period
2. MN, Josefin Bouveng (Hemp, Lizi Norton), 1:34
3. UMD, Gabby Krause (Naomi Rogge, Maggie Flaherty), 9:37 (pp)
4. MN, Hemp (Bouveng, Emily Oden), 14:02
Third period
5. UMD, Mannon McMahon (Ashton Bell, Clara Van Wieren), 3:29
6. MN, Abigail Boreen, 9:31
7. UMD, Taylor Anderson (Hanna Baskin, Nina Jobst-Smith), 17:30 (pp, ea)
Saves — Skylar Vetter, MN, 24; Emma Soderberg, UMD, 20.
Power play — MN 1-4; UMD 2-6. Penalties — MN 6-12; UMD 5-10.