Bulldogs newcomers make strong first impressions in season-opening series
Minnesota Duluth got 10 of its 12 new players on the ice against Arizona State last weekend, including eight of the 10 freshmen. A number of those newcomers made immediate impacts in their first games as Bulldogs, leading to a pair of wins over the Sun Devils.
We are part of The Trust Project.
DULUTH — Of the 12 new players Minnesota Duluth coach Scott Sandelin brought in this fall, 10 saw the ice over the weekend in the season-opening series sweep of Arizona State at Amsoil Arena.
That included eight of the 10 freshmen, as forward Jack Smith missed the series due to a lower body injury while goaltender Zach Sandy served as the third-stringer behind junior incumbent Zach Stejskal and senior transfer Matthew Thiessen in both games.
The Bulldogs now have a weekend off before playing defending national runner-up Minnesota State on Friday, Oct. 14 and Saturday, Oct. 15 in Mankato. And while the Bulldogs wouldn't mind another weekend of hockey to keep things rolling following victories over the Sun Devils — 3-2 in OT and 4-1 — this week will be a good time to make some more refinements.
"A lot of stuff to learn from and having an off weekend here is good, so we can really dive into a lot of stuff," said Tanner Laderoute, the UMD fifth-year senior wing and captain. "You don't have a really good gauge coming off a whole month of just playing against each other. Now we have some some game film, we have some stuff that we can learn from. These guys are so young, and they're going to learn and they're going to learn quick. A couple things to iron out, but other than that, a beautiful two wins."
Here's look at the impacts made by UMD newcomers last weekend:
An 18-year-old from Highland Park, Illinois, Dubinsky started his Bulldogs career as the seventh defenseman on the line chart on Saturday. He'd go on that night to become the first freshman to pick up his first college point — the second assist on Dominic James' goal in the second period — be a go-to-guy on the penalty kill and by the third, was on the second defensive pairing with fifth-year senior transfer Derek Daschke.
Asked on Saturday if it was an overstatement to call Dubinsky the Bulldogs' best freshman in the season opener, Sandelin said it absolutely was not.
"He's one of those guys we haven't really talked about, but he was solid," Sandelin said. "I thought he had a good first game. Really good defensively, did some good things on the penalty kill. I thought in all three zones he was good and hopefully that's a good sign because he'll continue to get better."
Dubinsky, 18, was paired up with Daschke again on Sunday. Daschke, who started the weekend with sophomore Will Francis, called Dubinsky a smart defenseman who moved the puck well.
Dubinsky registered the first point for a freshman, but Howard got the first goal, tying Saturday's game at 2-2 on the power play by picking up a rebound.
Howard, a 2022 first-round draft pick of the Tampa Bay Lighting out of the USA Hockey National Team Development Program, played opposite Laderoute on the wing all weekend, with fifth-year senior Jesse Jacques centering the line on Saturday and freshman Cole Spicer at center on Sunday. Laderoute said Howard has a couple of things he needs to wrinkle out in the defensive zone, but that won't take long.
Freshman forward Isaac Howard, a first-round Tampa Bay Lightning draft pick, recorded the game-tying goal and fifth-year senior Derek Daschke, a transfer from Miami, scored the game-winner in 3-on-3 overtime as the Bulldogs topped the Sun Devils to open the season.
"He's a phenomenal player and if he gets a puck anywhere in the offensive zone, he's a threat to score," Laderoute said. "I'm just working hard to get him the puck."
Howard, an 18-year-old native of Hudson, Wisconsin, was part of a power play unit that consisted of junior defenseman Wyatt Kaiser and the top forward line of senior Quinn Olson, sophomore Dominic James and junior Blake Biondi. Howard said it's a fun group to play with, but he's also learned a lot from veterans like Jacques and Laderoute.
"They both have a national championship to their name, so it's pretty cool I got to slot in and play with those guys," Howard said. "They're experienced, mature and know how to play the game. It's a good learning lesson."
A member of the 2021-22 Clark Cup champion Sioux City Musketeers, Steeves scored 45 goals and totaled 77 points in 70 games last season in the United States Hockey League.
He picked up his first two collegiate goals during the second period on Sunday, scoring them 57 seconds apart to give UMD its first lead of the weekend against the Sun Devils.
Freshman wing Ben Steeves scored his first two goals as a Bulldog 57 seconds apart in the second period to break a 1-1 tie against the Sun Devils.
Steeves, 20, attributed his scoring success in the USHL to his willingness to drive the net. It's something he wants to continue in the NCAA as well, however, he said he also recognizes that he needs to take more shots off the rush to create rebounds for others atop the crease, and look for cross-ice passes that can get a goalie moving.
"I find in college the past two games, it's been a lot of volume shooting, and there's been a lot of rebounds," said Steeves, a native of Bedford, New Hampshire who played his senior year of high school at Eden Prairie. "I think being around the net is going to be important. One thing that I'm going to try and do better is being in the slot and waiting for those rebounds to come out and be a volume shooter. I think that's what translated from last year is being a volume shooter, shooting from anywhere. When you shoot, you score goals, and that's what I try to do."
Both of the Bulldogs transfers made immediate impacts in the first series of the season. Daschke scored the game-winning overtime goal for UMD on Saturday and Thiessen made 29 saves on 30 shots in his first collegiate start on Sunday.
"Matty kept us in there, just like Zach last night," Sandelin said Sunday. "We got good goaltending all weekend, which is a great sign."
Spicer, Bettens, Johnson, Bodnarchuk and Pierce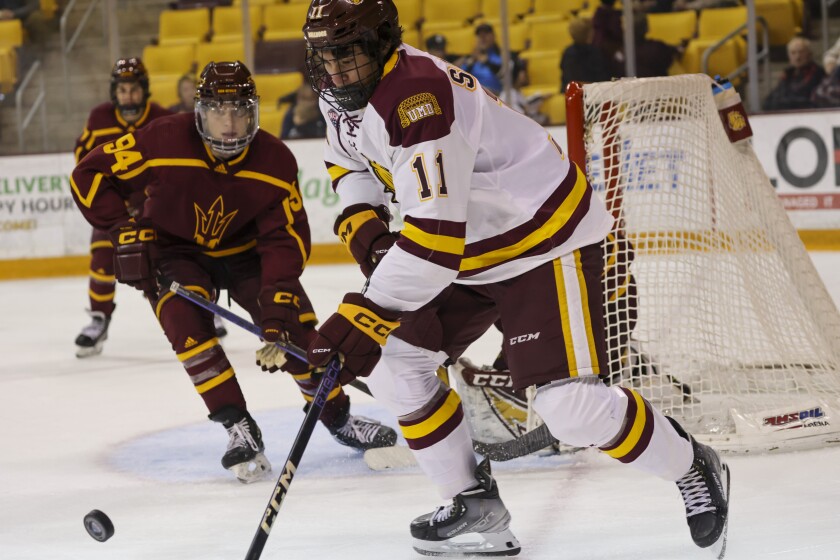 Spicer, 18, played in both games and picked up his first collegiate point on Sunday via an assist on Luke Mylymok's game-tying goal in the second period.
A teammate of Howard's on the USA Hockey NTDP last season, Spicer was the fourth-line center between Mylymok, a junior winger, and fellow freshman Kyle Bettens on Saturday. On Sunday, the 18-year-old from Grand Forks, North Dakota, was bumped to the third line between Howard and Laderoute.
"Two guys that have known each other forever and played together forever; two true freshmen with with me, it was kind of funny. I was like a father taking care of his kids out there," Laderoute said. "They've got a lot to learn, but they also have so much potential and so much talent."

21-year-old Riley Bodnarchuk of Okotoks, Alberta, was originally paired with sophomore defenseman Owen Gallatin on Saturday before Sandelin shuffled the defensive pairings. Bodnarchuk was replaced in the lineup Sunday by Joey Pierce, the 20-year-old Ely native who played at Hermantown High School. Pierce was one of four former Hawks in the lineup Sunday along with Biondi, Jacques and junior defenseman Darian Gotz.
Bettens, 21, of Winnipeg, was in the lineup Saturday while Luke Johnson, 20, of St. Cloud took his spot on the right side of fourth line on Sunday.