Bulldogs moving on from sweep of previous No. 1 St. Cloud State: 3 takeaways from UMD hockey this week
The UMD men host Western Michigan this weekend, looking to match the intensity shown in November in Kalamazoo. Soderberg puts shutout records into perspective as UMD women travel to Minnesota State.
Fresh off a sweep of previously No. 1-ranked St. Cloud State , the Minnesota Duluth men's hockey team is back at home this weekend hosting Western Michigan in NCHC play at Amsoil Arena. Puck drop is scheduled for 7:37 p.m. Friday and 6:07 p.m. Saturday.
The UMD women, who were swept by Minnesota a week ago , are on the road this week. The Bulldogs take on Minnesota State at 3 p.m. Friday and 2 p.m. Saturday in Mankato.
Here's are three takeaways from Wednesday's media availability at Amsoil Arena compliments of Bulldogs beat reporter Matt Wellens.
Bulldogs junior defenseman Wyatt Kaiser said the sweep of the Huskies last week felt good, and they enjoyed it on Sunday. But that series is now in the past, he said.
"Now it's next week. We're focusing on that," Kaiser said. "It doesn't really matter what happened in the past."
That's the same message Scott Sandelin delivered Wednesday as UMD prepares to play the Broncos. The Bulldogs coach doesn't want his team to get complacent or satisfied because of one weekend's success.
"It's only one weekend right? It's only one weekend that was turned out to be a great weekend for us by winning two games," Sandelin said. "You've got to keep making up ground. We got to keep pushing to get better."
The sweep of the Huskies bumped the Bulldogs from sixth to fifth in the NCHC standings, and within six points of the fourth-place Broncos in the race for home ice in the NCHC quarterfinals. If the season ended today, UMD would be at Western for the best-of-three series. The Bulldogs can seize that No. 4 spot with two wins this weekend, and maybe avoid a return trip to Kalamazoo, Michigan.
"It's a tough building to win in, and I'm glad we're not going back there right now," Sandelin said of the Broncos' Lawson Ice Arena. "I hope we don't have to, but if we do, we've had success in there too."
Intensity is greater than systems
The last time the Bulldogs and Broncos met back in mid-November, they split the series in Kalamazoo with UMD winning a back-and-forth 5-4 game on Friday that included six first-period goals. WMU won Saturday by rallying for a 5-3 win.
Asked this week where the team has grown the most since that snowy series in November in Michigan, Kaiser said UMD is more confident in the team's systems and the decision-making process. However, that's not the key to victory.
"It doesn't really matter what systems you're playing if you don't have intensity and don't come out with a lot of energy, it doesn't really matter," Kaiser said. "That weekend we came out ready to go, which for some series, maybe not so much. That series we came out ready to play and I think we're just a little bit more comfortable with our systems and some of the decision processes."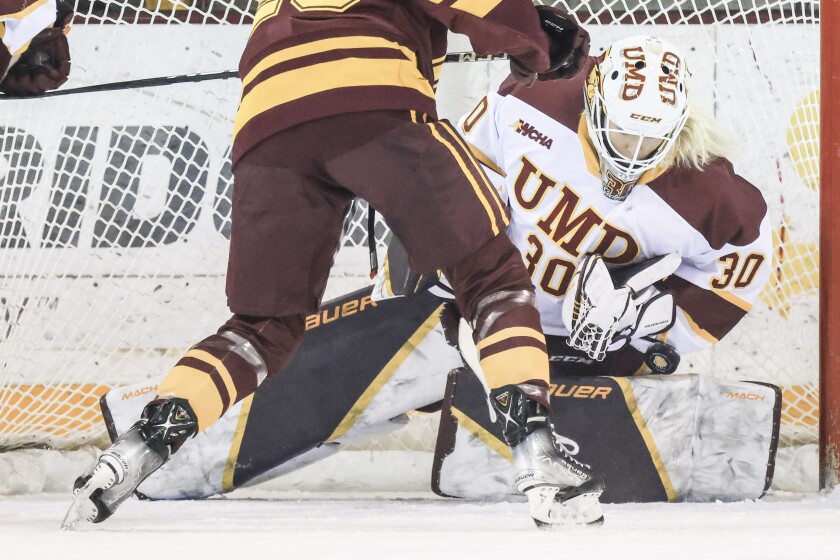 With six games remaining in the regular season for the UMD women's program, fifth-year senior goaltender Emma Soderberg finds herself two shutouts away from tying UMD's record for career shutouts by a goaltender and three away from tying UMD's single season shutout record. Both records are currently held by Kayla Black, who made 10 shutouts in 2014-15 and 20 between 2012 and 2016.
"I try to not to pay too much attention to it. Typically when I see it, it's on Twitter or something like that," Soderberg said. "It's exciting, but the end goal is still a national championship. And that's it. This is just a step on the way toward that. It's still fun, but I want the team to succeed."
The Bulldogs as a team have nine shutouts this season, leaving them three short of the single-season program record of 12 in 2010-11. In addition to Soderberg's seven this year, freshman Hailey MacLeod got her first at UMD on Nov. 19 against Harvard. Soderberg and MacLeod also combined for one on Sept. 25 at Long Island.
Soderberg said Wednesday that shutouts are more of a team stat than an individual one. The Bulldogs do boast a goals against average this season of 1.48, which ranks second in the WCHA and fifth in the NCAA.
"That shows that we have a strong defense on our team," Soderberg said of the nine shutouts the team has this year. "What we don't see in the scoresheet is the 10 or 20 shots that are blocked in a game. It might have been a puck I didn't see, but my forwards or defensemen, they help out, too. I would, for sure, say that's a team thing."
For more on this weekend's series, subscribe to the News Tribune's Bulldog Insider Newsletter. Sign up here for free to have weekly previews delivered to your inbox every Friday morning .