Bulldog Insider Q&A: UMD's Jacques, Koepke know a thing or two about playing for legendary hockey coaches
After winning a state championship with Bruce Plante at Hermantown, Jesse Jacques and Cole Koepke are now playing for the national championship staff of Scott Sandelin that includes Bruce's son, Derek, and former Bulldogs Adam Krause and Jason Garrison.
The Minnesota Duluth men's hockey team is coming off 5-1 and 4-1 victories over Western Michigan last weekend at Amsoil Arena, with a trip to Miami this week for NCHC play.
The Bulldogs have also made a recent addition to their coaching staff with former Bulldog and veteran NHL defenseman Jason Garrison joining the staff as a student assistant coach.
Garrison, who played over 600 NHL regular and postseason games over 11 seasons, joins a coaching staff that already includes former NHLers Scott Sandelin and Stanley Cup champion Derek Plante. Adam Krause also had a brief career in the professional ranks in the American Hockey League.
To discuss the unique makeup of the current UMD staff, Bulldogs junior forwards Jesse Jacques and Cole Koepke were guests this week on the News Tribune's Bulldog Insider Podcast with college hockey reporter Matt Wellens and the voice of Bulldogs hockey on My 9 Sports, Zach Schneider.
Jacques and Koepke played for one of the most legendary coaches in Minnesota high school hockey history in Bruce Plante at Hermantown. Now they're playing for Bruce's son, Derek, who returned to the UMD staff this season after five seasons with the Chicago Blackhawks organization.
Below are edited excerpts from this week's episode with Jacques and Koepke . You can listen to the full episode — produced by News Tribune multimedia producer Samantha Erkkila — at DuluthNewsTribune.com, TheRinkLive.com and on Apple Podcasts, Spotify or wherever you listen to podcasts.
You played for Bruce Plante in high school, but how well did you know his son prior to this season and what is it like playing for Derek now?
Cole Koepke: I guess I knew more of who he was, just because he's pretty much famous around here if you know hockey at all. I knew more of him from working camps coaching his three kids. I'd see them playing all the time. I actually lived fairly close to them so I'd see them all around town because they're in pretty much every sport. You'd see him at the baseball fields and stuff like that. That's where I started to get to know him and obviously now that he's here, I know him really well. He's a great coach, too. It's kind of fun to make little jokes and tell stories about his dad to each other.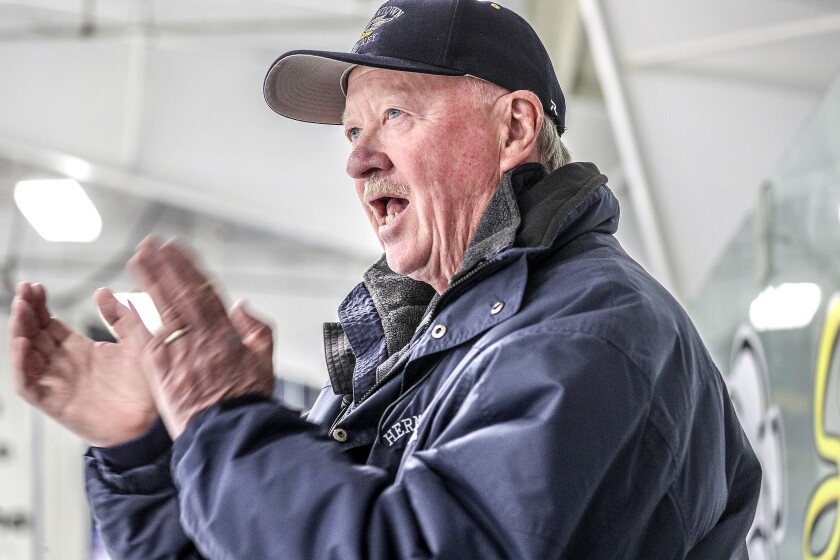 Jesse Jacques: I knew of Derek, but I didn't know him super well. Obviously I knew Bruce a lot better, but it's really good having (Derek) here this year. I've learned a lot from him, from his point of view. He is really specific when he critiques us and stuff. He's really helpful. I really like him as a coach. He's a really good guy.
Another recent addition to the coaching staff is Jason Garrison. What impact has he made on the team and program?
CK: He's been great so far. Everyone on the team loves him right away. He came in and he's just been helping everyone out right away, especially the defensemen. He's been working with them a lot. He's been doing some video work with our defensemen, extra stuff like that. Everyone likes him out there, too. He's kind of like (Derek Plante) in the way where he brings a lot of energy out there. He's always going around tapping everyone on the shin pad saying, "Good job," giving little hints and being really talkative. He's played over 500 games in the NHL, so any experience he has and things he wants to tell us, everyone's for sure, listening right away, because he obviously knows what it takes to play.
JJ: It's really nice having Garrison here, especially for the D, too. In practice he's been helping us a lot with stick work, where to put your stick. He's just a great guy. He knows the game really well, and like Cole said, he's positive out there. He will give us stick taps and stuff, say we're doing a good job. I think our coaches are really excited to have him around, too.
We talk a lot about how fortunate UMD has been to reload players during this run of national championships, but what's it like to play for a program that reloads its coaching staff too? UMD loses Brett Larson and Jason Herter — coaches with lots of experience and knowledge — and replaces them with Adam Krause, Derek Plante and Jason Garrison.
CK: We've been beyond lucky. Every single coach that I've had here during my time has been nothing but great for me and the team. They all know exactly what they're talking about and go about their coaching styles the right way. They all have good balance and they just care about us. They're so passionate about the game. It's great to have them around.
It just says a lot about Coach Sandelin and the entire program that all these guys are alumni. lf coach Sandelin gives them any type of chance to come back and help, they're all taking it right away. They want to come back and be around that UMD culture again that they were a part of, that coach Sandelin helped make the last however-many-years he's been here.
JJ: The UMD culture is obviously really great and the guys always want to come back and that's a good thing on our coach's part. Coach Sandelin, he does a super good job and everyone just wants to come back. Herter was a great coach. Larson, I heard a lot of good things about him even though I didn't get to play for him. Plante coming in, he's done a really good job, same with Adam. It starts at the top and of course Coach Sandelin has done a really good job with that.
Scott played in the NHL a little bit, Jason played 11 seasons, Derek won a Stanley Cup and Adam played in the AHL. Adam came back for his senior year to be a captain, Jason left early and is now back in school. It feels like no matter where you guys are in life or your hockey career, there's somebody to go to on the staff that's gone through what you're going through right now. How valuable is that?
CK: That's great. Everyone has a different path that they're going to take throughout their career. It's nice that all of our coaches made it very far, were successful in their careers and they all took different paths. If anyone has any type of tough decisions to make or is thinking about their future, we have someone to go and talk to. They're all more than open and willing to talk to us. It's really nice that some of these guys like Krause and Garrison are younger, too. Obviously, Coach Sandelin and Plante know what it takes and what it's like to play professionally, but now that we have Garrison and Krause, they've done it so recently that if anything has changed, too, they make us well aware of that. All around, we have a great coaching staff and they're just great resources for all of us.
JJ: All of our coaches are good role models. They've all played at the highest level, played in the NHL, played a lot of games. They're good guys to look up to. Everyone's got their own path to take in their hockey careers. Garrison and Krause took their own ways, but it's good to learn. We got young young coaches, some older coaches and they know what it takes. It's good to have them around and just learn from them, learn from their experiences.