Brule River opener is Saturday
The fish will be there, and thanks to the recent March meltdown, it's looking better every day that you'll be able to get to the river. That's the good news for Brule River anglers a week before the annual first rite of spring in the Northland. F...
The fish will be there, and thanks to the recent March meltdown, it's looking better every day that you'll be able to get to the river.
That's the good news for Brule River anglers a week before the annual first rite of spring in the Northland.
Fishing for steelhead, browns and other trout and salmon opens on Wisconsin's Bois Brule a half-hour before sunrise Saturday from U.S. Highway 2 north, or downstream, to Lake Superior.
For many anglers it's the first chance to fish running water, to step into a rushing river and to tag into a fish that isn't being pulled through a hole in the ice.
Wisconsin Department of Natural Resources staff at Brule River State Forest have been busy trying to clear parking lots of snow to give anglers a place to park next weekend.
There's still lots of snow and ice still in the well-shaded Brule River valley, which will make it challenging for anglers not just to walk to the river but also to find good places to cast from. Snowshoes may be a good idea. The snow depth had dropped below 20 inches at the Bruel ranger Station as of Friday and more will melt every day if the forecast is correct.
Conditions should not be as bad as 2014 when anglers needed snowshoes to reach the river from most parking spots, with snow up to many people's waists in some areas and temperatures as low as 14 degrees on opening morning. Some popular fishing areas were still covered in ice that year.
Tom Champaigne, who lives on the river north of Highway FF, said the ice went out as his place early Wednesday, but noted the snow is going slower. That signals the entire river could be ice-free by opening day.
Paul Piszczek, senior fisheries biologist for Lake Superior tributaries for the Wisconsin Department of Natural Resources, said he expects plenty of fish to be in the river based on last year's solid fall run of fish. The DNR monitored upstream trout and salmon migration with digital video equipment from July 2 through Dec. 11.
The autumn run Steelhead count of 5,616 was considerably better than fall 2017 and about the same as 2015 and 2016, but still well below the very high runs of 2002-2010.
"People should expect to encounter a bunch of fish - if conditions are right at the opener,'' Piszczek told the News Tribune. That means if anglers can get to their favorite holes in the river. And it means the right amount of water flowing. A fast melt of snow or downpour rain could send water flowing down the river too fast. That makes fishing not only dangerous but difficult.
Too little runoff means the river is very slow, low and clear. That also makes fishing difficult because "fish will be hunkered down and inaccessible,'' Piszczek noted.
The best conditions is generally a river flow between 180 to 250 cubic feet per second, he added. (You can see Brule River flow conditions here waterdata.usgs.gov/nwis/uv?04025500.)
Through last week the melt had been just about perfect, with warm daytime temperatures but overnight lows at or below freezing to slow the rush down.
Most of the trout caught early in the season will be fish that entered the river last fall. The fall run is generally much larger than the spring run, and generally in inverse correlation. Big fall runs mean smaller spring runs.
Piszczek said the spring run generally is between 500 and 1,500 new steelhead coming up the river from Lake Superior.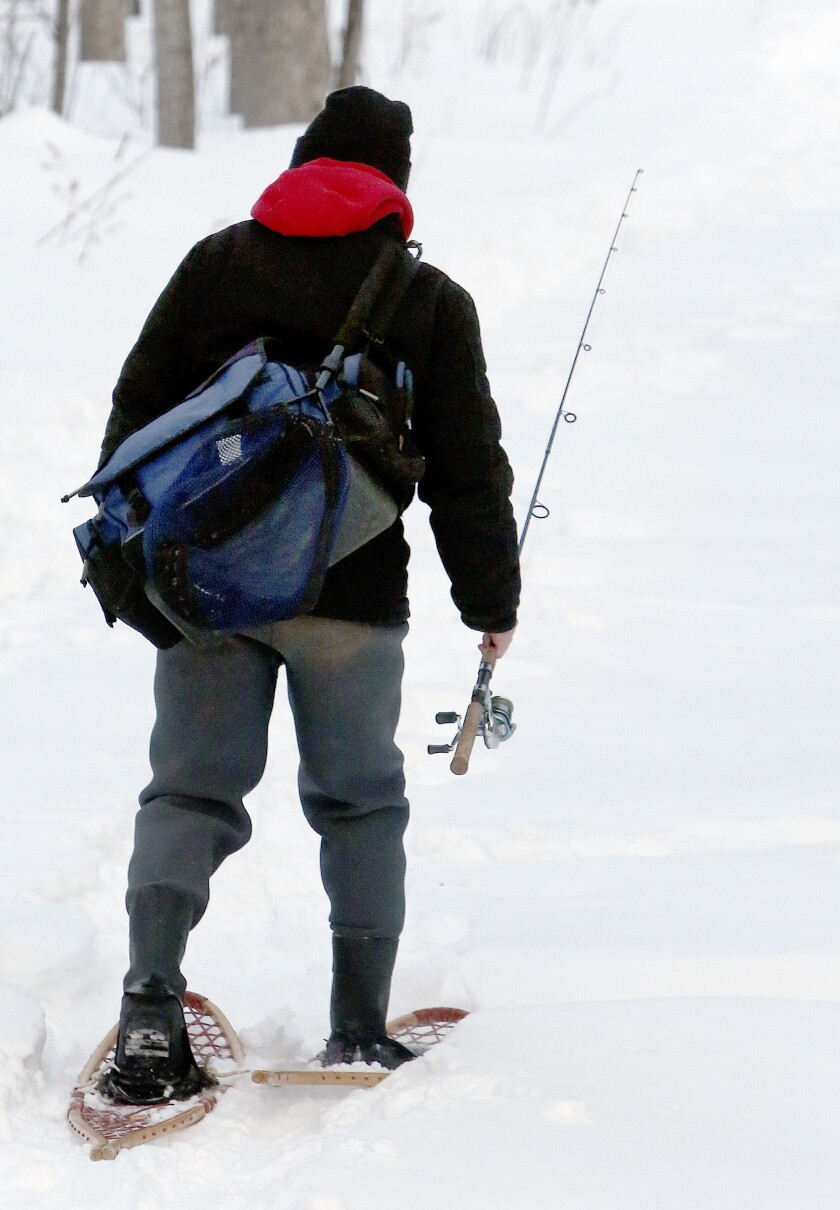 Steelhead made up just over one-third of the total fall trout and salmon run. Two brook trout, one pink salmon, and 12 splake were also counted. Just over half of all steelhead ranged from 20 to 25-inches long, and 21 percent were 12 to 17-inches long.
The 5,616 steelhead counted at the Brule River lamprey trap was well above the modern low of some 3,000 in 2011 and well below the modern high of more than 9,000 in 2005.
The brown trout total was 4,212 in 2018 with 5,674 coho salmon and 398 chinook or king salmon.
Piszczek aid the other big opening day catch, brown trout, will be on their way back to Lake Superior but will only be as far downstream as ice jams will allow them to go. Anglers can have great brown trout fishing early in the season if they find the right spot where browns are holed-up waiting for the ice to go out.
Brule River fishing regulations
Downstream from U.S. Hwy. 2 to Lake Superior
The season runs March 30 through November 15. Fishing is prohibited from one-half hour after sunset to one-half hour before sunrise. The daily bag limit is five trout or salmon in total.
Rainbow (steelhead) - minimum size 26", only one may be kept.
Brown - minimum size 10" and only two may be larger than 15".
Brook - minimum size 8"
Salmon - minimum size 12"
(Fishing upstream of Highway 2 beings May 4.)
North Shore steelhead
Minnesota steelhead season is open year-round but generally doesn't get going until North Shore streams lose their ice and the trout start moving upriver to spawn.
Minnesota's streams are catch-and-release only for rainbows with an unclipped adipose fin, mostly steelhead rainbows.
The limit for clipped fish, mostly Kamloops rainbow trout, is three daily, minimum size of 16 inches.