Annual Ski Hut trip draws hundreds of Northlanders west
BOZEMAN, MONT. -- We had gone as far up the mountain as the chairlift system would take us and it seemed we were on top of the world. Some hardier, potentially crazier souls were walking farther up the summit, armed with avalanche beepers and sho...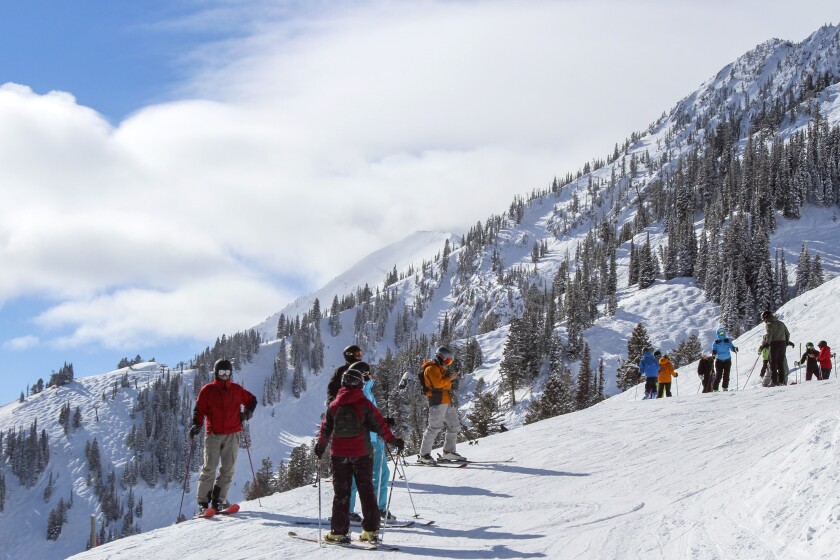 BOZEMAN, MONT. - We had gone as far up the mountain as the chairlift system would take us and it seemed we were on top of the world.
Some hardier, potentially crazier souls were walking farther up the summit, armed with avalanche beepers and shovels and a zest for vertical drop that is beyond most people's comprehension.
We were high enough already, elevation above 8,000 feet - so high that we could look down on clouds. We watched as it snowed lightly on the base of Bridger Bowl ski resort where we could see ants, no, people, scurrying about. Snow-covered mountains stretched in every direction.
"The view from up here is incredible,'' said Kris Madison just before she led me down into a black diamond, bowl-shaped ski run so steep it took my breath away. Or was that the altitude?
Clearly, Toto, we weren't in Minnesota any more.
Welcome to Montana mountain skiing, but with a Northland flavor, thanks to the annual invasion of the Ski Hut ski trip that last week brought some 200 Northlanders west, including Madison, of Iron River, and her daughter, Sydni.
Every winter for the past 32 years Duluth's Ski Hut sporting goods shop has organized a trip west to Bozeman. It's a casual, low-budget affair that draws skiers of all skill levels and ages.
There's no bus or train or airplane for most; everyone drives their own vehicle. The dates are always the same - over President's Day week - which is good for families with children in the Duluth school district who get the week off for winter break.
"That's the beauty of this trip. You can come and go and ski at your own pace. If we had a bus, and tried to get everyone on the same timetable, it would be like herding cats,'' said Scott Neustel, a.k.a. Potter, owner of Ski Hut.
Scott inherited the trip's logistical planning (and the family business) from his dad, Wes Neustel, now 98, who stopped making the ski trip six years ago. Wes founded Ski Hut in 1955.
"The Bozeman trip started in the late 1980s when a lot of my dad's friends were saying they were getting out of skiing out west because it was getting so expensive,'' Scott Neustel said. Lift tickets even then were approaching $100 per day at the top ski resorts out west. But Wes Neustel "remembered this place he had brought us as kids, that would have been back in the 70s, that was family oriented and inexpensive."
That place was Bridger Bowl, a nonprofit ski operation in the breathtakingly beautiful Bridger Range of mountains just 16 miles north of Bozeman in the Gallatin National Forest. There are four chalets and a full-service ski hill operation with rentals, restaurants, craft beer and a ski shop. But the area feels undeveloped, more wild than most ski resorts. There is only one road in and there are no condos, hotels or shopping until you get back to Bozeman.
The lower mountains are covered with Douglas fir, lodgepole pine and spruce and the runs seem spacious and wandering. Elk and deer ware wintering in the valley below.
"It's got everything you want in a Rocky Mountain ski resort, but without the resort prices,'' Neustel said. "The scenery is beautiful. There are some challenging runs for the experienced skiers... and some moderate hills for the beginners. You can bring your own lunch into the chalet. It's very laid-back, very family-friendly."
This year, Northland skiers occupied 80 rooms at the Bozeman Comfort Inn at a discount rate (a two-bedroom was $67 per night) with 175 people attending the Tuesday night party that Neustel throws each year.
"That's about the only time we have anything organized. Otherwise people just do their own thing. Obviously we see each other on the hill. But it's very informal,'' he said. "People come back year after year. They make friends on this trip who they ski with back in Duluth."
Ski Hut doesn't make any money on the trip, but Neustel said he couldn't imagine not organizing it every year. Ski industry manufacturers kick-in free door prizes for the party.
"This is such a great family-oriented trip. It's one huge family get-together... Everybody knows each other, or they do by the end of the trip,'' said Kent Ogston of Duluth.
Ogston, who is president of the Team Duluth alpine youth ski association based at Spirit Mountain, made his 10th Bozeman trip this year. He has recruited dozens of Team Duluth families west in recent years. He started bringing his daughter when she was just five years old.
"Bridger Bowl is the most family friendly ski area I have ever been to. It has terrain to suit everyone, and is less than half the cost'' of other western ski resorts, Ogston noted, adding that even the atmosphere at the hotel - nearly taken over by Duluth families for the week - is a big part of the experience. Everyone gets together for breakfast to trade stories and complain about how stiff they are from the day before's skiing.
Lift tickets at Bridger Bowl are just $65 per day. Kids 12 and under are only $25 per day. (A three-day pass for Ski Hut group members was only $174.) And anyone 80 or older skis free. (And yes, there were some octogenarians on the trip!) There's also the option to ski at Big Sky, a world-class mountain resort about an hour away, with a Ski Hut group discount lift ticket going for $99 per day. If that sounds pricey consider that the average single-day lift ticket at Big Sky and most Colorado ski resorts now hits $150 per day or more.
"Nowadays if you go to most western (ski) resorts, it's like going to Disneyland. You have to save up for five years to take the family once,'' Neustal said. "But this trip, most people can afford to go every year if they want."
That's what Duluthians Jeff Fraboni and his wife, Margy, do.
"It's 12 years in a row for us,'' Jeff Fraboni said as he was buckling up his ski boots to head out on his first day of this year's trip. "We just love skiing here. You can do as much or as little as you want, make it as hard or easy as you want.... We've skied a lot of other areas but we keep coming back here."
The Montana mountain ski resorts are as close or closer (about 14-15 hours driving from Duluth to Bozeman) than Colorado resorts. And while they aren't exactly undiscovered, they offer uncrowded hills and lift lines far shorter than most western ski resorts. Other than a string of vehicle with Minnesota license plates heading up to the mountain each morning, there's no traffic to fight, either.
Even over the "busy" Presidents Day holiday week there was never a lift line at Bridger Bowl. The runs felt wide open. The chalets were busy but uncrowded.
Bozeman offers a touristy, full service resort-town experience, from high-end shopping to brew pubs and coffee shops. A side trip 80 miles south to Yellowstone National Park also is an option, with cross country and snowmobile trails galore in the national forests across the area.
Bill and Joan Mattson made every Ski Hut trip from 1995 to 2018. And while they have downhill skied at most of the major resorts in the Rocky Mountains, they liked the trip to Bridger best.
"The snow conditions and hills at Bridger are delightful, for any skill levels,'' said Bill, an avid skier who can be found at Spirit Mountain four or five days every week. "And this is such a unique trip because, there's a group, but everyone gets their on their own, How you make the trip is up to you. And it's very reasonable, the prices."
And there's never a shortage of snow. The average annual snowfall at Bridger Bowl is 350 inches. This year's total has already topped 200 inches, including an 18-inch powder dump Wednesday that made for great conditions late in the week. Powder monkeys were in heaven. The locals call the powder at Bridger "cold smoke."
Each year it's everyone's hope that it snows mostly during the ski week and not on the drive out or back. But snowstorms, icy roads and other tribulations always pop up.
"It seems like for a lot of people it's the Clark W. Griswold vacation... a lot of interesting things seem to happen. And we all get to hear the stories,'' Scott Neustal said. "But everyone can laugh about it. You're on vacation. You're in these beautiful mountains. How bad could it be?"
About Bridger Bowl ski area
Bridger Bowl is a nonprofit ski hill where locals started skiing in the 1940s in what is now the Custer Gallatin National Forest. A rope-tow was installed in 1951 and the lift installed in 1955. The Bozeman State Park and Recreation Association was formed in 1954 and became the the Bridger Bowl Association in 1971, supported by the Bridger Bowl Foundation.
The ski area is located on the east slope of the Bridger Mountain Range. With four large natural bowls within the boundaries, the ski area offers terrain with a variety of landscapes including long, wide-open slopes, glades, chutes and gullies.
Bridger Bowl's terrain difficulty rating (beginner to expert) is fairly easy to determine based on elevation: First-time beginner slopes in the base area nearest the chalets; novice terrain across the lower middle; wide-open intermediate runs in the center; advanced expert open bowl terrain in the upper third; and extreme expert terrain coming off the ridge top.
Bridger Bowl, like the mountain range by the same name, is named after Jim Bridger, a trapper, fur trader and wilderness guide who lived from 1804-1881 and guided through much of the West.
Bridger Bowl by the numbers
Season: Dec. 7 to April 7
Vertical rise: 2,700 feet.
Skiable terrain: 2,000 acres
Top elevation: 8,800 feet; base at 6,100 feet
Hours: 9 a.m. to 4 p.m. daily
Average annual snowfall: 350 inches. So far this year: 195 inches.
Runs: 75, plus many unmarked areas.
Lifts: 1 quad chair lift, 6 triple chair lifts, 1 double chair lift and 3 surface lifts
Distance from Duluth: 995 miles, about 15 hours driving.
Go to: bridgerbowl.com
1
/
7:
From left: Todd Johnson, Jena Ogston and Kent Ogston, all of the Twin Ports and the Team Duluth youth alpine racing program, ride a chairlift at Bridger Bowl ski area last week. The Ogston family has participated in 10 Ski Hut-organized tips to Bozeman, Mont. and Bridger Bowl to ski mountain slopes and powder snow. John Myers / jmyers@duluthnews.com
2
/
7:
A skier carves turns near the bottom of the mountain at Bridger Bowl ski area near Bozeman, Mont. The area features breathtaking scenery and downhill runs for all abilities, from beginner to advanced back-country expert. John Myers / jmyers@duluthnews.com
3
/
7:
Skis and snowboards stowed on a rack at the base of Bridger Bowl ski area. The area offers skiing for all levels, from beginner to expert. John Myers / jmyers@duluthnews.com
4
/
7:
Scott Neustel, his daughter Hanna Norman and her husband David Norman pause on top of one of the runs at Bridger Bowl ski area near Bozeman, Mont., on a brisk day last week. The Neustel family — owners of Duluth's Ski Hut stores — has organized a ski trip to Bridger Bowl for 32 years, this year drawing nearly 200 Northlanders west. John Myers / jmyers@duluthnews.com
5
/
7:
Sydni Madison, left, and her mom, Kris Madison, of Iron River, ride one of the Bridger Bowl chairlifts up the mountain on a windy morning last week. The family has participated in the past five Ski Hut trips to Bozeman, Mont. John Myers / jmyers@duluthnews.com
6
/
7:
A snowboarder and a skier turn to head down one of 75 runs at Bridger Bowl ski area near Bozeman, Mont., last week. Nearly 200 Northlanders participated in this year's Ski Hut trip over President's Day week. John Myers / jmyers@duluthnews.com
7
/
7:
Skiers make their way down one of the many runs at Bridger Bowl ski area near Bozeman, Mont., on a sunny day last week. The chairlift to near the top of the mountain can be seen in the distance. John Myers / jmyers@duluthnews.com