'A basketball guy' — Duluth loses a touchstone with the passing of Roger Hanson
First a fixture in the lineup, and later in the stands, Roger Hanson, 78, was a Central Hillside kid who never stopped doing the thing he loved.
We are part of The Trust Project.
In the years after he made a name for himself flicking jumpers as one of Duluth's most decorated basketball players, Roger Hanson could often be found taking in basketball games with his personal scorebook in hand.
Marking data on the passage of play kept him into the game he loved. Hanson knew every player in the state, one of his friends seemed to exaggerate, and had a very real propensity for popping up at any game that mattered.
"Recruiting-wise, it never surprised me, I'd be down in the Twin Cities watching a kid play and Roger would be in the stands," said one-time University of Minnesota Duluth men's basketball coach Gary Holquist, now the athletic department's senior development officer. "Roger was a basketball guy and knew a lot of basketball people."
Hanson, 78, died June 9 from cancer . His passing came only a couple decades after he relented to aches and age, and stopped playing games in the recreational leagues around Duluth.
The sport caused him three hip replacements. It took him to other parts of the world for a brief period of time. It saw Hanson and his high school teammates treated like rock stars, floating through Duluth in a parade to celebrate a storied state championship. And those were only a few of the badges the sport pinned on Hanson's life.
"He loved basketball, he loved UMD, he loved Duluth, he loved all of his kids," said Darin Hanson, one of three children to the UMD hall-of-famer.
Darin, 50, followed his dad into becoming a four-year basketball letter-winner at UMD (from 1989-93), and then again into the world of financial planning and investing.
"I tagged along with him to all the basketball courts — UMD, the Jewish center, wherever there was a game in town," Darin said. "I would be the youngest, just this little kid, tagging along and was able to get into a lot of pickup games with him."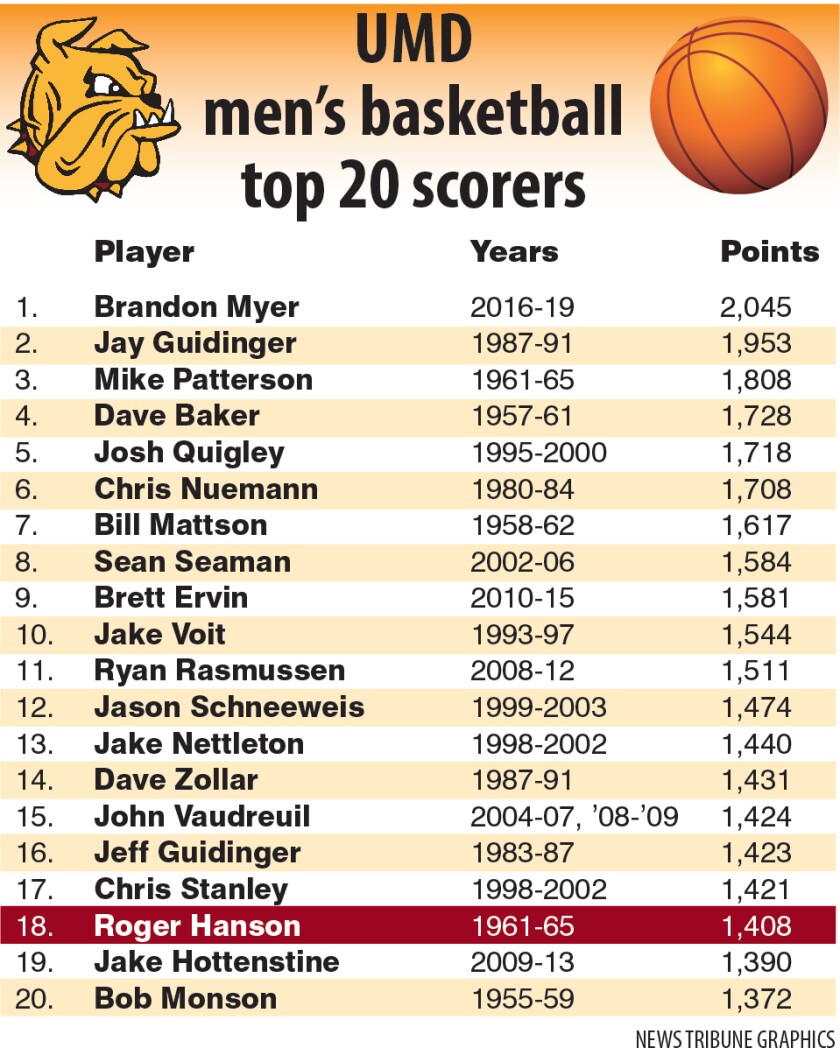 Hanson lived at his home in Duluth to the end. He was a favorite son of the Central Hillside, one who helped claim an unbeaten state championship for Duluth Central High School in 1961 during the tail end of an era when it was a one-class tournament. On that Trojans team, Hanson was part of an uncommonly gifted band of ballers , including Terry Kunze, who played for the Minnesota Gophers and in the NBA.
"The first time we met — the first time we even had eye contact — was at the state tournament," Mike Patterson, 78, of Aitkin, Minnesota, said of Hanson. "Central was there; my Mahtomedi was there. We were both undefeated, and we didn't get the chance to play, because we got knocked off before we played them. Central beat the team that beat us, and finished undefeated."
Patterson and Hanson would go on to play a remarkable 106 games together at UMD, finishing as the school's top and fourth-highest scorers, respectively. Hanson's 1,408 career points have since fallen out of the top 10, but the 6-foot-1 shooting guard's reputation for getting the best out of his abilities remains intact.
"Very methodical," Patterson said. "He could go left, he could go right, he was a good shooter. Give him an open shot, he could bury it. He was fast enough and quick enough to get the job done."
After college, the duo played a stretch together in Akron, Ohio, for the Goodyear Wingfoots, a corporate barnstorming team, popular at the time, that won major tournament championships at home and abroad.
Patterson is now third on UMD's all-time scoring list (1,808) behind Brandon Myer (2,045) and Jay Guidinger (1,953). Patterson talked about records being broken, and the changing game. Sources noted how Hanson stayed connected to the game no matter which direction it wove. To wit: Hanson was among the first generation of Minnesota Timberwolves season-ticket holders. He never missed a road game in his son's college career, much less home games, where he remained a fixture throughout most of his life.
"He always joked about how many more points he would have scored if the 3-point line had been in place when he played," Darin said.
Harry Oden, 83, was a junior team leader for UMD in 1961, when the forever-linked duo of Hanson and Patterson joined the Bulldogs, with Roger still glowing from his Central triumph.
"I'd watched Roger as a junior and senior at Central, which was one of the better basketball teams I'd seen in the area," said Oden, 83, of Milwaukee then and to this day. "I always associated Roger as a good teammate. He would go to the most of his ability. He played hard. He was one of the few guys I kept in touch with."
They won a conference championship that first season together, and a theme bloomed which carried throughout Hanson's life, one of keeping teammates connected. Using the modern parlance of the game, Hanson was "the glue guy" for the way he brought cohesion to his team using assets not always measurable.
"He wasn't expressive on the court; you couldn't get in his head," Patterson said. "He was a winner in business, a winner in sports. He was dependable. I invested a lot of money with Roger."
"W e shared an awful lot," Oden added. "He kept me abreast of some of the other guys we played with."
Away from basketball, Hanson could once be found running around Duluth or wherever he happened to be traveling.
He ran the first 20 Grandma's marathons starting in the late 1970s, finishing the last 19 and making 20 miles on the first one before some overzealous carbo-loading hijacked his race.
He ran 30 marathons altogether, and even tried out an ultramarathon. But he never wandered too far away from a basketball court.
"I remember his goal always was to be able to play together in Bulldog basketball alumni games," Darin said. "And we did. More than once."
1
/
2:
061721.S.DNT.HansonObitC2 free card
2
/
2:
061721.S.DNT.HansonObitC3 free card