Our View: Hear from the candidates starting Friday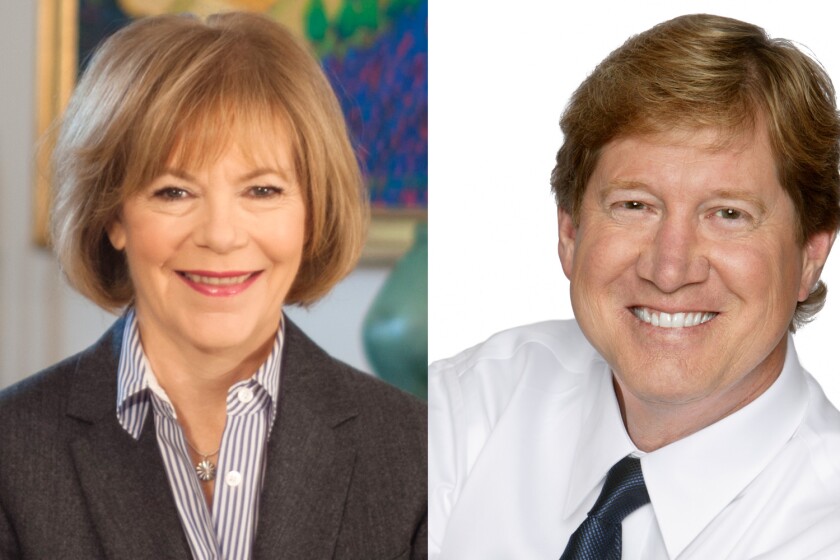 OK, here we go. The first of four candidate forums being hosted this fall by the News Tribune and Duluth Area Chamber of Commerce is scheduled for 11 a.m., Friday, featuring Democratic U.S. Sen. Tina Smith and Republican challenger Jason Lewis.
Held virtually, the forum will give voters a safe, convenient way to hear from and consider the qualifications and stances of Smith and Lewis. For the incumbent and challenger, the forum is a prime opportunity to reach voters by answering questions posed by News Tribune Editorial Page Editor Chuck Frederick and Duluth Chamber President David Ross. The newspaper and Chamber have been partnering for 10 years to host candidate forums.
Up to 100 attendees can pre-register for Friday's forum . A live feed will be available at duluthnewstribune.com . An on-demand, recorded version of the forum will also be available at duluthnewstribune.com following the live event.
Additional forums sponsored by the Chamber and newspaper are scheduled for:
Tuesday, Sept. 22 (Minnesota House District 7A: Rep. Jennifer Schultz, DFL, vs. Tom Sullivan, R; and Minnesota House District 7B: Rep. Liz Olson, DFL, vs. Art Johnston, R). Pre-register here.

Wednesday, Sept. 30 (Minnesota Senate District 3: Sen. Tom Bakk, DFL vs. Christopher Hogan, R; and Minnesota Senate District 7: Donna Bergstrom, R, vs. Jennifer McEwen, DFL). Pre-register here.

And Wednesday, Oct. 7 (Eighth Congressional District Rep. Pete Stauber, R, vs. Quinn Nystrom, D). Pre-register here.
The News Tribune Editorial Board is also sponsoring on its own a candidate forum on Tuesday, Oct. 13, with St. Louis County Board candidates Ashley Grimm and Joe Macor, for the district representing western Duluth, and a candidate forum on Thursday, Oct. 15, with Minnesota District 11 Sen. Jason Rarick, R, and Michelle Lee, DFL.
The difficult decision to host these forums virtually this year was reached with consideration of distancing and other health-protecting precautions made necessary by the COVID-19 pandemic.
All of these forums will be "civility certified," with the participation of Speak Your Peace: The Civility Project, an effort launched in 2003 by the Duluth Superior Area Community Foundation that has since gone global. Duluthians can appreciate that the project remains active here, encouraging respectful exchanges of viewpoints and ideas.
There certainly are a lot of candidates to consider this election season — a lot of stances, and a lot of local politics to digest and consider ahead of Election Day on Nov. 3 (or until whatever day the half or more of voters this fall expected to vote absentee fill out their ballots at home).
The News Tribune- and News Tribune/Chamber-hosted forums can help voters meet their responsibility to bone up on the challengers, incumbents, and issues in order to make informed ballot decisions.
In addition to the forums, the News Tribune Opinion pages in the coming weeks will be filled with columns from candidates and endorsement editorials. The Editorial Board will be meeting one-on-one via Zoom with as many as 14 candidates in seven races for Minnesota House, Minnesota Senate, and St. Louis County Board beyond those listed above.
What matters most, of course, is what you think: your vote, whether cast absentee or on Election Day. As the News Tribune has opined previously, voting is our duty and responsibility as citizens and as members of our community. All of us who are eligible to vote have a voice, and no one should let their voice go silent over something as important as picking our elected representatives. Voting is a privilege. We can remember that in the early days of our nation, most states allowed only wealthy white men to vote. Over decades, many courageous individuals — most notably women and African-Americans — fought for and even died for the right to vote. Going to the polls is not to be taken for granted. It's an opportunity denied to citizens in far too many other nations.
Not voting is letting others choose for us our elected representatives and the direction of our city, state, and nation.
An informed vote considers more than the letter or letters following a candidate's name. Voters can take advantage of the upcoming candidate forums and other content in the News Tribune as part of preparations to be an informed part of the political process.