Reader's View: The threat of pollution from mining persists
In addition to concerns over mining pollution, imagine what could happen in the event of a dam failure.
I applaud my state Sen. Jen McEwen's lead in promoting common-sense protections for the Boundary Waters Canoe Area Wilderness and Lake Superior by introducing a "prove it first" bill (SF59/HF 148) in the Legislature (" Even with DFL in control, bills to further restrict copper-nickel mining unlikely to pass this session ," March 2).
This bill should not be controversial. It would simply require that before a copper-sulfide mine could be permitted in our water-rich environment, independent scientific proof be shown that at least one similar operation in the U.S. has been in business for 10 years and has been closed for 10 years without pollution.
At its website, Earthworks states , "A peer-reviewed study of the track record of water quality impacts from copper sulfide mines found severe impacts to drinking water aquifers, contamination of farmland, contamination and loss of fish and wildlife and their habitat, and risks to public health. In some cases, water quality impacts were so severe that acid mine drainage at the mine site will generate water pollution in perpetuity." All the mines in the study experienced pipeline spills, and contaminated mine seepage occurred in 13 of 14 mines.
Fifty years after the Reserve Mining debacle, threats to Lake Superior remain. The proposed PolyMet copper-sulfide mine would drain into the St. Louis River, the largest tributary to our big lake, which flows through Cloquet, Duluth, and the Fond du Lac Reservation.
In addition to concerns over mining pollution, imagine what could happen in the event of a dam failure.
I am glad President Joe Biden took a stand against the Twin Metals copper-sulfide mine proposal, but let's keep the potential dangers of PolyMet in the public eye, too.
Zabelle Stodola
Duluth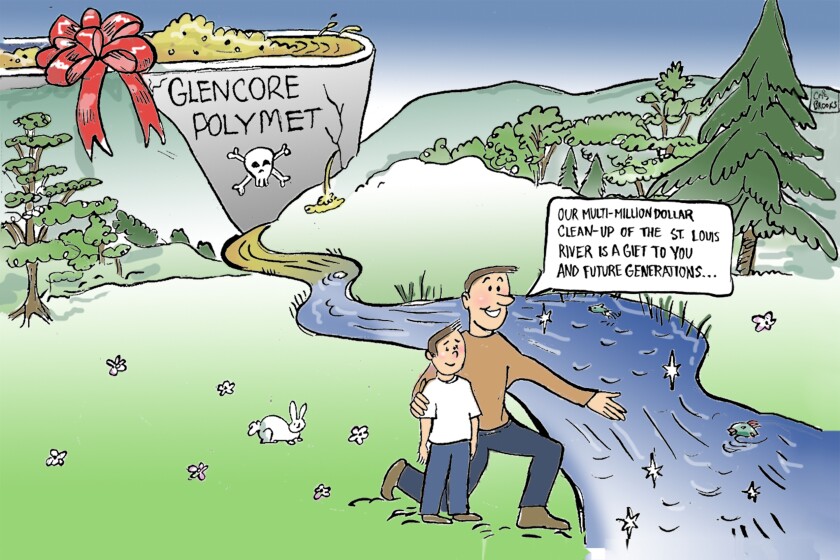 ---
Readers' View and Local Views
Letters are limited to 300 words, must be the original work of the author and must be exclusive to the News Tribune. Letters are edited for style, space, accuracy and civility.
Letter writers are limited to one published submission every 30 days.
With rare exceptions, the News Tribune does not publish poetry; letters that are anonymous, libelous or attack other writers; consumer-complaint letters; thank-you letters; or letters generated by political or special-interest campaigns.
We will consider exclusive Local View columns of 600 words or fewer. Authors should possess unique insights, and their commentaries should demonstrate greater knowledge of their subject than letters.
Email submissions to: letters@duluthnews.com
Mail to: Readers' Views, Duluth News Tribune, 424 W. First St., Duluth, MN 55802.
Fax to: 218-720-5120.
Include a full name, address and daytime phone number. Only names and hometowns will be published.
---