Our View: With new president, CSS stepping up community role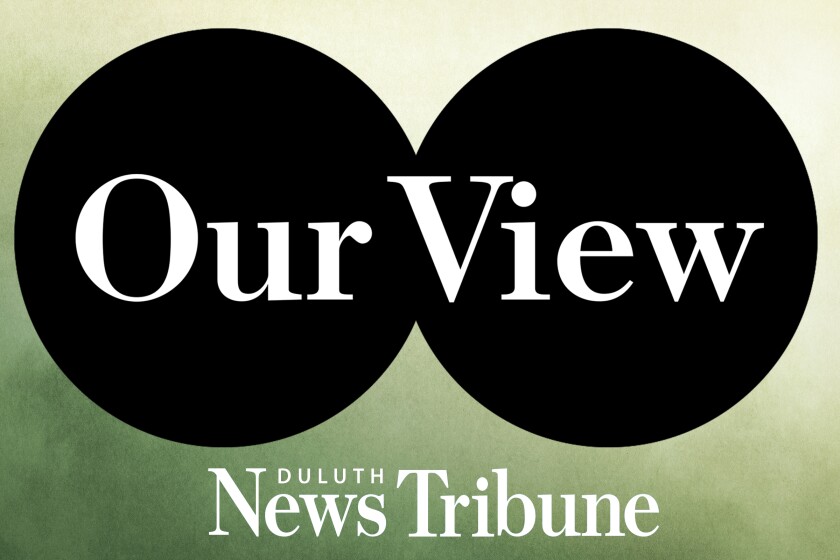 We are part of The Trust Project.
On the job since August, Barbara McDonald will be inaugurated Monday as the 13th president of the College of St. Scholastica — with a focus and with goals that can be appreciated and cheered by all Duluthians.
She aims to be collaborative, to be front and center in the community, and for the college to play a bigger and more meaningful role in helping the Northland face and solve its workforce and other problems and challenges, as she detailed in an exclusive interview in September with the News Tribune Editorial Board.
"The sisters came here many, many years ago — we just celebrated our 100th (anniversary) in 2012 — and they came with a mission of service to the community and built St. Mary's Hospital and established a school and then a college. And it was all about needs and providing access and opportunity," McDonald said. "Those values continue to propel the college forward. I'm focused on looking at how we can serve the community. Where are the gaps?"
McDonald already has examples of St. Scholastica stepping up to fill needs. This summer, the college graduated its first-ever class of physician assistants, their emerging shortage already identified. Also, McDonald said, she had conversations with officials from Essentia Health and St. Luke's Hospital after a meeting she attended at which they detailed their coming $1 billion of medical-campus improvements. What degrees and programs can her college begin offering to meet the health care workforce needs of tomorrow? McDonald asked.
"We had good conversations and a promise to follow up," she said. "We want to continue to innovate and grow (and) to meet those needs of the community. … One of my personal values is building strong relationships and getting out into the community, all sectors of the community. How can we serve? … Where can we help build and close that opportunity gap for our students in the area? But also, what about partnerships with business and industry, and particularly health care?"
McDonald's academic and work history are as impressive as her commitment to community partnerships. She grew up in Lebanon and attended St. Scholastica before earning a bachelor's degree in English from the University of Colorado-Boulder. She has a master's in teaching from the American University in Cairo, Egypt, and a Doctor of Education from the University of Minnesota, Minneapolis. She lived three years in International Falls, Minn., teaching and working at Rainy River Community College. For 14 years she was a leader at Itasca Community College in Grand Rapids, including as provost. She returned to Duluth after serving as president at North Hennepin Community College in Brooklyn Park, Minn.
After all that, it was no wonder that Chris Dolan, chairman of St. Scholastica's board of trustees, said after McDonald was chosen to be president that she "brings an extraordinary combination of presidential experience, a student-centered approach committed to inclusive excellence, an international perspective, and a deep familiarity with the communities and educational needs of Northeastern Minnesota."
Such attributes, coupled with McDonald's well-placed focus and goals, promise to benefit Duluth and the Northland for many years. We wish her well in her new position — and congratulate her on her inauguration day Monday.
PLAN TO ATTEND
What: Inauguration ceremony for College of St. Scholastica President Barbara McDonald
When: 11 a.m., Monday, Feb. 10, which coincides with the Feast of St. Scholastica
Where: The inauguration will be in the Reif Gymnasium inside the college's Burns Wellness Commons in Duluth
Reception: A reception will follow the inauguration at 12:30 p.m. in the college's Burns Wellness Commons Field House
From the editorial: "All your body parts depend on it."