Our View: We're all safer with elected officials backing the blue
From the editorial: "The crisis of too-few-officers and too-few-applicants for law-enforcement openings continues."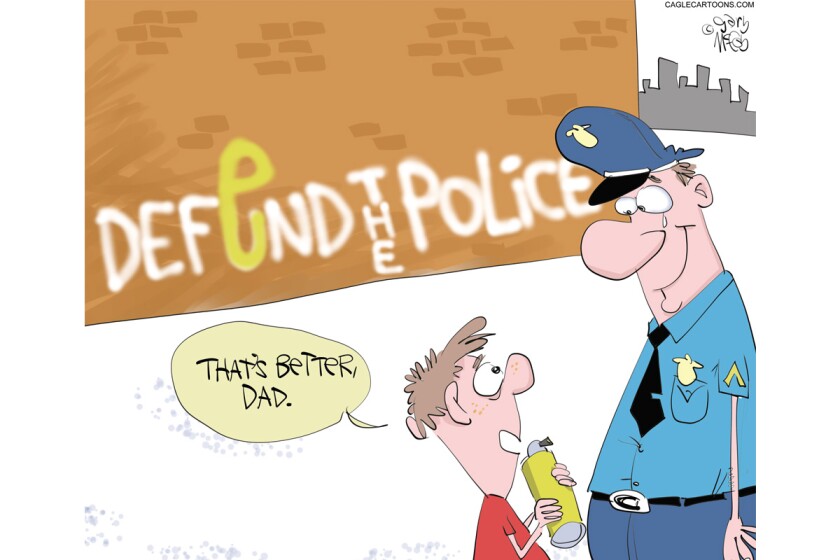 After several years of "Defund the police!", "Abolish the police!", and even angrier chants in response to deplorable acts of a few officers, elected leaders from D.C. to St. Paul this spring again seem to be backing the blue — and putting funding behind their welcome words of support.
And just in time.
"The demand for police officers is at an all-time high and supply is at an all-time low," then-Duluth Police Chief Mike Tusken wrote in a January 2022 op-ed in the News Tribune.
From the column: "The current proliferation of conversion devices to circumvent the law not only endangers the public but also jeopardizes the lives of our nation's law-enforcement officers who are already risking their lives."
The crisis of too-few-officers and too-few-applicants for law-enforcement openings continues.
"There are … agencies that have already kind of reached that tipping point of a staffing crisis, where you start forcing people to work more overtime, and people get (burned) out from that, so they leave, and then you have to force even more overtime, and you kind of hit that critical collapse of staffing where you can't maintain basic services," the St. Louis County Sheriff's Department's Matt Miranda said in a story a week ago in the News Tribune that was an excellent deep dive into the recruitment and retention challenges facing law-enforcement agencies in the Northland right now and across the country.
"It really is probably our biggest issue," St. Louis County Sheriff Gordon Ramsay said in the story .
Nationally, officer resignations increased 18% and retirements jumped 45% in 2020-21 over 2019-20, according to a Police Executive Research Forum survey. In Minnesota, in just 2021, 32 police chiefs retired, and a year later there were more than 800 officer openings. In St. Louis County, as of early May, the sheriff's department's law-enforcement division had seven open positions, as the News Tribune reported. In addition, a host of deputies hired in the 1990s are all about to hit retirement age together.
Addressing floods of openings has been made more difficult by plummeting enrollment numbers in law-enforcement training programs like those at community colleges in Cloquet and Hibbing. Enrollments especially nosedived following the 2020 murder of George Floyd in Minneapolis and the angry backlash in response against police and policing.
The good news is that now, in recognition of the need to address rising violent crime, especially in our larger cities, and the public demand for safety, there are elected leaders again stepping up to help and to support our men and women in uniform.
Late last week, U.S. Sen. Amy Klobuchar, D-Minnesota, announced that her Judiciary Committee had passed four bills to support officers and to combat crime.
"Law-enforcement officers put their lives on the line every day to protect the communities they serve," Klobuchar said in a statement sent to media outlets, including to the News Tribune Opinion page. "As we work to strengthen public safety and improve our criminal-justice system, I'll keep pushing to ensure that our law-enforcement officers have the resources they need to keep us safe."
Highlighted legislation included the bipartisan COPS on the Beat Grant Program Parity Act, which would help law-enforcement agencies in rural and low-income areas access Department of Justice Community Oriented Policing Services (COPS) grants.
Also a bipartisan measure, the Recruit and Retain Act would allow agencies to use COPS grants to cover hiring costs so officers can more-easily apply to recruitment programs. The bill would especially help understaffed agencies or those struggling to attract applicants.
The third was the reauthorization of the Project Safe Neighborhoods program, a nationwide initiative, also with bipartisan support, to address violent crime. In Minnesota, the U.S. Attorney's Office has used these funds to address gun crime, carjackings, and other serious and violent crimes.
Finally, the Strong Communities Act would provide federal grants to local law-enforcement recruits who attend school or academy and then serve in a law-enforcement agency in the same community.
In St. Paul this year, lawmakers' work included $880 million for public safety and the judiciary, including more money for public defenders, crime investigations, and crime prevention.
The Minnesota Legislature showed love to law enforcement a year ago, too, including with a series of bills dubbed a COPS Program, or Creating Opportunities in Public Safety Program. That $65 million of measures upped efforts to attract "nontraditional candidates" to law enforcement, to give scholarships and financial aid to students who want to be cops, to offer up to $5,000 in tuition reimbursements for recently licensed peace officers and those working toward becoming officers, to award $10,000 bonuses to newly hired peace officers, and to market law enforcement as a "rewarding and honorable" career.
"After aggressive efforts to defund and demoralize police officers, it's time we spread the word of the good work law enforcement officers do every day to keep our communities safe," the Minnesota Senate Republican Caucus wrote.
The return of funding measures and pro-police bills, from D.C. to St. Paul and elsewhere, is a recommitment to safer communities, to improved policing, and to ensure officers are there when needed. Supporting law enforcement improves the health, security, and public safety of all Minnesotans.