Our View: Spring floods are coming: Get ready now
From the editorial: "The Northland's best hope this spring is a slow, gradual melt with little rain, which would alleviate flooding risk."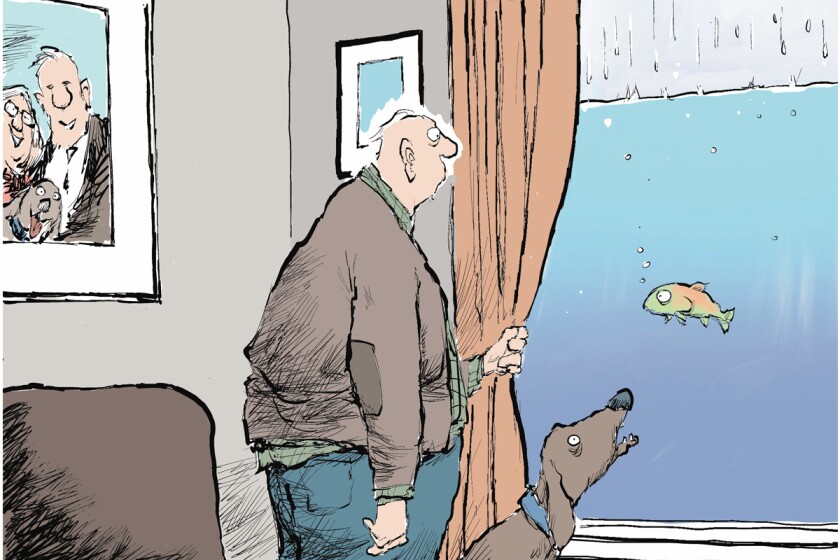 With a "worse-than-normal" spring flooding season on the horizon in the Northland, as the National Weather Service warned last week — there's a greater than 95% chance of moderate flooding along the Mississippi River in Aitkin, for example — homeowners and others need to be prepping now to protect themselves, their families, and their properties.
"The best way to protect your home and belongings from flood damage is to purchase flood insurance — don't let your hard work be washed away," the Federal Emergency Management Agency, or FEMA, says at its "What to do before a flood" page . Most homeowners insurance doesn't cover flood damage, and even just one inch of water seeping inside your home can cause $25,000 in damage or more. Regular checks with insurance can ensure the right coverage and right amount of coverage.
If you've had flooding before, expect it this year, due to "a very high amount of water in the snowpack across the region, with the north shore, east-central Minnesota, and all of northwest Wisconsin currently ranking in the top 10% of historical snow water measurements," the National Weather Service office in Duluth said.
As part of getting ready, evaluate your flood risk at msc.fema.gov/portal/home .
Also, FEMA advises, "Take photos and videos of all major household items and valuables. Retain these (photos and videos) in a safe place because they are important when filing insurance claims." Additionally, "Save copies of birth certificates, passports, medical records, and insurance papers in a safe, dry place. Keep original documents in a watertight safety deposit box."
National Flood Insurance Program policyholders can receive up to $1,000 to purchase "loss avoidance supplies " like tarps, sandbags, and more.
With or without those supplies, "Elevate and anchor your critical utilities, including electrical panels, propane tanks, sockets, wiring, appliances, and heating systems," FEMA urges. "Install a water alarm and maintain a working sump pump to protect your basement. Install a battery-operated backup pump in case of power failure. … Make sure that you clear any debris from gutters and downspouts to avoid an accumulation of water. … When flooding is predicted or imminent, move furniture and valuables to a safe place, such as an attic or the highest floor of your home."
"Your first priority should be the physical safety of you, your loved ones, and your pets," FEMA further instructs. "Stay alert by monitoring the local news and weather reports and sign up for emergency alerts. Have a communication plan ready in the event of a power outage."
The severity of spring flooding this year will depend on how fast the current blanket of snow melts and whether that melt comes with more water from spring rains. Much of our region is covered by snow equaling four to 14 inches of rain, as the News Tribune reported last week. Along higher elevations inland from Lake Superior, the snow is still four feet deep in some areas. Those places will be prone to flash flooding.
"We have so much snow water on the ground … that we think flooding is likely,'' Joe Moore, National Weather Service meteorologist in Duluth, said, according to News Tribune coverage. "All this water sitting on the ground in snowpack has to go somewhere."
The Northland's best hope this spring is a slow, gradual melt with little rain, which would alleviate flooding risk. "Nighttime low temperatures (are) a key factor," the News Tribune's story reported. "If lows continue to dip below freezing, the melt slows down. If lows stay above freezing, the melt speeds up. Another mitigating factor is frost depth. With the thick blanket of snow insulating the ground, there is much less frost than normal in the ground, which should allow more water to soak in, lessening flooding."
Most importantly, we need to be prepared, and that needs to begin now. The National Weather Service's warning last week and the images and memories of flooding along the Rainy River in far Northeastern Minnesota last spring — all that devastation, all the heartache — ought to provide all the inspiration needed.