Our View: School's back in; proceed with extreme caution
From the editorial: "Here is what, unfortunately, can be an annual — if not more frequent — reminder to be extra vigilant about safety while driving, to remain hyper alert to kids anywhere and everywhere, and to be prepared for anything. Tragedy is one distraction away."
We are part of The Trust Project.
It begins anew this morning with the Duluth public schools back in session — and in-person. The return of yellow buses. And more kids on bikes, on foot, and sometimes darting out from between parked cars, especially during the already-busy early-morning and late-afternoon commute times.
So here is what, unfortunately, can be an annual — if not more frequent — reminder to be extra vigilant about safety while driving, to remain hyper alert to kids anywhere and everywhere, and to be prepared for anything. Tragedy is one distraction away. It can happen at any moment.
"It's never more important for drivers to slow down and pay attention than when kids are present — especially before and after school," the National Safety Council has posted at its website, nsc.org.
If you're dropping children off at school, be sure to know the procedures. More children are hit by cars near schools than anywhere else, according to the National Safe Routes to School program.
Also, motorists, slow down. And don't double park at schools; it blocks children's and others' visibility, the National Safety Council says. Don't load or unload children across the street from school, either, so they have to run across, which introduces undue danger. Consider carpooling to reduce the number of vehicles at schools. Don't block crosswalks, forcing school kids and other pedestrians to unsafely have to go around you.
Also, stop for the school patrol — always. Be especially watchful in school zones, near playgrounds and parks, and in residential areas. Never pass a vehicle stopped for pedestrians.
And never ever pass a bus stopped to load or unload children, with yellow or red lights flashing and with its stop arm extended. Remember, children can be unpredictable and tend to ignore hazards and take risks. Stop far enough back from buses to allow children space to safely enter and exit. State law requires at least 20 feet between your vehicle and a school bus with its lights flashing or stop arm out. That's whether you're following the bus or coming from the opposite direction on an undivided road.
Many of us have seen the dashcam videos shot by and posted by school bus drivers of cars flying past and kids nearly being struck. They're horrifying.
If safety isn't enough motivation to heed a bus's stop sign, how about your wallet? Several years ago the fine for failing to stop for a school bus with its lights flashing and its crossing arm extended increased in Minnesota a whopping nearly 70%, from $300 to a minimum $500.
Those fines can be handed down far too often. Every year, about 2,000 Minnesota school bus drivers participate in a one-day count of stop-arm violators. From 2015 to 2019, they tallied a shocking average of more than 600 violations in a single day. Even more shocking, such violations flagged by bus drivers in the annual survey increased 53% over just five years, as the National Association of State Directors of Pupil Transportation Services at North Carolina State University reported in 2017.
Only a fraction of the violators are being caught and held responsible, too. In 2019, 1,166 citations were written in Minnesota for stop-arm violations. That number was 1,052 in 2018 and 1,099 in 2017, as the News Tribune reported last summer after reviewing court records.
"Too often motorists ignore the school-bus laws or are too distracted that they don't see the bus picking up or dropping off children until it's too late," Col. Matt Langer, chief of the Minnesota State Patrol, said in a statement to the media in the summer of 2019. "When motorists violate the law, it puts the lives of children at risk. Drivers should always be looking out for school buses and expect those buses to make frequent stops. ... Pay attention and stop for buses to help keep our children safe."
Of course, staying safe is as much on the kids as it is the responsibility of motorists and other adults. Students can always be wary of vehicles and can always look left-right-left before crossing a street. As ingrained as that may be, it's a practice ignored with amazing frequency and with sometimes-heartbreaking results.
Also, children, never accept a ride from someone unknown. Get to your bus stop early and stand a safe distance away from the curb. Board the bus only after it has come to a complete stop and the driver has instructed you. Only board your own bus. Always stay in clear view of the driver. Never walk behind the bus. Cross streets at corners, obeying traffic signals and staying in the crosswalk. Never dart out from between parked cars.
Any student who rides a bike to school can remember to always wear a helmet and to ride in the same direction as traffic. And that left-right-left? That applies to bicyclists, too. So do all traffic laws.
"Put safety at the top of the list," says the American Red Cross.
That may seem pretty common sense — and it is. But it's also an important, potentially life-saving reminder that bears repeating, especially at back-to-school time.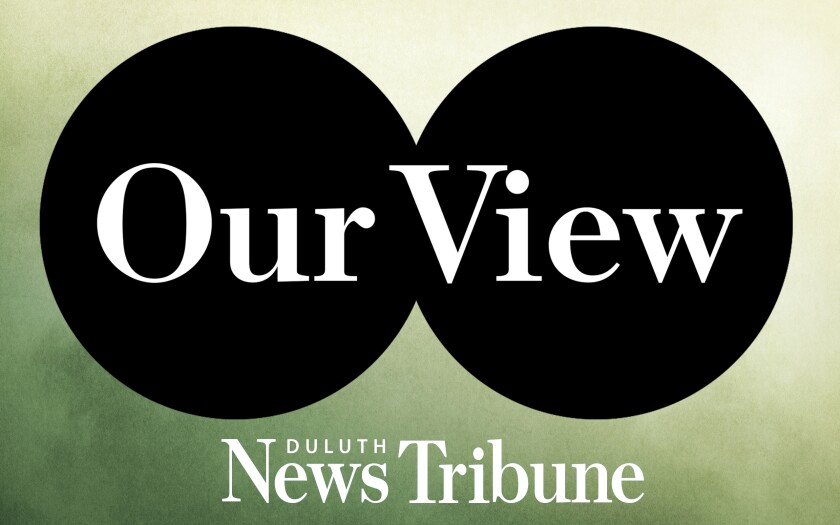 From the editorial: "Before casting any ballot, it's good to be educated on the issues and candidates. The forums this coming week are valuable opportunities."