Our View: Paper mill a model of public-private success
From the editorial: "Like the demand for the bathroom tissue it soon will be producing, Duluth's paper mill can be around for a long time."
It might not be much to look at, just a hulking, earth-toned, mostly windowless factory-like structure. But our paper mill in West Duluth continues to be a shining example for our city and for all of Minnesota of the jobs-supporting, community fortunes-bolstering success that can come from true bipartisanship and public-private cooperation.
The example was reinforced last week when the Minnesota Department of Employment and Economic Development announced it would provide $1.3 million from the state's Job Creation Fund to help ST Paper of Wisconsin reopen the shuttered former Verso Paper Mill.
Just like when the mill was first created in the 1980s, bipartisan, public-private cooperation and hard work are helping to bring it back. It closed in the summer of 2020 when the already shrinking market for the supercalendered graphic paper it was manufacturing was decimated by the COVID-19 pandemic. The reopened mill will produce tissue paper, the market for which is always strong.
With a promise of at least — at least — 80 family-supporting jobs within three years, ST Paper is investing $25 million for renovations to the West Duluth plant, similar to other mill overhauls it has completed successfully elsewhere. That's the private investment.
The public support — in recognition of the promise of a strong payback on investment and the chance to revitalize and restart what has been a major industry for our city — comes from the state Job Creation Fund and a $3 million forgivable loan through the Minnesota Investment Fund, both of which were supported by both Republicans and DFLers in St. Paul. Duluth and St. Louis County also agreed to abate about $1.2 million in property taxes to help make the mill's reopening a reality.
The mill's original opening in 1987 meant new industry, new jobs, and renewed hope at a time when U.S. Steel and then the Duluth Air Base, Clyde Iron, Jeno's, and so much else all had closed, plummeting Duluth into dark days of economic doldrums. This was around the time when that infamous billboard went up along I-35 on the way out of town: "Will the last one leaving Duluth please turn out the lights?"
The new mill "symbolized a newfound resilience in Duluth, our refusal to give up or give in — even when a Twin Cities newspaper said we were 'dying'," as a News Tribune editorial opined in January 2020.
We're emerging from dark days once again, this time because of a virus and a pandemic that just won't ease its grip and that has devastated our economy anew. Old-fashioned bipartisanship and public-private partnering are again providing a flash of hope for a rebirth — just like three and a half decades ago.
Like the demand for the bathroom tissue it soon will be producing, Duluth's paper mill can be around for a long time, bolstering fortunes from the shores of the St. Louis River and helping pull Duluth and the state of Minnesota out of this latest economic downturn.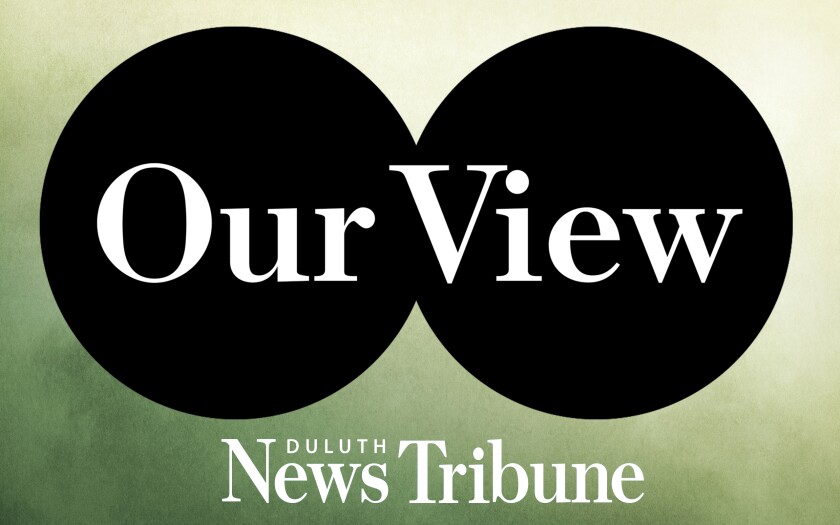 From the editorial: "The diversity in those we've chosen to represent us is certainly worth noting — and worth celebrating after generations of white-males-only rule."
From the editorial: "A few minutes of feedback from all of us can be valuable if the input is examined closely and taken to heart by (Duluth Police Chief Mike) Tusken, his officers, and others in the department."
From the editorial: "There are far safer alternatives than empty buildings for those looking to get in out of the cold."