Our View: No one can kill King's message of equality
From the editorial: "Duluth can ... refocus our energies on the legacy of our nation's greatest-ever civil-rights leader. Just as we do every year."
We are part of The Trust Project.
If his children and widow and others were correct all along, if Martin Luther King Jr. really was assassinated as the result of a plot involving the highest levels of the U.S. government, then a horrible conspiracy played out with precision and tragic success.
Its presumed aim, however, "to remove Dr. King from the American scene," as the late U.S. Rep. John Lewis of Georgia said in the Washington Post in 2018, failed miserably. Dr. King is as much a part of the American scene today as the ongoing struggle for equal rights, fairness, tolerance, and a better America for all.
More than half a century after his death, everything King taught us and all that he left us to work on remain urgent, daily priorities. And never is that more at the fore than on Martin Luther King Jr. Day, the federal holiday on Monday, signed into law in 1983 by President Ronald Reagan.
"King gave us our marching orders — to not delay in changing our society. (More than) 50 years later, it's a lesson we still have yet to fully embrace," Edward T. Bowser argued, writing in 2015 for Alabama Media. "It's that silence that continues to cripple progress and slow that 'fierce urgency' King demanded. Make no mistake, the fight for equality is not over."
"King taught us that our goal ought to be a society in which all of us are judged not by the color of our skin, in both its literal and metaphorical senses, but by the content of our character," Mark Heller wrote at Academy of the Lakes, a college-prep school in Land O' Lakes, Florida. "That has become, or in very real ways is becoming, 'The American Way.'"
"Let us give thanks to God for this true prophet of our times, who taught us how to dream and how to realize those dreams," the Rev. Thomas Rosica said of King in 2018, writing for Salt and Light Media of Toronto. "King embodied the compelling need to live as one, in order to build as one the greatest common good."
Duluth can give thanks, and we can refocus our energies on the legacy of our nation's greatest-ever civil-rights leader. Just as we do every year. There again are opportunities to break bread together as a community, march side by side through our downtown, and rally for unity at the Duluth Entertainment Convention Center. Events this year are on Monday.
No, it's not always easy to participate. Or to remember. Or to continue the struggle. So we can recall what King said: "Our lives begin to end the day we become silent about things that matter." And, "The ultimate measure of a man is not where he stands in moments of comfort and convenience but where he stands at times of challenge and controversy."
King's words live on. Just as surely as the expectation of and demand for equal rights for all.
His legacy could not be removed and will not be removed — not even by an assassin's rifle.
A version of this editorial was first published in January 2019.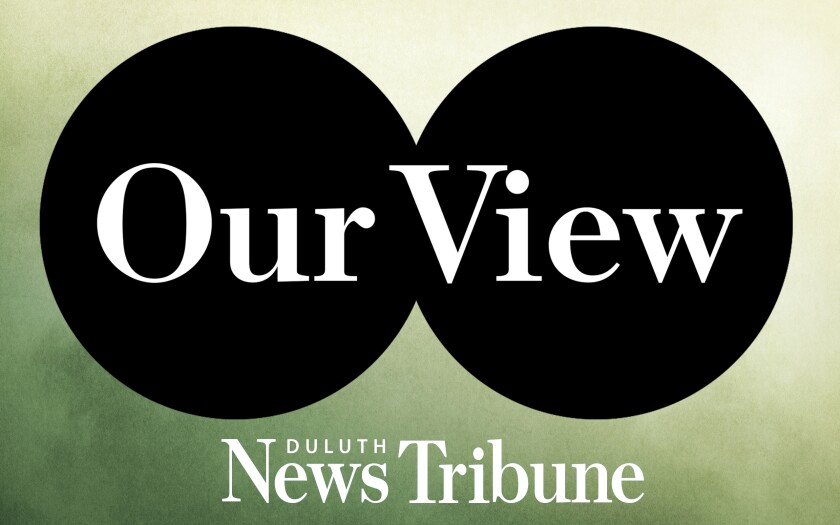 MLK DAY IN DULUTH
Events in Duluth for Martin Luther King Jr. Day include a community breakfast, a gathering and march, and a rally. Details are here and at duluthnaacp.org/mlk.
COMMUNITY BREAKFAST
When: 7-9:30 a.m. Monday
Where: First United Methodist Church, 230 E. Skyline Parkway
What: Breakfast will include a brief local program and a community viewing at 8 a.m. of a program in Minneapolis featuring Valerie Jarrett , CEO of the Barack Obama Foundation. The program will also be online at mlkbreakfast.com . The food is being coordinated by Duluth's African-American Men's Group. A freewill offering will support the United Negro College Fund.
GATHERING AND MARCH
When: 10-11:45 a.m. Monday
Where and what: Gather in the gym at the Washington Center, 310 N. First Ave. W., beginning at 10 a.m., with a departure time of 11 a.m. for a march through downtown to the Duluth Entertainment Convention Center. Past Duluth NAACP President Claudie Washington will be march leader.
RALLY AT THE DECC
When: Noon-1:30 p.m. Monday
Where: DECC Symphony Hall, 350 Harbor Dr.
What: The Twin Ports' celebration of Dr. Martin Luther King Jr.'s challenge to "keep moving forward" is to include a keynote presentation by Anthony Galloway , pastor of St. Mark AME Church in Duluth; the Miziiwekaamikiinang Drum Group; the Central Hillside Community Gospel Choir, under the direction of Alanna Galloway; artist Moira Villiiard ; and Duluth NAACP President Classie Dudley.