Our View: Minnesotans lose with bad info, slow info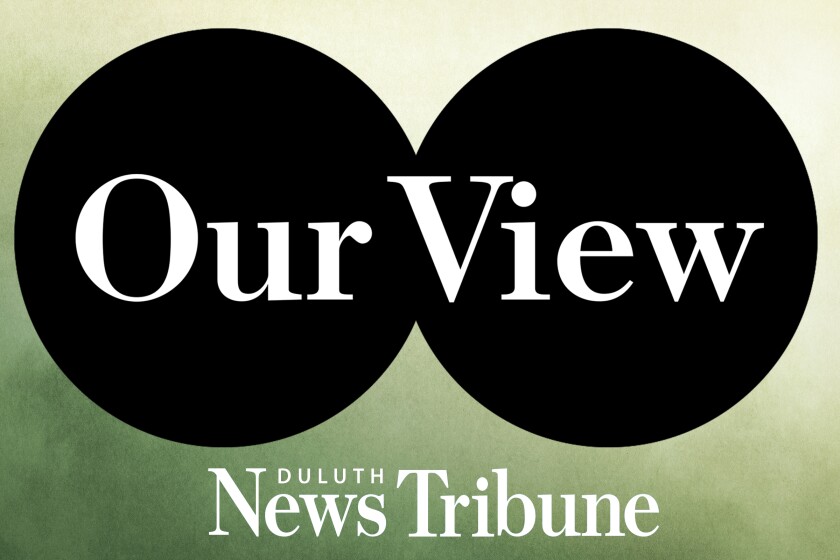 Following the leads of a Twin Cities mayor and Gov. Tim Walz, many Minnesotans seemed to take solace that much of the rioting and burning and chaos on our streets was at the hands of well-organized agitators from outside Minnesota heavily funded by extremist groups.
Except arrest records and jail logs failed to support the assertions.
Rather, 84% of those arrested in Minneapolis on May 29 and May 30 had Minnesota addresses, Minneapolis' Fox 9 found. Its own analysis prompted KARE 11 in the Twin Cities to similarly report that 86% of those arrested for rioting, unlawful assembly, stolen property, burglary, or robbery had Minnesota addresses.
In Duluth, seven adults and four juveniles were arrested Saturday night and early Sunday morning after clashes with police at 27th Avenue West and elsewhere. A car was burned in an arson fire on Central Entrance. All but one of those arrested in Duluth were "local," Duluth Police Chief Mike Tusken announced Sunday morning. The one non-local was from Minneapolis, he said.
Granted, some arrested give police false addresses, as a Minneapolis Police spokesman told reporters. But not often, as doing so can lead to additional charges.
And could enough of those arrested have done that to justify St. Paul Mayor Melvin Carter's statement that everyone taken into custody in his city was from out of state? He later was forced to walk back the claim — but not before it spread like manure in the spring across social media.
Or Walz's assertion that "drug cartels … highly coordinated across the country" are behind the violence? "They are professionals," Walz said, calling their actions "pretty sophisticated attempts to cause problems."
Yes, it is possible that white supremacists or others from extreme agitator groups are fueling or leading the violence in Minnesota and across the U.S. Journalists and authorities can keep digging to find the evidence, and if any is unearthed, those responsible for so much unnecessary destruction and pain can be held accountable.
We can already thank the legitimate news media for digging into the numbers to expose the truth. Such investigations by true journalists are yet another reminder of the importance of supporting local journalism.
Did Walz and Mayor Carter simply receive bad intel, as was later claimed? Minnesotans can certainly hope that's what it was, an honest mis-assessment. But we can also call on our elected officials to more carefully verify before making charged statements. And we can hope there wasn't some deeper political bias at play that prompted the claims that were made.
In a volatile, developing situation, reckless comments can inflame when calm is what's needed. And they can cause complacency, as we saw among Minnesotans quickly choosing to dismiss all the violent wrongdoing as "well, it's not us," as though the very serious issues of racism, police brutality, and more aren't as much a problem here as elsewhere. George Floyd's tragic death ought to be bringing us together to address our shortcomings, not giving us another reason for division.
Receiving little information or too-late information can be just as problematic in an emergency. In Duluth, city officials remained largely mum Saturday into Sunday, even as the interstate was blocked by demonstrators and tear gas was deployed by police to disperse an unruly crowd. The city said it wouldn't comment or provide information until 2 p.m. Sunday — at least 12 hours after the troubles. Only when media members balked did Mayor Emily Larson and Police Chief Tusken move up their meeting with reporters from 2 p.m. to 11 a.m.
Thousands of Minnesotans have peacefully protested in the days following the painful-to-watch cell phone video that showed a white police officer kneeling on the neck of a black man in his custody until the man, George Floyd, apparently died.
With emotions frayed, those in leadership positions, those who we look to for direction as well as reliable and timely reports, need to be both forthright with information and careful with facts. Already bad situations are only potentially made worse otherwise.
(This editorial was updated at 9 a.m. Tuesday, June 2.)