Our View: Minnesota state troopers continue to be underpaid
From the editorial: "Competitive pay can ... (ensure that) badly needed, dedicated troopers can be recruited and retained to replace those who've left or are leaving, whether via retirement or for better opportunities."
In 2020, the legislative auditor's office scoured law enforcement contracts, crunched numbers, and found something alarming: Minnesota's state troopers — who not only patrol our interstates but also regularly deploy to help keep the peace at protests, to deter unrest, and to protect public property and civil rights outside our state Capitol and elsewhere — are paid less than police officers in every one of 33 Minnesota cities examined, with the exception of one, Duluth.
In response, two years ago, lawmakers approved a pay bump, but state troopers' pay today outpaces only two Minnesota cities. Troopers earn $7,903 per month at top scale, while the average for police department officers in cities across the state is $8,622 a month. That's a nearly 10% wage gap.
"We were drowning, and now we're treading water," Duluth Station Sgt. Mike LeDoux, president of the Minnesota State Patrol Troopers Association, said in an interview this week with the News Tribune Opinion page. "As a result of the legislative action, some thought, 'Oh, happy times are here again; the problem is solved.' No, we bumped up only one spot. … State law enforcement officers aren't average, so I don't think it's unreasonable to expect them to be paid at least the average of the group. … Don't you think that's fair?"
Minnesotans can join LeDoux and Minnesota State Patrol troopers in urging the Minnesota Legislature to see fairness in competitive pay — before more troopers abandon the highway patrol for less-stressful gigs and fatter paychecks in suburban or other local departments or in the private sector.
Aware of their spending power and how their pay now affects their retirement later, dozens of troopers in recent years have already fled. Legislation making its way through St. Paul this session promises to help with that. It would require the 2020 study to be used to help determine trooper pay, ensuring that the State Patrol officers are paid at least as much as the average city police officer in Minnesota. Other states already do this.
Encouragingly, the legislation has bipartisan support and is essentially the same bill that made it through committees last year. Like so much else last year, though, it was left undone by a divided, do-little Legislature. Lawmakers can't afford to make the same mistake again.
The State Patrol currently is struggling to fill more than 60 open trooper positions, according to LeDoux. That's likely only to get worse. Nearly 200 troopers are on pace to reach full retirement age in the next five years, making competitive pay an even more urgent matter for lawmakers this session.
"If we want to attract the best of the best instead of the best of the worst, we've got to pay a competitive wage," LeDoux said. "But Minnesota Management and Budget is essentially snubbing (its) nose at (the 2020 report) and saying, 'We can stay with the status quo.' … I want those men and women who live in our community right now and who have a desire to be in law enforcement, I want them to be able to stay home to work. Instead of these kids (from Duluth and the Northland) always going to the metro area."
Competitive pay can help with that while also ensuring badly needed, dedicated troopers can be recruited and retained to replace those who've left or are leaving, whether via retirement or for better opportunities.
In the past several years, the presence, dedication, and willingness of our Minnesota State Patrol to be away from family and to endure long hours and untold dangers has been of great service to Minnesotans. Their continued hard work can be appreciated in Duluth and statewide — and that appreciation can be shown with more-competitive paychecks.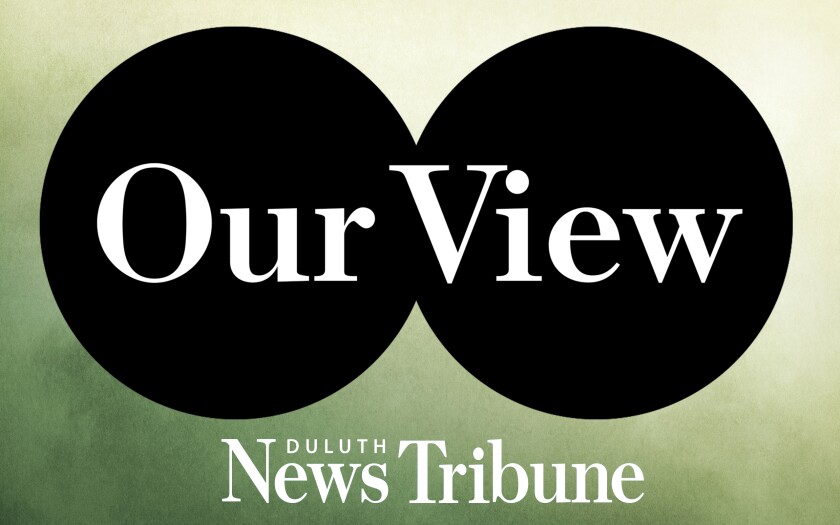 Editor's Note: This editorial was updated at 10:05 a.m. on March 22 to correct an inaccurate number with regard to how many Minnesota state troopers are reaching retirement age. The News Tribune regrets the error.