Our View: Mentoring is another casualty of COVID-19
From the editorial: "Mentor North is far from alone in needing volunteers, donations, or other public support. ... Your help is needed now more than ever."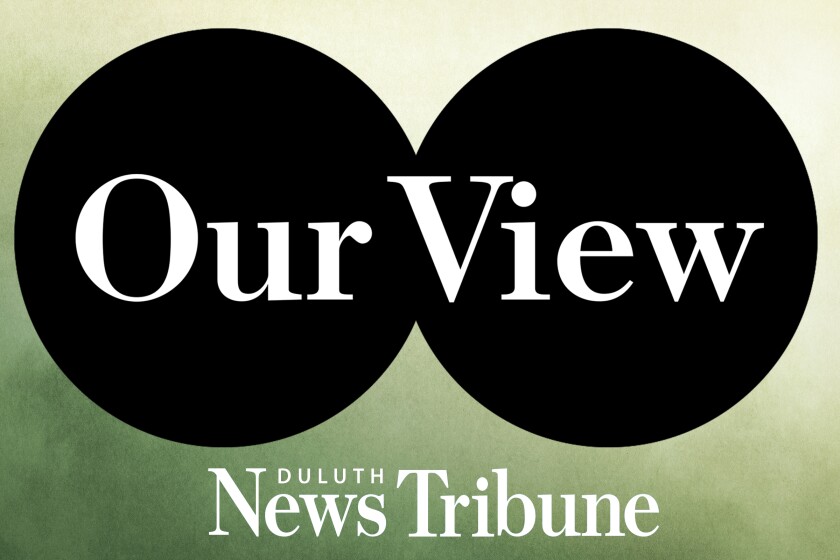 A couple of things, both pandemic-related, are derailing the Duluth nonprofit Mentor North's decades-long mission of boosting youth via positive relationships with adults and adult role models.
Children have been isolated, out of school, and disengaged, their social skills suffering as a result, and their growth and development stunted.
At the same time because of COVID-19, the nonprofit hasn't been able to get out in front of people to recruit them to be adult mentors like it had in the past and like it needs to in order to keep its one-to-one connections doing good and creating positive results in Duluth and Superior.
The results: Only 95 Twin Ports youths are presently paired up with adult mentors — and another 122 are on a waiting list that can last two years or longer. A lot of kids aren't willing to wait that long, and that threatens to exacerbate even further their development of social skills and other tools needed when they become adults.
"We know that when youth have a mentor, it builds their resiliency and reduces isolation. It reduces anxiety and depression. It increases their community connections. It involves them in their communities and moves them more likely into leadership positions," Mentor North Executive Director Beth Burt said in an exclusive interview last week with members of the News Tribune Editorial Board. "We have all these great impacts of a one-to-one relationship.
"And so, right now, everyone's like, 'What can we do for our youth?' I would say one of the answers is to become a mentor."
Mentor North plans to step up its recruitment in the coming new year, to get back to signing up willing and qualified adults like it used to. It has a goal of 75 new mentors successfully completing the screening process, including a thorough background check, and the training. The goal is ambitious. In a normal year, meaning a year before COVID-19, Mentor North signed up 40 to 50 new adult volunteer mentors.
"Our goal is to get this waiting list down," Burt said. "It's all kinds of children, all kinds of youths. It's really any youth that just could use some more adult support in their lives, for whatever reason."
Don't worry, interested adults. You'll be paired with a child who shares at least some of your interests; the screening process helps to ensure that. The minimum time commitment is a very doable four hours a month, although eight to 12 hours is often more typical. And this won't drain your bank account. Mentor North has partnerships with local businesses and attractions to provide buy-one-get-one deals and free or reduced tickets to go skiing, catch a theater show, and more.
"We actually find that it's the simple things mentors do that mentees enjoy the most," Burt said. "They do things like have them over, and they cook a meal together. They go play basketball together. They go meet at the library together. They do arts and crafts together."
Doing such things makes a huge difference. MENTOR National determined in 2020 that at-risk youths matched with mentors were 55% more likely to attend college, 78% more likely to volunteer regularly, and 130% more likely to hold leadership positions.
"The goal of a mentor is just to be there for that youth and to spend one-to-one time helping them to develop their interests, their identity," said Burt. "There's a lot of fun that goes into it, fun activities that people do with their mentees. We're not expecting anyone to solve the world's problems here, but just to be there for a child who needs it."
Mentor North started as a program of the YMCA in the 1940s. The nonprofit formed in 2019 when the worthwhile program's future seemed to be in doubt. It's the only one-to-one mentoring program in the Twin Ports right now, according to Burt.
Mentor North is far from alone in needing volunteers, donations, or other public support. Like with so many other nonprofits and programs in Duluth and around the country whose mission is improving lives or providing services, the pandemic has been absolutely devastating. To find where you, your time, or your money could do good, go to volunteermatch.org or search other online resources for opportunities.
To help Mentor North specifically, or to learn more, visit mentornorth.org. Call the nonprofit at 218-722-3600, or email info@mentornorth.org.
Your help is needed now more than ever, especially as we move back toward normalcy following the pandemic. Or try to.
From the editorial: "A few minutes of feedback from all of us can be valuable if the input is examined closely and taken to heart by (Duluth Police Chief Mike) Tusken, his officers, and others in the department."
From the editorial: "There are far safer alternatives than empty buildings for those looking to get in out of the cold."
From the editorial: "The Duluth and Hermantown districts (aren't) giving up. Like a lot of the rest of us, they (are) simply struggling to keep up."