Our View: Like so much else this year, holiday shopping is shifting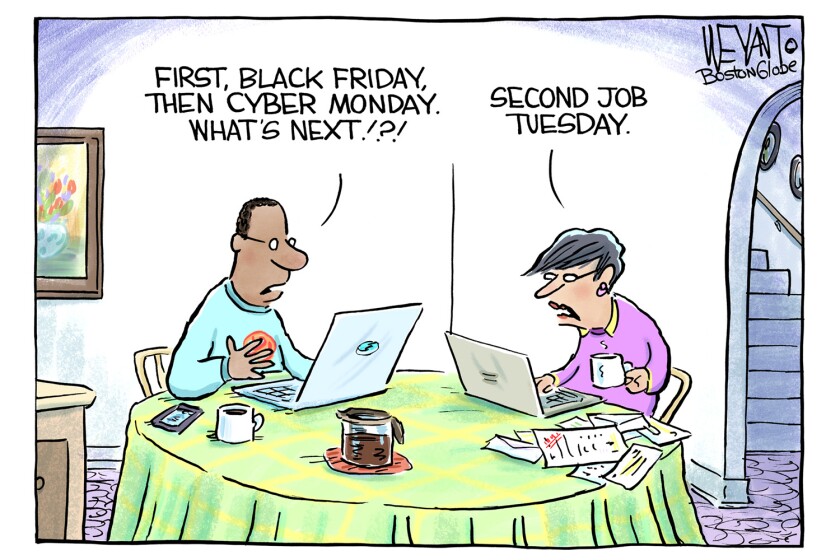 Let's face it, Black Friday has long been losing its luster, absorbed by Cyber Monday, now more a shopping strategy seizing on convenience than a one-day opportunity or event. This year, with our need to stay distant hardly in line with the sales-savvy mobs of past years crushing store doors, COVID-19 is threatening to kill our Christmas-consumerism tradition altogether.
The pandemic certainly seems to be speeding up our shift in holiday shopping tendencies.
"The power of Black Friday has been diminishing over the years and now, with COVID, is virtually nonexistent in stores and primarily moved to online," Marshal Cohen, a market-research analyst, said in a Los Angeles Times story published in the News Tribune this week. "What COVID did was it forced what the inevitable already was to speed up."
This doesn't mean we're expected to be shopping less this year, not with the economy rebounding and not with so much pent-up, stuck-at-home energy in need of bursting out — somewhere, and why not in Christmas giving?
"After all (shoppers) have been through, we think there's going to be a psychological factor that they owe it to themselves and their families to have a better-than-normal holiday," Jack Kleinhenz, chief economist at the National Retail Federation, said in a statement this week.
Black Friday online sales were forecasted to reach $10.3 billion this year, which would blow away last year's $7.4 billion, already a 19.6% increase over 2018, according to Adobe's Unboxing 2020's Holiday Shopping Forecast. The forecast was released in late October. Holiday sales in November and December, both in-store and online, were predicted this year by the National Retail Federation to total upwards of $755.3 billion. That would be a year-to-year increase of 3.6%, a bit better than the 3.5% annual average since 2015. The federation further estimated that consumers this year would spend, on average, nearly $1,000 for gifts, decorations, and other holiday items.
All of which, of course, is fantastic news for retailers as well as businesses large and small. After suffering months of near-fatal, shutdown-shunted challenges, they are in desperate need of fantastic news. In the hospitality industry alone in Minnesota, more than half of restaurants face permanent closure as a result of the economic impacts of COVID-19, industry leaders said in a letter last week to Gov. Tim Walz. The American Hotel and Lodging Association projected that 77% of hotels will close without financial help from state or federal governments.
Our shopping this holiday season can help, too. A lot. Even if it's not carried out in quite the same way as we've grown accustomed.
"Shopping online may save time and money, but this year it also could save lives during this COVID-19 holiday season," Stephanie Garland of the Better Business Bureau said in a statement sent this week to news outlets, including the News Tribune Opinion page. "BBB reminds shoppers to be careful when shopping online. Fraudsters can separate shoppers from their money or steal their personal information."
Online holiday shopping tips offered by the BBB included protecting your computer with a firewall and antivirus and anti-spyware software; checking a site's security settings before entering a credit card number or other financial or personal data; shopping only trustworthy websites; paying with a credit card so problem charges can be disputed; and being wary of too-good-to-be-true deals and phishing attempts like emails claiming problems with an order, account, or package as a way of luring buyers into revealing financial information.
In addition, keep documentation of all online orders and obtain tracking numbers for shipments, the BBB advised. And know your rights: Under federal law, if goods aren't shipped on time, shoppers can cancel orders and demand refunds. Consumers can also reject merchandise if it's defective or was misrepresented.
All this holiday-shopping change, during a year of massive change, isn't necessarily worrisome. Great deals are still out there, and many no longer are limited to just one day.
And retailers and businesses this year, perhaps more than in any other year, are banking on the forecasts of robust holiday shopping so they can use a black pen in their ledgers to indicate profit rather than the red ink of bleeding deficits.
That change in ink color is why Black Friday was nicknamed Black Friday in the first place. We're certainly reminded of that this unusual, coronavirus-cratered year, especially with our holiday shopping habits shifting.