Our View: Lakewalk speed-limit vote left good questions unaddressed
From the editorial: "The council's vote Monday to amend the Lakewalk ordinance can't be the end of this discussion, clearly. ... The conversation can be ongoing and just begun."
We are part of The Trust Project.
Visitors and Duluthians alike can cheer the aim behind the City Council's vote this week to set a 10 mph speed limit along the most popular and most crowded stretch of the Lakewalk, between the Rose Garden and Canal Park. The aim was to slow down bicyclists, scooter riders, in-line skaters, and others to make the Lakewalk safer for everyone, whether they're strolling, exercising, or commuting to work along Lake Superior's picturesque edge. Prioritizing public safety is always commendable.
But this vote was taken following very little public input or debate. It ignored the logical and sensible request of a community group whose sole purpose is pedestrian and other public transportation to "engage with the people who actually use the Lakewalk" and to create a "citizen-led commission to address all modes of transportation infrastructure," as a representative of the group, We Walk in Duluth, wrote in a commentary in Sunday's News Tribune.
And the council's decision left a host of legitimate, good questions unanswered or even discussed.
How will Lakewalk users be informed about the new speed limit? If it means signage, how much will that cost taxpayers? And how quickly can such signs go up? It took years for Duluth to erect its snow-emergency-route signs.
Who'll enforce the new speed limit? The Duluth PD is already down officers, and this hardly seems a law-enforcement high priority. Like with many laws, compliance can be voluntary or complaint-driven, of course, but will the new speed limit even begin addressing its aims then?
Yes, concerns about speed and congestion are more at the fore with increasing electric-bike and electric-scooter rentals in Duluth, especially in downtown and Canal Park. But is there a corresponding growing public-safety problem? Are pedestrians being struck left and right, or even more so than in the past? Is yet another law necessary?
What about common sense and common courtesy instead? Are e-bike riders or scooter users just blowing by pedestrians and putting them in danger? If so, would those Lakewalk users even pay attention to a 10 mph speed limit?
Do they even know how fast they are going? Most bikes, scooters, and other ways of getting around aren't equipped with speedometers. Anyone who has zipped along on a skateboard on in-line skates knows you can get moving pretty fast without really realizing it.
The council's vote Monday to amend the Lakewalk ordinance can't be the end of this discussion, clearly, even if Councilor Roz Randorf's effort to delay action disappointingly fell short. This moment can be seized on instead as a jumping-off point and as a chance for the community to take advantage of all the sudden attention to both Lakewalk safety and transportation beyond, but still including, our cars and trucks.
We still need to address the many questions and concerns the council's action this week left unaddressed. The conversation can be ongoing and just begun.
In that spirit, the citizen-led commission suggested by the We Walk in Duluth group would address all modes of transportation infrastructure. As the group's Forrest Vodden pointed out in his column, "Transportation is a core city function that should be addressed in all areas of policymaking."
He also wrote that, "Without this (citizen-led commission), the City Council and city staff take reactionary measures, which is what we're seeing with this discussion regarding the Lakewalk. With a commission whose sole mission is advising on transportation issues, these types of conflicts could be anticipated, plans created, and resources allocated more strategically. It works in other cities, and it can work here."
A speed limit on a small but busy portion of the Lakewalk can be a part of what works here. But first it needs to work itself, and, right now, there are disappointingly more gaping questions than specific implementation plans.
As Vodden wrote, "Solutions require a big-picture view, not fragmented decisions that don't address the city's bigger need to create safe places for everyone, whether we bike, roll, stroll, or scoot. … Transportation infrastructure is one of Duluth's largest land uses. As a city, we should have a process that ensures all Duluthians are represented fairly, regardless of how we choose to get around in our daily lives."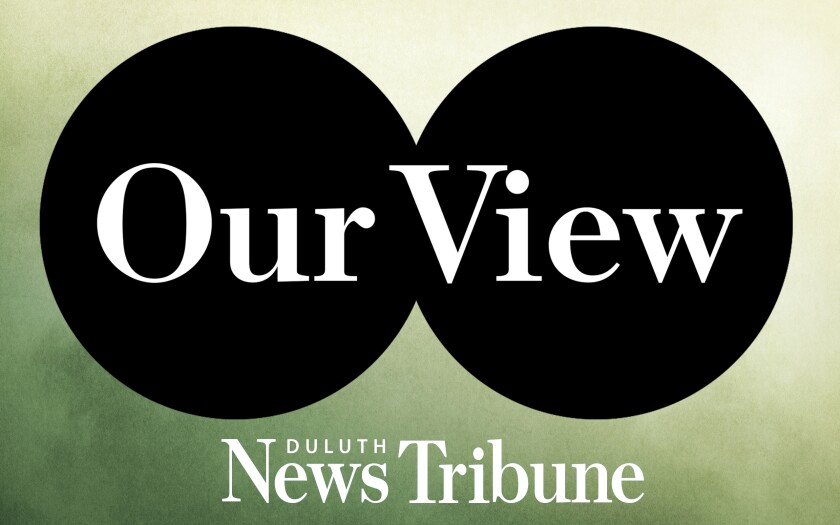 From the editorial: "Before casting any ballot, it's good to be educated on the issues and candidates. The forums this coming week are valuable opportunities."