Our View: Heed hospitality industry's screams for help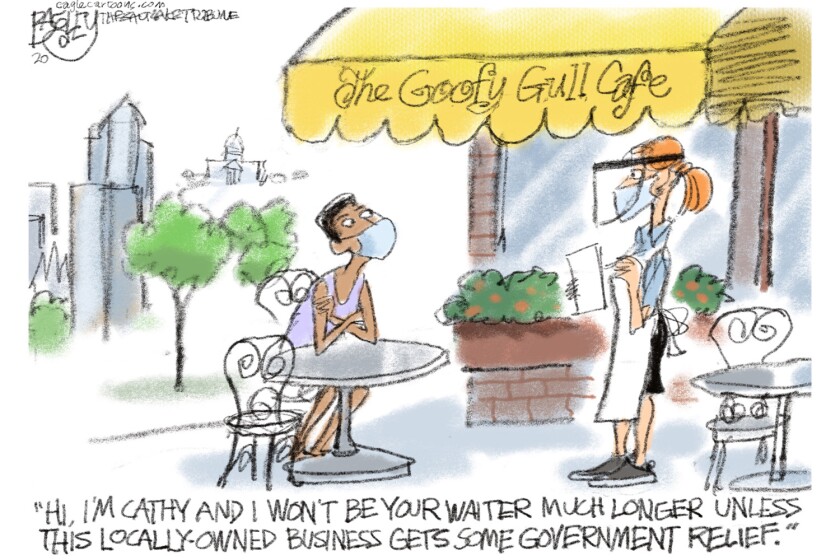 Restaurants, bars, hotels, and other businesses in the hospitality industry have been perhaps as hard hit financially as anyone in Minnesota by the COVID-19 pandemic. And that was true long before Gov. Tim Walz last week ordered bars and restaurants to close for indoor service and fitness centers and entertainment venues to shut down entirely for four weeks. It was just the latest shutdown as part of efforts to curb and get control of the rapidly spreading coronavirus
But is hospitality unfairly bearing too much of the brunt of the state's response? The industry certainly thinks so, and its cries for help can't be ignored.
This new set of restrictions, for example, "is not a scalpel," the Minnesota Licensed Beverage Association complained in a statement. "It's a hatchet targeting one of Minnesota's hardest-hit industries this year. Bars and restaurants are only affiliated with 2% of (COVID-19) cases, but these new blanket rules across the state will cause more businesses to close, leaving more people unemployed and unable to support their families. …
"Expecting the hospitality industry to absorb this volume of responsibility and economic harm without any sort of relief is unfair, and we would encourage our political leaders to pursue relief for … the hospitality industry."
The association isn't alone in calling for state financial aid for an industry in crisis — and one as important in Duluth as anywhere in the state. Industry leaders statewide last week sent a letter to Walz, asking for a $200 million emergency grant fund, a break on sales taxes, lowered property taxes, and a cap on third-party delivery fees, among other ways to help keep afloat businesses "already on the financial precipice," as Twin Cities Business stated it.
"Through no fault of their own, now over half of all Minnesota restaurants face permanent closure," the letter read. "The American Hotel and Lodging Association (has) projected that 77 percent of hotels will close without action."
Fortunately for the hospitality industry — as well other businesses and workers struggling through these dark months of illness and uncertainty (unemployment in Minnesota peaked in May at a staggering 9.9%, and is still sputtering to recover) — Gov. Tim Walz is planning to call lawmakers to a special session to consider COVID relief. The sooner the better.
A "bridge" until Congress approves another round of federal funding, as Walz called the being-worked-on state aid, is expected to include direct money for businesses; fee waivers for bars, restaurants, event centers, and craft breweries; a jobless benefits extension of 13 more weeks (expected to help 100,000 Minnesota workers whose benefits end in December); $500 emergency payments to struggling families; and grants to restaurants to provide food for health care workers, homeless shelters, and long-term care facilities.
Already, on Wednesday, Walz announced that more than $1 million in grants is available immediately through the state's tourism-promotion office, Explore Minnesota. The grants are for nonprofit tourism-promotion organizations, "so they can continue to stimulate travel for the economic benefit of their communities," the announcement stated.
All of it is needed. All will be welcomed. Government is irresponsible in shutting down the economy and then not helping its citizens and businesses through the resulting hard times. To make it happen in St. Paul, DFLers and Republicans need to work together and compromise. In a time of real emergency, such bipartisanship shouldn't be too much to ask, even from the nation's only politically divided legislature.
"The hospitality industry is drowning," St. Paul restaurant owner Mike Runyon said this week, joining the governor at a press conference. "We are in desperate need for our governments to step in and help during these restrictions."
Look no further than Duluth to see the struggles. Businesses and industries are closing or are laying off large numbers of workers. As one indicator, the tourism tax allotment to Visit Duluth, our community's convention and visitors bureau, decreased by 33% as of July. As another indicator, only 52 of 474 DECC workers on the payroll in March were still employed in September, as the News Tribune reported then.
"Now is the time for a package to go forward," Walz said at the press event outside Runyon's Nook restaurant. "The sacrifices (that businesses) are making can't be for naught. … We need to make sure we're taking care of these folks."
Their cries for help cannot be ignored.
NOTE: This editorial was updated at 2 p.m. Wednesday to include Gov. Walz's announcement of immediate grants for tourism promotion.