Our View: For police right now, image still important — including how their cars look
Duluth Police Chief Mike Tusken understands the importance of perception, even now with officers under incredible scrutiny and with bigger policing matters being taken on in the wake of George Floyd's tragic death after he was held down by Minneapolis Police.
But the way Tusken and his Duluth officers are seen in the community — whether positively or negatively — including when they roll up on a call or while they're cruising through town, remains important, too. So Tusken didn't ignore an email last week from a Duluth high school math teacher over "an issue that has irritated me for years," as the teacher, Tom Maloney, wrote.
His email to the chief and Duluth City Council was about Duluth's police cars, how they look, and the negativity they're right now conveying to the rest of us.
"To me, they have appeared needlessly sinister and masculine, especially in comparison to the European car I found on an internet search," wrote Maloney, who copied and pasted into his email a picture of a cheery neon yellow, blue, and white police cruiser from overseas. Next to it he pasted a picture of one of Duluth's hulking traditional black-and-whites.
"Perhaps during these times when we are all working to reclaim the positive image of police in our communities, the timing is right to take a look at the aesthetic of our city's vehicles," Maloney urged. "Thank you for your leadership during these trying times."
Tusken replied in less than an hour. He explained about the squads that, "Some of the look is attributed to cost; base-black vehicles are less expensive, and we wrap them with white doors and personalize (them)."
In addition, Tusken said, Duluth squads are sometimes wrapped and decorated with decals and logos in support of community partners "and to do awareness campaigns" for things like breast cancer, the Autism Society of Minnesota, and the National Alliance on Mental Illness. Tusken attached pictures of his own to show off those specially marked squads.
"Any change made takes years to turn over our substantial fleet," Tusken said, "but you have planted a seed today, and I thank you."
The thanks went both ways. Maloney's original message also addressed the Duluth Police Department's handling of the unrest the evening of Saturday, May 30 and the tear gas deployed to disperse a crowd of demonstrators early the following morning.
"Thank you, Chief Tusken, for your foresight in deploying officers early Saturday to connect with the community amidst dangerous national protests," Maloney emailed. "As a 20-year high school teacher, I know something of the role of authority, and your strategy demonstrated a deep understanding for the importance of building a warm relationship before deploying cold enforcement."
With regard to squad cars, in an interview later with the News Tribune Opinion page, Tusken added: "There's no question that's something to certainly always be considering: How do you show up? How do you look in the community?"
The seed is planted. Perhaps someday Duluth's squads will look quite different, maybe even less sinister. For now, though, far-more-pressing police matters appropriately are being addressed first.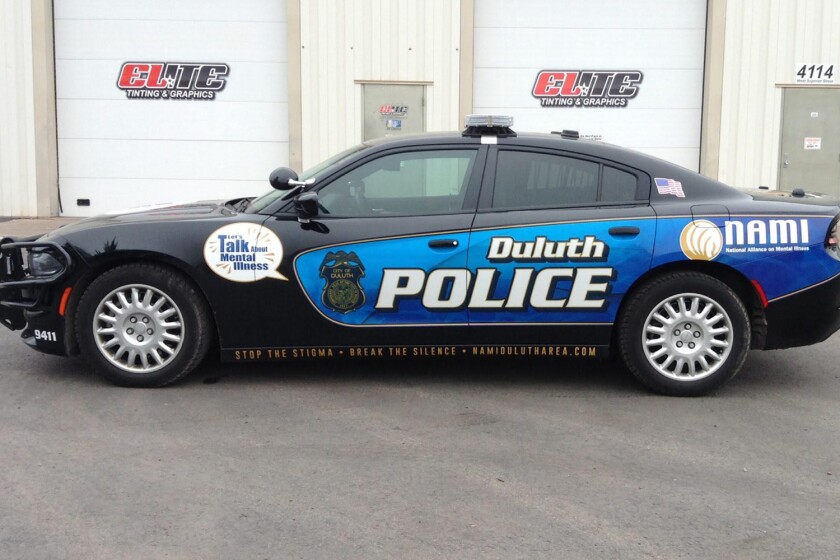 1
/
2:
The Duluth Police Department occasionally wraps its squad cars in support of community partners or causes.
2
/
2:
A police car stops at a crossroad near the Crown Court in Brighton, England.