Our View/Endorsement: Let Grimm, Erkkila vie to rep western Duluth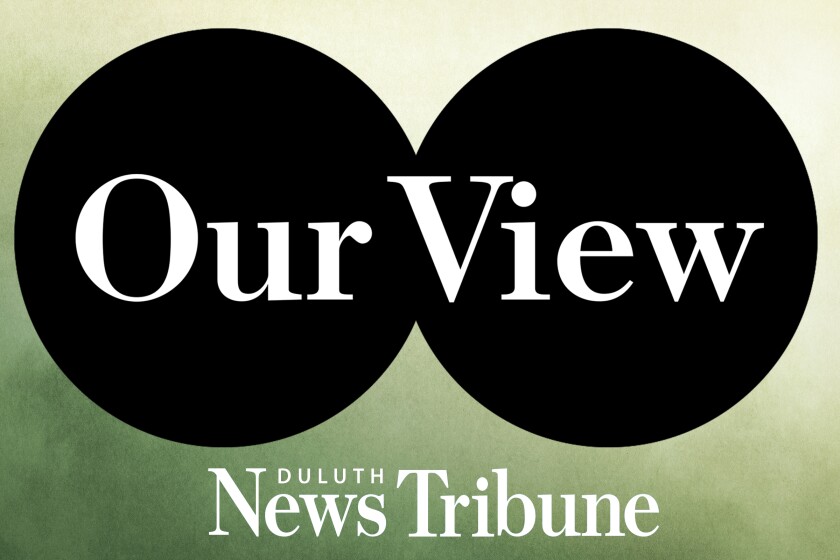 One has a background in business. One has experience working with and helping families and others in need of assistance and services. Both support responsible mining and a St. Louis County without a Duluth-Iron Range rift.
In the Aug. 11 primary, voters from western Duluth have the chance to send Eric Erkkila and Ashley Grimm to the Nov. 3 election in the race to replace District 3 Commissioner Beth Olson on the County Board. A field of three first-time candidates will be trimmed to two on primary day.
***
"Why did I run? I got tired of complaining, and I wanted to start doing something to help the county," Erkkila said in a candidate screening interview held virtually this month with members of the News Tribune Editorial Board. "The county has a huge budget. It's a huge geographical area. It's got a lot of issues that need to be dealt with, and I thought, well, at this point in time, the county has been good to me, so I wanted to come back and pay it back."
The county's big budget pays for things like highway maintenance, programs that help families in distress, and public safety. To responsibly pay for it all, Erkkila said, the county needs to do more to spur economic growth and the tax base.
"I bring the private-sector view to this, that by developing things, as the pyramid gets bigger at the bottom, you can support more going up," he said. "We need a bigger tax base and more economic development."
We also need to protect the county's half percent sales tax for highway repairs so it's never drawn from for other things. And we need an adequately funded St. Louis County Sheriff's Department, Erkkila said.
"As far as I'm concerned, that sheriff's department is way understaffed," he said. "The police are an integral part of the community as far as keeping it safe and keeping people safe."
Erkkila lives and works as a supplier to the mining industry from his home in western Duluth. He also has a cabin on Lake Vermilion, so he sees how "the Range needs Duluth, and Duluth needs the Range. … I don't know that Duluth would be the city that it is today (without the Iron Range). … We have to get along to bridge that gap."
***
Grimm works at the Damiano Center in Duluth, operating a family and employment program. She is also a community organizer, helped build a summer program to give teens their first work experiences, is trained in restorative justice, and majored in history and political science at the University of Minnesota.
"What gets me really excited about running for the County Board is that there's almost no other level of government that is charged with supporting families in the way that the County Board is," Grimm said in a separate virtual interview with editorial board members. "I see (the challenges) every day with families. How they can build stability or how our services have gaps in them that leads to family separation. I see that every day in the work that I do. I want to be someone who's knowledgeable about both the work that the county does, the impact that it has on families, and the real community organizing that it takes to get to where we need to go. I don't want to lose the progress that Beth Olson has made."
Grimm has also served seven years on the Duluth Human Rights Commission, including as its chair and vice chair. Her work included Duluth's Homeless Person's Bill of Rights. Energetic and smart, Grimm seems far better versed on Duluth-specific issues, but she has plenty of time before Election Day to bone up on county matters.
Asked about her priorities and focus if elected, Grimm said, "It's making sure we have well-run county services right now, that over 1,800 county workers are supported and have not only the gear they need but the support in terms of work environment on the ground. … One of the other top priorities is strong public health initiatives. … This isn't just about western Duluth. I want to be a strong representative for our families out here."
***
Also on the primary ballot for County Board District 3 is Joe Macor, who, with his wife, owns and operates a foster care home for disabled adults. He's also a longtime volunteer coach for the Denfeld Junior Football League.
"I grew up here," Macor said. "I want to make sure that my kids ands the kids that I've coached the past 20 years have opportunities to stay here, to be successful, and certainly that there are some well-paying jobs in this county for them."