Our View / Endorsement: Forsman, Hobbs emerge amidst strong candidates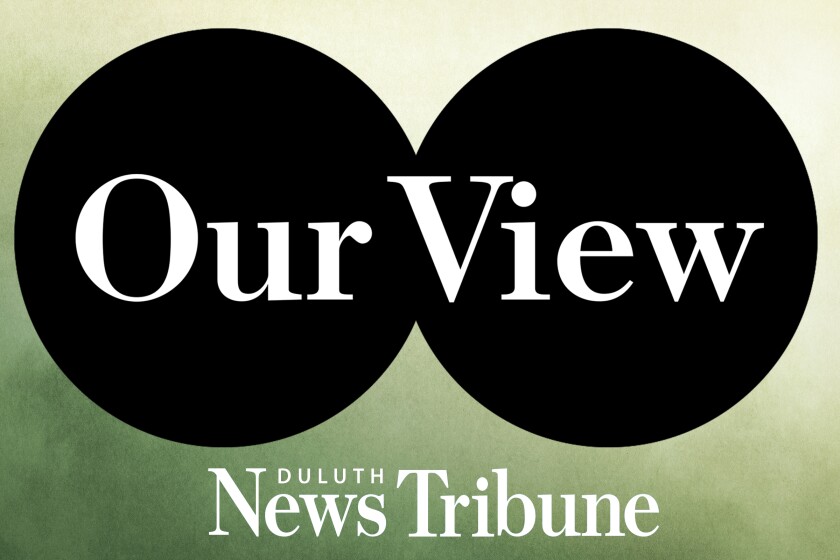 So many of the challengers and incumbents for Duluth mayor, Duluth City Council, and Duluth School Board this fall are running for applaudable reasons: to give back, to serve their community. It's refreshing and welcomed amidst growing numbers of way-too-many politicians out there for purely party reasons or personal gains.
Perhaps nowhere is the high quality of the local candidates this fall more evident than in the race for two open At Large seats on Duluth City Council.
Incumbents Arik Forsman and Noah Hobbs, both with impressive accomplishments and applicable expert knowledge, earn voters' nods on Nov. 5. On Election Day, Duluthians can return Forsman and Hobbs to the council.
Their strengths match well with some of Duluth's greatest needs.
Forsman, first, is an economic development professional for Minnesota Power who also has worked in the public sector for St. Louis County. In addition, he graduated with honors in 2009 from the Labovitz School of Business and Economics at the University of Minnesota Duluth.
"In my day job, it's my job to think about how we can recruit more businesses, how we can get more investment, and how we can grow living-wage jobs in our community," Forsman said at a Sept. 24 candidate forum sponsored by the News Tribune and Duluth Area Chamber of Commerce. "(My experience) gives me a well-rounded perspective, with my community involvement. It gives me the ability to think through different perspectives as we make decisions on the City Council, and hopefully it equips me to continue to serve."
Forsman was appointed to the council last year, picked from 20 applicants to replace Council President Elissa Hansen when she resigned to take a new job. He also has a strong record of community service, including on the St. Louis County Civil Service Commission and on the boards of the Greater Downtown Council and Community Action Duluth.
"The first priority, and really where I've spent most of my time the last year, is working to tear down economic barriers to families. And what I group into that is access to housing; … access to affordable and high-quality child care; good-paying jobs, especially in our western neighborhoods where median income is lower; as well as how do we think about transportation in a 21st-century city," Forsman said.
To encourage and assist businesses and economic activity — which promotes job creation and an expansion of Duluth's tax base — Forsman and Hobbs co-sponsored a resolution to speed up permitting and licensing processes in City Hall and to remove barriers like unfavorable zoning in Duluth's core investment areas.
"Those are the things that we can do to remove obstacles from businesses so that they feel like they are a partner with us," Forsman said.
Hobbs has been on the council three and a half years and is currently council president.
He was the force behind the Red Tape Reduction Task Force, which has been doing exactly that in City Hall.
And he is a housing professional and lending director for One Roof, a community housing nonprofit. In Duluth, few issues are more pressing than the need for housing for residents and newcomers of all income levels.
"Folks want to live, work, and play here, and currently they can't live here (because they can't find) a place (here)," Hobbs said at the forum, held inside the Depot downtown. "Then they go to other places, and we lose out on that property tax collection, which is what helps us keep our property tax rate down. … We have jobs that currently are unfilled because we don't have housing opportunities."
In addition to his housing expertise, Hobbs has an attractive grassroots resume. He served as Merritt Community Club president in his West Duluth neighborhood. On the council, he was a driving force behind creating a warming center for the homeless on cold winter nights. He worked to get rules and expectations in place before scooter rental businesses arrived in Duluth. And he was similarly out ahead of emerging trends like Lyft and Uber and vacation rentals, ensuring that Duluth is proactively driving change rather than letting new demands dictate to us.
"Duluth is poised for success," Hobbs said. "We've had a significant amount of investment that we can consider a success on its own. But how can we build upon that and grow both our housing and business(es) … to make sure we have a more stable economy for when we do have a downturn?"
Challenging Forsman and Hobbs are Mike Mayou and Derek Medved.
Mayou is a community organizer and a student at the University of Minnesota Duluth's Labovitz School of Business and Economics. He supports raising the minimum wage, environmental protection, and growing Duluth's tax base so taxes don't have to be raised.
"I see tremendous potential in the future of our city, and I want to invest in that future," he said. "(We need) leadership that stands up for working people, for families, for young folks, and for people that have been traditionally left out of the political process. I'm ready to be that leader."
Medved, a 2013 Denfeld grad, is a small-business owner whose properties include the Gary Milk House and President's One Stop in Superior.
"I want to work hard for the community, … to be a strong voice and to be a strong leader and to fight," he said. "We need housing. Without that, no industry will move here. Nobody is going to want to invest in our community if we don't have housing for the workers."
All the races on the Nov. 5 ballot in Duluth are local. Voters can be just as earnest about going to the polls as the candidates are about serving. And in the race for two City Council At Large seats, they can return the applicable expertise of Arik Forsman and Noah Hobbs.