Our View: Embracing week-old hands-free law 'hard'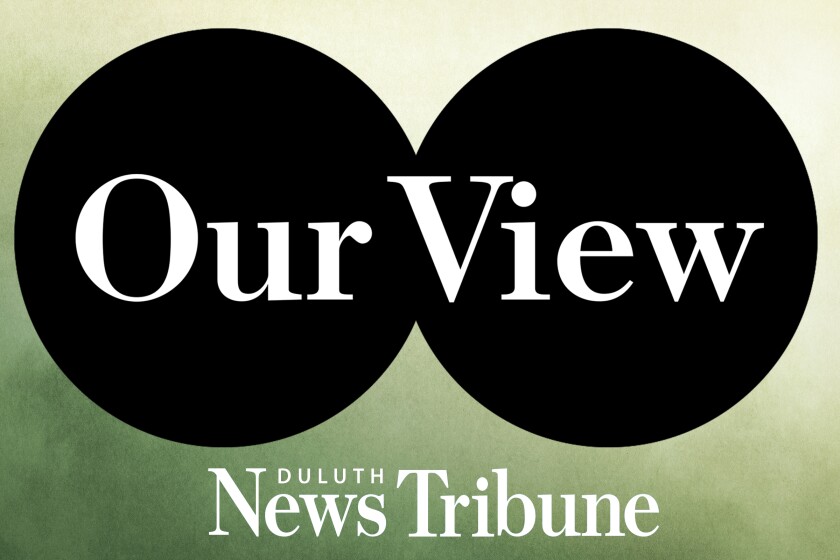 One full week in, how you doing? For many of us it's tough to put down the smartphone, to ignore it even for a short time. But the law in Minnesota, in effect on Aug. 1, says we now have to when driving. Have to. Can't even have it in our hand.
Talk about a lifestyle change.
"It'll be hard," Minnesota Gov. Tim Walz acknowledged last week in a meeting with the News Tribune Editorial Board. "It's not like I'm a grumpy old man, 'Get off my yard!' I'm a technology guy. But with just a little bit of planning, we can make this change."
We can and we must. Our neighbors' lives — perhaps ours, too — depend on it.
Right now in Minnesota, one out of every four motor vehicle deaths is due to distracted driving. And what's more distracting than a phone pressed to a driver's ear, his full attention on the conversation rather than on the road?
Every year, 45 Minnesotans die and 204 others suffer life-changing injuries as a result of a motorist driving while distracted, the Minnesota Office of Traffic Safety has reported. Hands-free laws like the one Minnesota just passed — with welcome bipartisan support and cooperation among our elected legislators this session — already have proven effective in reducing traffic fatalities in 15 states. Deaths on highways and roadways in those states already with hands-free laws went down 15 percent, the National Safety Council and Insurance Federation have reported, basing their findings on National Highway Traffic Safety Administration data.
"It will make a big difference," Walz said of Minnesota's measure. A 15 percent reduction here would mean 32 fewer deaths this year on Minnesota's highways and roadways.
But first the new law needs to be obeyed.
"It takes about 90 days or so to get people used to it," Walz said. "I don't think it's all that much different for those of us who went through 'buckle up.' It takes a little while."
"It's important to educate," Duluth Police Chief Mike Tusken said at a news conference with Walz the day the governor was in town. "It's important for us to do enforcement. It will take time for us to change human behavior that's been conditioned to having cell phones with more and more data, more and more information being pumped out."
Capt. Chip Lemon of the Minnesota State Patrol further told reporters, "We are given a tool to save lives. This is truly for my career in law enforcement one of the best laws to be in effect. (It) was long overdue."
If it takes a hit to the pocketbook to influence compliance, let the $225 to $275 for talking on or otherwise using a phone while behind the wheel be persuasive. The Minnesota State Patrol will "aggressively" be watching for violators, the governor promised.
"They do not enjoy writing tickets, but they do not enjoy going to accident scenes, either, and they have all been to accident scenes with people who have been on the phone and who were distracted," Walz said. "They can write you a ticket, but I think the State Patrol's goal is just to get people off the phone."
If hanging up while driving is proving difficult, Minnesotans can heed the advice offered by Holly Kostrzewski, the Northeastern Minnesota director of Toward Zero Deaths, during a News Tribune Pressroom Podcast in the summer of 2017. "The best thing is to stow your phone in the back seat so you can't touch it," she said as a representative of the nonprofit working to reduce traffic accidents and fatalities. "I don't think people can handle not touching their phones (if they're within reach). So you just need to keep it away from yourself."
Chatting on the phone while driving is an ingrained habit for so many Minnesota motorists. But, as the governor said, so was not using a seat belt. And 15,000 lives every year are being saved now because we buckle up — because we changed our ways, as difficult as it may have been to do so at first.
In the interest of saving more Minnesota lives, we can get just as used to hands-free driving. And, now it's the law.