Our View: Crisis has become more our responsibility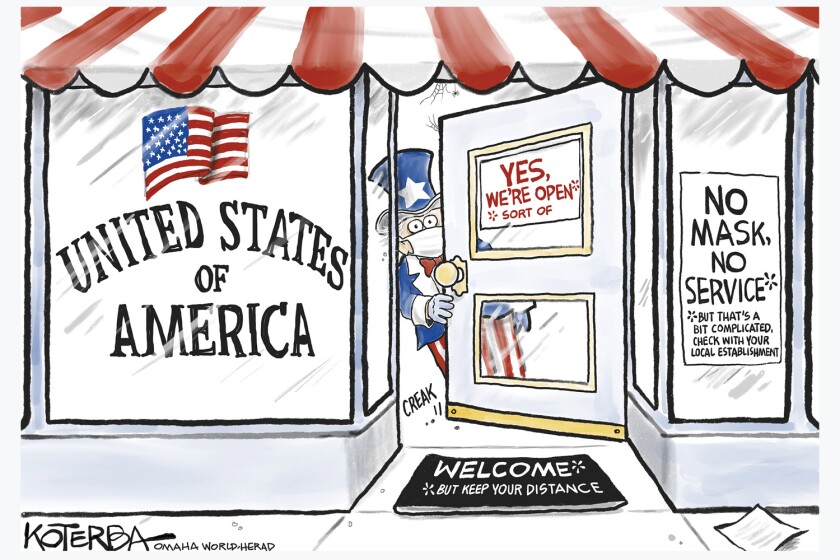 So this has gotten complicated. And confusing.
Last week, on the same day, Gov. Tim Walz in Minnesota and the Supreme Court in Wisconsin both did away with stay-at-home orders in place over the last two months or so to hold back the spread of the coronavirus.
At the same time, though, most of the precautions and guidelines that have been such an important part of those orders — things like social distancing and wearing face masks — were urged to continue to be followed in both states. This means Northlanders on both sides of the St. Louis River are expected to continue to stay six feet away from each other, limit travel, wash their hands, avoid crowds, and follow all the other safeguards. There's just less of an official decree in place requiring it.
That seems to be the current situation anyway. It's gotten hard to keep track and to keep up in Minnesota, where Gov. Tim Walz has issued nearly 60 executive orders related to COVID-19 since his declaration of a peacetime emergency on March 13. And in Wisconsin, where the Supreme Court ruling leaves Gov. Tony Evers and every county in the state free to enact fresh stay-at-home orders or other restrictions in the name of regulating health and public safety, as associate attorney in Superior Brandon Engblom wrote in an op-ed in the News Tribune this weekend.
This we know for certain: Last week's developments were an unshackling of small businesses, some of which have rightly been grumbling about having to be closed while big-box retailers remained open. It's on the shoulders of mom-and-pop operations now, those which choose to reopen, to take the necessary measures to ensure the health and safety of their employees and customers. Things like barriers and guidance for social distancing inside stores, cleaning, disinfecting, decontaminating, and more all need to be part of any reopened business's COVID-19 preparedness plan. Such plans are still being called for by the Centers for Disease Control and Prevention and state and county health departments.
Whether the curve of COVID-19 cases and deaths spikes now or continues to flatten, in huge ways is also on all of our shoulders as residents of Minnesota and Wisconsin. Last week's actions don't mean the crisis is over. Far from it. Our medical facilities have just had time to prepare for a still-expected swell of cases and deaths. It's up to us to continue to responsibly take this seriously. It's up to us to continue to limit our purchasing trips, to keep our distance, to wear masks, and more, no matter which businesses are open again.
We can certainly show more caution than was on display in Canal Park Friday evening during a Law Enforcement Memorial Day parade of squads over the Aerial Lift Bridge. Dozens of onlookers lined the streets, many shoulder-to-shoulder, many without masks. Similar events in other cities were correctly canceled or held virtually as an obvious public-health precaution. As much as our police deserve the public's honor and appreciation, and despite Duluth Police Chief Mike Tusken's pledge that "it's got to be safe," the event here failed in modeling appropriate behavior during a pandemic.
We can do better. We must continue to remain vigilant. With our state governments clearly seeking a better balance now between heavy handedness and public responsibility, our health and safety depend on us.