Our View: COVID exposes health data deficiencies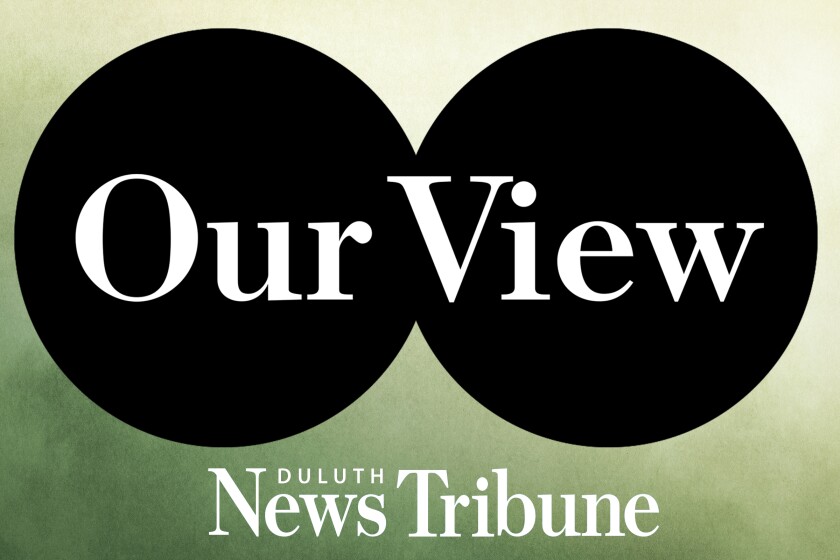 Quicker access to public health data has always been in demand, but never more so perhaps than now during COVID-19.
Emergency responders, law enforcement, county social services workers, and others, in their urgency to stem the spread of the coronavirus, have been clamoring in recent weeks and months for COVID-19 test results and other information that can help them with contact tracing and other work to reduce infections and exposures.
In Minnesota, however, health care providers like Essentia are prohibited by state law from providing the information directly to those public agencies. Instead, the Essentias of the state send test results to the Minnesota Department of Health, or Mayo, and then the Department of Health, after processing them, posts them on a database that then, finally, can be accessed by police, first responders, and others. It's hardly the real-time information being sought.
"The difficulty has been around the Minnesota Health Records Act, which we have to comply with," Essentia Chief Medical Officer Dr. Peter Henry said in an interview held virtually last week with the News Tribune Opinion page. "The difficult part is that the information we compile related to … phone numbers and addresses doesn't always get then translated from Mayo to the Minnesota Department of Health, and then the counties can't pull it off of that website. And it can be a very manual process as well … (with) either manual data entry or faxing to try to get that information put into there."
Working together, health care providers, the state, county attorneys, and others have made improvements to accessing health records since the start of the outbreak in March. Data is being posted more quickly, Dr. Henry said, and if emergency medical personnel are called to an address, health care providers can now provide them with basics like a patient's name and a COVID-19 test result. Also, If EMS crews bring a patient in, they can be informed of COVID-19 test results.
Additional improvements to the "interconnectivity" and "interfaces" between health care systems, electronic health records, and state health department are still needed so information can be shared more quickly. Dr. Henry isn't the only one who thinks so.
Also, too many counties are opting out of doing their own contact tracing and leaving it to the state instead, which is far less proactive.
Momentum to modernize how public health data is shared and accessed isn't building only in Minnesota. As Kaiser Health News reported, in a story at duluthnewstribune.com this month , "The federal government spent nearly $40 billion over the past decade to equip hospitals and physicians' offices with electronic health record systems for improving treatment of individual patients. But no comparable effort has emerged to build an effective system for quickly moving information on infectious disease from providers to public health agencies."
A national data network simply doesn't exist to help the overall health care system respond more effectively and cooperatively to disasters and disease outbreaks.
"Many doctors and nurses must fill out paper forms on COVID-19 cases and available beds and fax them to public health agencies, causing critical delays in care and hampering the effort to track and block the spread of the coronavirus," the story reported. It referred to the current public health data system as "creaky" and "fragmented."
A public health emergency like COVID-19 shouldn't have been needed to expose that.
Closer to home, "The key thing is, we as health care systems, especially at Essentia Health, really do want to partner with our public health officials," Dr, Henry said. "We know that it's in the best interest of the patients that we serve to be able to seamlessly provide information that will help reduce the spread and transmission and mitigate the transmission of the disease. But we also have to make sure that we ensure patients' privacy and stay within the boundaries of the law. ...
"Balancing public good with patient or individual privacy is kind of a tough deal, but we find that in certain instances like this that the key problem is proper interfaces between electronic health records of health systems and public health."