Our View: Council's business award a 'small step'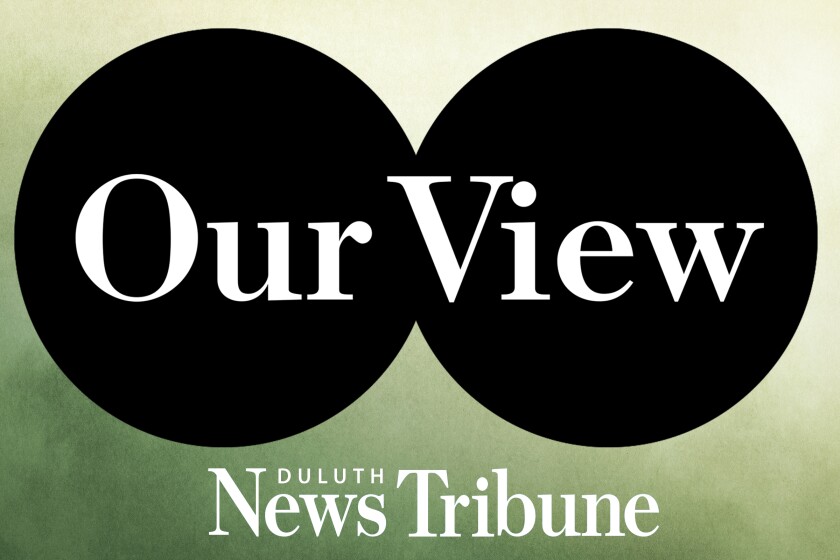 For years, a knock on Duluth City Hall was that it was a tough place to do business. Then, during the sick-and-safe-time debate, Duluth's business community was left feeling vilified as greedy, uncaring, and worse — and was hit at about the same time with double-digit water and electric rate increases and revaluations that drove up business property taxes by as much as 30%.
Handing out awards now will hardly heal all the wounds.
"There's a lot more work to do on that front, but it's a very small step in the right direction," Councilor Arik Forsman said of the 2020 Duluth Business and Entrepreneurship Award, in an interview with the News Tribune Opinion page.
The first-of-its-kind commemoration was established via council vote Monday. Each of the City Council's nine members now has the chance to bestow one appreciation award to a local business or entrepreneur before the end of the year. It's up to each councilor how they choose who to honor.
"The whole purpose of the thing is, you know, helping change that narrative around the council showing appreciation and recognizing the importance of local businesses and entrepreneurs," said Forsman, who co-sponsored the resolution to establish the award with Councilor Derek Medved. "This does not fix (what has happened), nor are we trying to, you know, address those things with an award. It is a symbolic measure for the council to say, 'Hey, we're partners with you,' and, 'The future of our city is really tied to having healthy, thriving businesses.' … I do think people are looking for the council to show signs of being interested in the future and success of the business community."
Although just symbolic and, really, a nice gesture, three City Council members weren't able to bring themselves to vote to honor Duluth businesses and entrepreneurs. Voting against were Councilors Joel Sipress, Roz Randorf, and Janet Kennedy. Councilors in favor were Forsman, Medved, Renee Van Nett, Zack Filipovich, and Gary Anderson. Councilor Barb Russ was absent from Monday's meeting.
"We're turning the attention back on business with this," newly elected Councilor Medved said in a separate interview with the Opinion page. "I ran on having a business-friendly community and really involving businesses in the decisions we make and how the process works — and also recognizing them for the hard work they put in. …
"It's a feel-good, but ... it's definitely a start," Medved further said. "I hope it sends a clear message to the business community and the community as a whole, to say, 'Hey, we're going to be focusing on business.'"
Duluth City Councilors are already handing out Distinguished Artist Awards on an annual basis, and they have been doing so for five years. The new award for businesses and entrepreneurs is based on that successful effort, said Forsman.
While anti-business pain still lingers from the creation of Duluth's sick-and-safe-time ordinance, the culture in City Hall for business operators has improved some in recent years. Permitting has been made smoother and faster, and other business services have been improved with restructuring and other efforts.
If the 2020 Duluth Business and Entrepreneurship Award continues the improvements — even if only symbolically or in a small way — then, like the artist awards, it, too, can be considered a success.
WHY DID COUNCILORS VOTE AGAINST THIS?
'This resolution is a Band-Aid. Let's get serious'
"I am completely supportive of honoring our local business entrepreneurs and innovators. I've worked in the business sector for over 30 years, and I've seen firsthand how Duluth businesses reinvest in our local economy through tax contributions, job opportunities, and necessary services. Our local businesses are also corporate partners with organizations like the United Way and LISC to play an integral role in our work in basic needs, education, financial stability, and the health of our community. I am a former small-business owner and current business trainer. I love businesses!
"As a city and a council, we have an opportunity to make our community more business-friendly. We do that by removing the barriers to develop here. That means faster and cheaper permitting processes, smart zoning changes, responsive and service-driven city staff, and, when appropriate, we just simply need to get out of the way.
"This business award was on the consent agenda Thursday with no notice. It felt like a rushed resolution with little or no thought of what the ramifications could be to local businesses. Imagine giving the award to a big competitor of a smaller business. We could run the risk of putting someone out of business. I am a former marketer. As councilors, we are not marketers. All of our businesses pay equally into our community, and they deserve to be promoted and nurtured equally.
"This resolution is a Band-Aid. Let's get serious and really become business-friendly."
— Councilor Roz Randorf in a written statement to the News Tribune Opinion page in response to a request for comment
Award could lead to favoritism
"I support the spirit and intent of the award. The award, however, may be given either to an individual or to a business enterprise. I am concerned that granting such an award to a business enterprise could create an impression of favoritism toward that particular business, particularly relative to competing businesses. I think, for instance, of what might happen if a specific restaurant received the award and used it in their advertising. How would that be perceived by competitors?
"I suggested to the authors of the resolution the possibility of revising it to be an entrepreneurship award that would be granted to an individual (eliminating the option of giving it to a business enterprise). The authors of the resolution declined to embrace this suggestion, and for that reason I voted no.
"City councilors (and city government, in general) must be scrupulous to avoid even the appearance of favoritism when it comes to our dealings with business. Had the proposal been revised to be an entrepreneurship award to be granted to an individual, I would have voted yes."
— Councilor Joel Sipress in a written statement to the News Tribune Opinion page in response to a request for comment
Unintended consequences weren't adequately explored
"My vote was reflective of the process in how we make decisions about policies that can positively and/or negatively impact communities across our city. I felt we should have taken more time in exploring the unintended consequences and how policies, practices, and procedures can be effective ways to build a community resiliency and sustainability.
"As the District 5 councilor, in western Duluth we value both and all businesses, community organizations, and entrepreneurs. We are building a community collaboration that includes everyone west to east, and I look forward to extending the new award when it is my turn.
— Councilor Janet Kennedy in a written statement to the News Tribune Opinion page in response to a request for comment