Our View: Council can pick fairly, resist divisiveness
Hard decisions need to be made today regarding tourism tax distributions; Duluth city councilors can resist allowing personal feelings and divisive language to muddy their deliberations.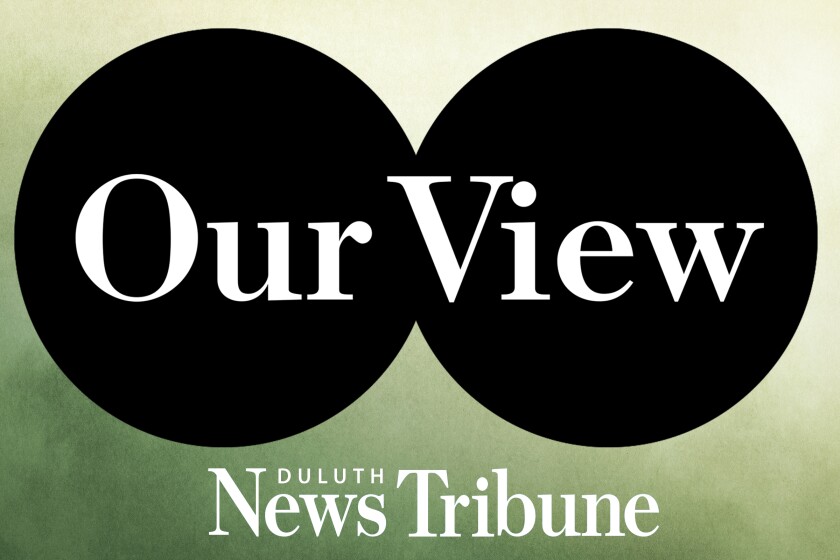 Throughout the pandemic, the apparent picking of winners and losers by government has been a source of anger and frustration. Big-box retailers OK'd to stay open while mom-and-pop stores were ordered closed, for example. Or authorities looking the other way from packed, nearly maskless political rallies and streets-filled protests while cracking down on smaller, family-and-friends get-togethers in parks and elsewhere.
The messaging and the application of rules and restrictions — critical in keeping all of us safe and healthy — have been inconsistent, to put it politely. Resulting feelings of unfairness have caused backlashes and resentment that too often have been anything but polite.
And now here's our Duluth City Council, forced to pick winners and losers because tourism-tax revenues are down 25% to 30% as a result of COVID-19 and the responsible decisions of many visitors to stay home instead. Their reduced spending here means less money for venues and attractions in Duluth that depend on it.
Last week, Mayor Emily Larson announced recommendations for divvying up a smaller, yet still-substantial, $9 million tourism-tax pie. City councilors today are scheduled to consider her list, which includes nine past recipients getting $0 this time.
Duluthians can urge their elected council representatives, as they make hard choices, to be consistent and fair in considering every allocation; to take into account the potentially devastating outcomes of their decisions; and to be respectful of one another, the community, and the tourism-tax applicants whose very survival may be on the line.
Disappointingly, councilors didn't get off to a very strong start late last week.
On Friday, the News Tribune reported that Councilors Terese Tomanek and Derek Medved plan to bring an amendment to Larson's list to give $25,000 to Glensheen Mansion, one of the nine attractions proposed to be zeroed out by the mayor. A reason why: Tomanek said she's "a lover of Glensheen for many years." She also is the council liaison to the Glensheen board.
That sort of personal preference and emotion, that tendency to fight for a pet project, can be consciously resisted by councilors as they debate more relevant, and more tangible factors and considerations, applied equally and in the same ways every time.
And that's not taking anything away from Glensheen and its ability to attract visitors and generate tourism-tax revenue. It should expect to share in those revenues. Without question, the mansion is one of Duluth's proudest, best-known, and most historically significant landmarks.
But it's also an indoor venue, and the council can think twice before supporting it this time, with the ongoing need for the public to remain distanced and in the fresh air.
The Glensheen property is also owned by the University of Minnesota. It has funding options not available to others targeted for zero. Just two years ago, it received $4 million from the Minnesota Legislature to address immediate repair needs.
Glensheen is in far better shape physically, financially, and in other ways than others possibly being left out of funding this time.
That includes the Duluth Children's Museum, an institution in Duluth for 90 years but one that is now "in a state of desperation," as its board chair and president wrote in an email Friday to city councilors. The pandemic has resulted in a 93% loss in visitors this year, Erica Henkel wrote.
"Tourism dollars … could potentially mean the difference between having heat in our building and being forced to close permanently," she said. "Ultimately, our organization needs to raise a bare minimum of $25,000 to stay afloat for the next 60 days."
Such pleas will be hard to ignore, no matter how much a councilor may be a lover of a particular attraction.
As they deliberate today, the importance of word choices also can be kept in mind by our City Council. Last week, for example, while discussing tourism-tax allocations, Councilor Janet Kennedy referred to Glensheen as "that other place." Divisive language can take away from well-intentioned, well-made arguments — like Kennedy's that public dollars be spent on attractions all can enjoy. The Fourth of July fireworks, she suggested.
Messaging from our government leaders has been frustratingly inconsistent during the pandemic, fueling charges of winners and losers. With a focus on fairness and consistency, councilors can avoid that pitfall as they make hard decisions today.