Our View: Clock ticking on debt that threatens Minnesota businesses
From the editorial: "A lack of legislative action ahead of Tuesday to replenish the state's Unemployment Insurance Trust Fund would be an unacceptable betrayal and disastrous to Minnesota businesses, the lifeblood of our state's economy."
We are part of The Trust Project.
A deadline is fast approaching Tuesday, one that Minnesota businesses in particular are watching closely.
During the pandemic, roughly one in five Minnesotans received unemployment checks at some point, according to the state, which drained the state's Unemployment Insurance Trust Fund. Like other states, Minnesota was forced to borrow from the federal government so that laid-off and jobs-eliminated pandemic-impacted workers could continue to receive the financial assistance they needed and deserved. Minnesota borrowed $1 billion and, as of January, has a $1.7 billion debt in the fund, according to reports.
It needs to be paid back, as all but nine states and the Virgin Islands already have done, many using federal pandemic relief dollars.
If the Minnesota Legislature doesn't vote to do likewise by Tuesday, or vote to use some of the state's record nearly $9.3 billion budget surplus to pay back what the state owes, businesses and employers statewide will instead be tapped to cover the debt via tax increases that would last years, even more than a decade, and that would soar as high as double digits.
Businesses were assured during the struggle with COVID-19 that they wouldn't be held liable for this debt, that the state would join the federal government in helping them stay afloat. A lack of legislative action ahead of Tuesday to replenish the state's Unemployment Insurance Trust Fund would be an unacceptable betrayal and disastrous to Minnesota businesses, the lifeblood of our state's economy.
"Rather than placing a tax hike onto our businesses that are still struggling to get back to 100%, we're hoping that (legislative action resulting in) replenishing that unemployment trust fund — which is supported on both sides of the aisle and by the governor — can get across the goal line by March 15," Duluth Area Chamber of Commerce President Matt Baumgartner said in an interview this week with the News Tribune Opinion page. "If you don't have that additional tax hike, (your) ability to pay a little bit more (in wages) and to bring workers back when you can is a very real scenario."
"Without (legislative) intervention, it will take many years of higher taxes to refill the fund — assuming we do not experience another economic calamity in the meantime," John Reynolds, the Minnesota director for the National Federation of Independent Businesses, or NFIB, wrote in a commentary in the News Tribune in January. "Of all the obstacles facing Minnesota's small businesses, unemployment insurance-related tax increases is one that can be most quickly and easily addressed by state lawmakers. … Minnesota has ample funds available to head off (this tax) hike."
A Senate Republican bill proposes spending $2.73 billion to pay off the debt and refill the fund for future worker claims. The money would come from the state surplus, a use also supported by DFL Gov. Tim Walz. The Senate bill additionally would cover more than $8 million in interest the state owes the federal government on this debt. That interest is accruing at a clip of about $50,000 a day, as the Star Tribune reported this week, making immediate legislative action that much more urgent.
Like the governor, House DFLers have signaled support for using the surplus to pay back the debt, but they are also tying the issue to other matters like frontline worker pay and paid family and medical leave. Most Minnesotans agree with bonus checks to frontline workers who stayed on the job and helped get us through the pandemic, incurring unexpected hardships and costs, but that and other issues can be dealt with separately. Tacking unrelated items onto unemployment-insurance legislation would only complicate any bill, making more difficult the quick passage needed this session.
"There is no better way to kill job growth in Minnesota than to leave this unemployment-insurance issue unaddressed," Sen. Jason Rarick, R-Pine City, a co-sponsor of the Senate bill, said in a statement received by the News Tribune and other media. "When the pandemic shutdowns began, thousands of Minnesotans were laid off and relied on this fund. We promised our small businesses that we wouldn't hold them responsible for replenishing that fund. Unfortunately, we haven't followed through. Now, our employers face the potential of a business-breaking tax. This legislation allows us to keep our promise, replenish the fund, and get Minnesota's economy back on track."
But only if lawmakers take necessary action by Tuesday. The clock is ticking. Minnesota businesses shouldn't be, but they're at the whim right now of politics and partisanship — and a major blow to our state economy is in the balance.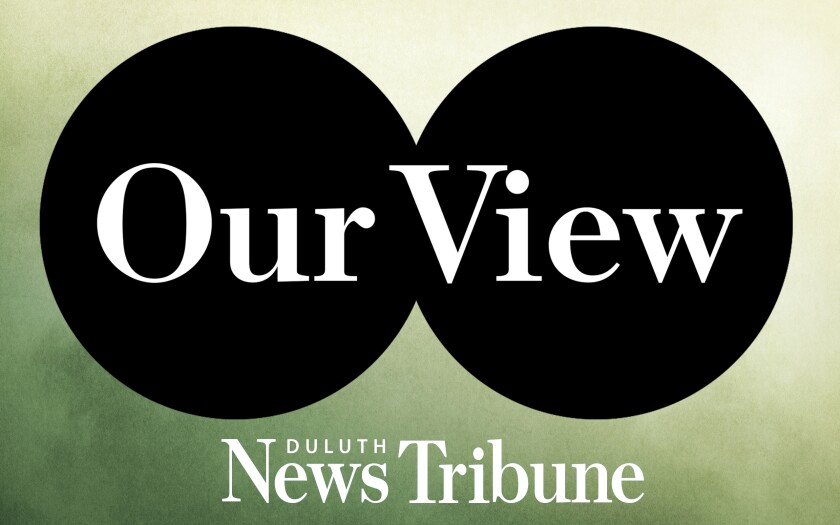 From the editorial: Minnesota will likely be a national cautionary tale about lax oversight of public programs and taxpayer dollars."
From the editorial: "Before casting any ballot, it's good to be educated on the issues and candidates. The forums this coming week are valuable opportunities."