Our View: Ballots set following few-surprises primary
From the editorial: "(The) field-narrowing, candidates-eliminating results ... set up plenty of intrigue and a few interesting local matchups and storylines for Election Day 2022, which is Nov. 8."
We are part of The Trust Project.
Few voters turned out. For the most part up and down Minnesota's ballots, incumbents and qualified challengers prevailed and advanced. And, in eastern Duluth especially, the DFL flexed its northern-Minnesota muscle.
All in all, Tuesday's primary election produced few surprises, here or statewide. But its field-narrowing, candidates-eliminating results did set up plenty of intrigue and a few interesting local matchups and storylines for Election Day 2022, which is Nov. 8.
Perhaps no race in the Northland will be watched more closely or talked about and analyzed with more scrutiny than the 8th Congressional District tilt, where Democrat Jen Schultz of Duluth is challenging incumbent Republican U.S. Rep. Pete Stauber of Hermantown. It's Stauber, a former Duluth police officer and St. Louis County Board member, who's been too cozy for many with former President Donald Trump, versus Schultz, a UMD economics professor and former Minnesota state legislator whose outspoken and steady criticism of everything Republican has left little room for compromise or cooperation.
Both easily won their primaries, as was fully expected: Stauber 91% (51,404 votes) to 9% (5,074 votes) over oft-controversial former Duluth School Board member Harry Welty, and Schultz 86% (38,536 votes) to 14% (6,199 votes) over John Munter of Warba, a retired airline reservation sales agent.
Nearly as noteworthy in the Northland will be the race for St. Louis County sheriff. Former Duluth and Wichita, Kansas, Police Chief Gordon Ramsay and current Undersheriff Jason Lukovsky were the top two vote-getters, garnering 40% (13,995 votes) and 33% (11,454) respectively. Voters simply opted for two impressive candidates for the county's leading law-enforcement position to replace Sheriff Ross Litman, who is retiring after 20 years and five terms.
In that race in eastern Duluth, which is shaping up to be historic, political newcomer Alicia Kozlowski — on the strength of the DFL's party endorsement — turned back Duluth City Council President Arik Forsman, a better-known and more-seasoned politician, on Tuesday, 56% (3,616 votes) to 44% (2,817 votes). Kozlowski, far further left politically than Forsman, is a community relations officer for the city of Duluth. If elected, she'd be the first openly gay Latina-Ojibwe woman to represent Minnesota House District 8B.
She's running now against Becky Hall, long active with the Minnesota GOP and a candidate with plenty of campaign experience. The race is to replace Rep. Jen Schultz, who stepped down before announcing her run for Congress.
In Minnesota Senate District 3, accomplished, well-known Babbitt Mayor Andrea Zupancich won Tuesday's Republican primary and will face DFLer Grant Hauschild of Hermantown in the race to replace Sen. Tom Bakk, who's retiring after 27 years of legislative service.
Also well-known and popular, former Nashwauk mayor and businessman Ben DeNucci came out on top in the DFL primary in Minnesota Senate District 7. He'll now run against Republican Robert Farnsworth, a teacher and real estate agent from Hibbing who's known to be pro-union and pro-labor.
Another well-known mayor, Roger J. Skraba of Ely, won the Republican primary in House District 3A and will face incumbent DFL state Rep. Rob Ecklund of International Falls.
Michelle Boyechko of Tamarack prevailed in the DFL primary in Minnesota Senate District 11 and will challenge incumbent Republican Sen. Jason Rarick of Brook Park.
In western Duluth, Republican Art Johnston, well known to voters from his years as an oft-disruptive Duluth School Board member, prevailed Tuesday and will challenge incumbent DFL Rep. Liz Olson in Minnesota House District 8A.
Other already-set Nov. 8 races in the Northland that didn't require primaries to determine candidates include incumbent Nancy Nilsen vs. Victore I. IronCroft for St. Louis County auditor and treasurer, incumbent Republican state Sen. Justin Eichorn vs. DFLer Steve Samuelson in District 6, incumbent DFL state Sen. Jen McEwen vs. Republican Alex Moe in District 8, incumbent DFL state Rep. Mary Murphy vs. Republican Natalie Zeleznikar in District 3B, incumbent DFL state Rep. Julie Sandstede vs. Republican Spencer Igo in District 7A, incumbent DFL state Rep. Dave Lislegard vs. Republican Matt Norri in District 7B, and Republican Jeff Dotseth vs. DFLer Pete Radosevich in Minnesota House District 11A to replace stepping-down Rep. Mike Sundin.
It's a lot of local races and a lot for voters in Northeastern Minnesota to weigh and consider as they make their Election-Day decisions. But researching the candidates and issues in order to make informed, independent polling-place choices is our responsibility and our duty as members of our communities. Voting should never be seen as a chore, but as a privilege, one far too much of the rest of the world only wishes they enjoyed.
After a primary with few surprises, it's on voters to get ready now for an eventful election season.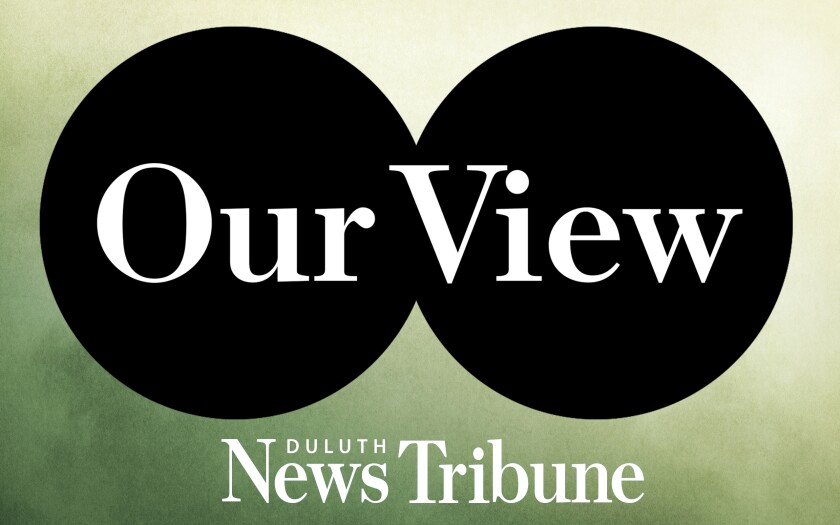 From the editorial: "Before casting any ballot, it's good to be educated on the issues and candidates. The forums this coming week are valuable opportunities."