Our View: Back to bolstering business the right priority for Duluth
From the editorial: "Duluthians can hold the mayor accountable to make good on her pledges or to at least ensure the city is doing all it can. Our business community in particular, not long ago at loggerheads with the city, has much at stake."
We are part of The Trust Project.
In 2018, when the city was butting heads with its business community over sick and safe time, tobacco sales in convenience stores, slow permitting, and more, a News Tribune editorial expressed disappointment that, during an interview following her third State of the City address, Mayor Emily Larson "didn't mention economic development or the need to take steps to improve the city's business climate."
On Tuesday, in her seventh State of the City, Larson listed economic development right where it belongs: first on her list of four key areas of focus for the coming year, followed by public safety (also well-placed as a high priority), internet connectivity (yes, please!) and sustainability.
"I'm sometimes asked why I don't talk about economic development more. This question always puzzles me because almost everything we have done over the past six years has focused on the key ingredients to support inclusive economic development," Larson said in her speech, delivered from the Duluth Entertainment Convention Center. "Where once we had to beat the bushes trying to find investors, now we're fielding constant new inquiries about investing in Duluth — because we're a city that believes in itself. We expect and deserve more than ever before. Today, in Duluth, a project needs to be more than shovel ready, it needs to be shovel worthy. This holistic view of economic development is working."
Larson promises high-speed internet access for all and pledges to make city operations carbon-neutral by 2050.
Duluth has changed, Mayor Larson correctly pointed out. We've come a long way since the steel plant closed in the 1970s, followed by other industries, the air base, and more. "During those bleak economic times, self-doubt crept in, grabbed hold, and established a scarcity mindset which too often saw any job, any new project, as 'good enough'," she said. "But we are no longer that city living in the economic shadows. We can embrace with pride that we are a community that doesn't just respond to economic development. We lead it."
Buoyed by Essentia Health's $900 million Vision Northland project, the largest private investment in Duluth history, the mayor had plenty to brag about Tuesday with regard to business and economic development — in particular, a record number of building permits last year and a half billion dollars of investment, more than double the year before, and the third straight year of record private investment in the city. Businesses like Costco, ST Paper, and Cirrus announced or completed projects. "These are businesses that chose Duluth, and we've got their back," Larson said.
To help bolster businesses, the mayor vowed the city would do all it can this year to continue fixing streets (with a voter-approved half-percent sales tax, the city is fixing 14 miles of streets per year now, compared to the two miles a year it had been doing), replace lead water pipes and fix other infrastructure, increase housing options and child care availability and affordability for workers (1,500 new housing units have been added in Duluth during Larson's administration, which is an encouraging start), and focus on public safety.
Public safety downtown was specifically highlighted, including "aggressive panhandling, erratic behaviors, and public urination." Such problems were made worse by the pandemic, which drained downtown of office workers, businesses, and shoppers. Larson announced a revival of "community courts" to identify chronic offenders. "Sometimes this may involve services to address substance abuse, mental health, or housing. … (But) in Duluth, if you are dangerous, predatory, or threaten harm to others, you will be arrested and held accountable," she said.
From the column: "For the past six years, my administration has been investing in what businesses say they depend on: solid infrastructure, a reliable and qualified workforce, housing, access to child care, safe neighborhoods, and a great quality of life."
On permitting, Larson vowed to use technology, rather than paper and in-person meetings, to speed up project reviews for businesses, making the processes "simpler and clearer," as well as "more efficient." "Whether you're adding a garage or building a manufacturing facility," she said.
The mayor's specifics in addressing permitting challenges have long been needed, Brian Hanson, president and CEO of the private Duluth economic development agency APEX, said in a statement to the News Tribune Opinion page following the speech.
"I think the best thing the city can do for Duluthians is to help them obtain a job that takes full advantage of their highest abilities. By placing economic development at the start of her speech, Mayor Larson demonstrated the focus it will have in 2022 in City Hall," Hanson said. "Taking Duluth's economic-development strategy to the next level is key, and I know that partners, including APEX and other voices from the Mayor's Economic Development Coalition, are excited to help."
The mayor's focus on the business community, economic development, and permitting also wasn't lost on Duluth Area Chamber of Commerce President Matt Baumgartner.
"The priorities outlined … are well-placed," he said, also in a statement to the Opinion page. "Immediate and tangible action must be taken to ensure that our community moves in the right direction. … There is an unprecedented opportunity to lean into economic development with a bold vision that can set the stage for our area's greatest era. Yet, there are very real community safety concerns. For example, families must feel safe accessing the library downtown; this is an equity issue. We must strive to be the best community to raise children in; a strategic vision for economic development with an eye on immediate community safety needs can be a positive step forward."
Well-placed priorities demand follow-through, of course, and Duluthians can hold the mayor accountable to make good on her pledges or to at least ensure the city is doing all it can. Our business community in particular, not long ago at loggerheads with the city, has much at stake.
As Mayor Larson said, "We live in a moment with opportunities to act boldly, and we must meet it. This is our time. We can't afford to let our exhaustion speak for us, or to get stuck in our own darkness."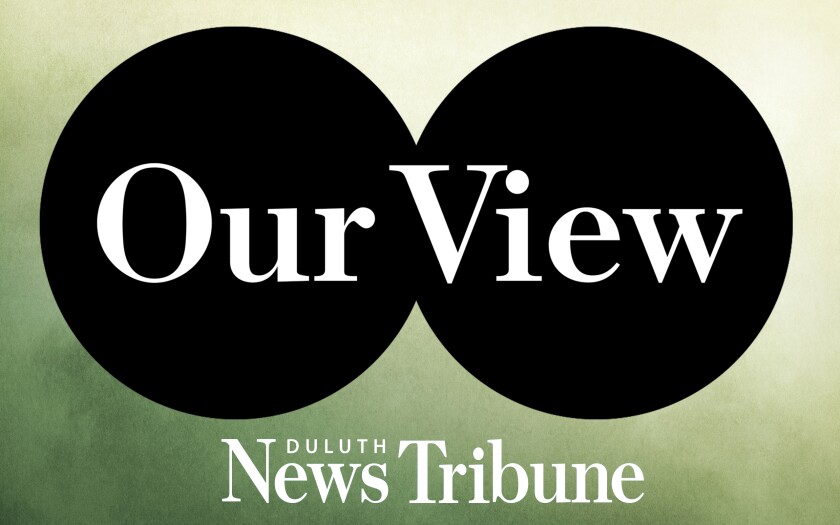 AUDITING ECONOMIC DEVELOPMENT
Mayor Larson Tuesday announced an internal audit — with an outside perspective — to help take "our economic-development strategy to the next level." The audit will address these questions, she said:
Are there internal policies prohibiting growth and development that can be changed?
Are there steps in the city process that can be eliminated or made easier?
How can we make sure everyone knows all expectations up front?
How can our communication strategy with private-sector partners be improved?
"Our role as a city is to lay out our values and set an economic-development vision, work with community partners to develop a strategy, and then make clear what is required and ensure our processes are easy to navigate. Now is the time to amplify all the ways we are getting things right and get clear on where we can and will improve," the mayor said in her State of the City speech.