Our View: Another 'blood emergency' not the only reason to roll up your sleeves
From the editorial: "Slim one-day and two-day supplies of donated blood, when five-day to seven-day supplies are considered ideal, prompted the Memorial Blood Centers in St. Paul to declare this latest emergency."
We are part of The Trust Project.
For at least the second time in less than a year, a "blood emergency" has been declared in Minnesota. Blood donations are way down, even more so than throughout much of the pandemic, and supplies are struggling to keep up with demand.
It's a dangerous, life-threatening situation that won't abate or even improve until more of us step up and roll up our sleeves.
"We are again calling on community members to come out, and we also ask that local companies encourage time off for their employees to fill available appointments in the coming weeks," Memorial Blood Centers Vice President Kathy Geist said in a plea this week to media outlets, including to the News Tribune Opinion page.
Slim one-day and two-day supplies of donated blood, when five-day to seven-day supplies are considered ideal, prompted the Memorial Blood Centers in St. Paul to declare this latest emergency — just as the nonprofit did during similarly desperate days in December.
Summers are always tough for collecting enough blood anyway, with families out making the most of seasonal travel and activities before school is back in session and the snow flies. Giving blood is an easy chore to ignore when the sun is shining and the lake breeze is cool. Summertime's slowdown and disinterest in giving also mean fewer blood drives. Making matters worse this summer, donor-center appointments are down due to the sorts of inflation-fueled staffing challenges that nearly every business and nonprofit is facing.
This summer is also especially dire with COVID-19 still a front-of-mind concern and worry for many of us. Early on, when everything shut down, countless blood drives were canceled and then weren't rescheduled. Countless more held annually with the cooperation of businesses, schools, churches, and others aren't being planned at all anymore with so many employees working from home and so many others not gathering socially. And many regular blood donors remain understandably leery of donation centers and the potential spread of the coronavirus. That's despite assurances that appropriate precautions are being taken to ensure safety.
In addition, a continuing uptick in elective surgeries and other medical procedures, put off during lockdowns, continue to quickly drain the bags of donated blood that are able to be collected.
"Donating blood is the best gift you can give," Geist said in a statement in December. "It takes one hour and doesn't cost you a dime. Plus, we've taken extra precautions throughout the pandemic."
If all of that isn't reassurance and motivation enough to make an appointment or to hit a blood drive, how about a bit of passive-aggressive guilt?
"Did you know about 62% of the U.S. population is eligible to give blood? But, only about 3% does?" as the American Red Cross pointed out in a statement also sent out this week, its underlying suggestion and urging both unmistakable.
Or perhaps you respond well to straight-up bribery.
The Memorial Blood Centers, after partnering with local breweries in a campaign they're calling a "Pint for a Pint," is offering blood donors $2 off a beverage of their choice through Labor Day. Visit mbc.org/pint to learn more. To schedule an appointment, visit mbc.org/donate or call 888-448-3253.
Meanwhile, Memorial Blood Centers is offering three chances to win gas for a year, an estimated $6,000 value, to everyone who gives this month. And if your name's not picked in that drawing, you'll still get a $10 e-gift certificate to a merchant of choice as a thank-you. Visit RedCrossBlood.org or call 800-733-2767 to schedule an appointment — and to claim your freebie.
All incentives and guilt trips aside, the cold reality is that the critical need for life-saving blood isn't letting up. Especially not during lazy summer days of so much else to do, not during a pandemic that refuses to ease its grip on our psyche and day-to-day lives — and not until we make the decision to step up, roll up our sleeves, and do our part during yet another "blood emergency."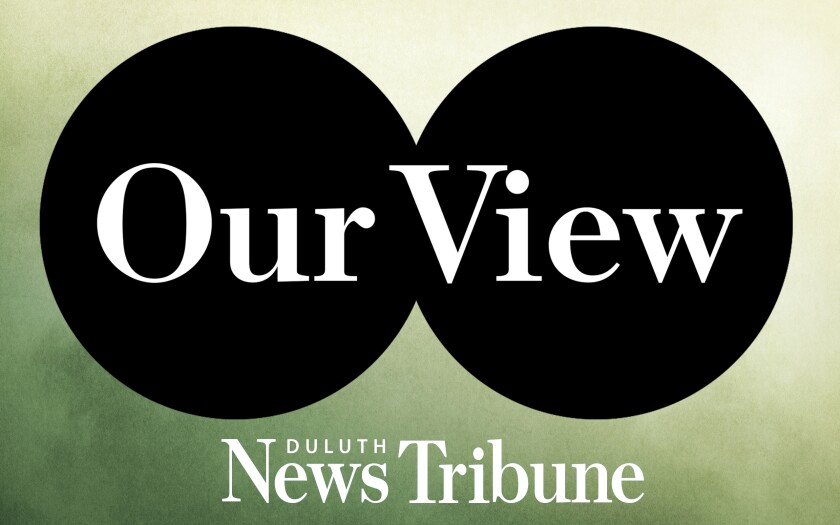 From the editorial: "If councilors want to take a stand on the current contract negotiations between our hospitals and nurses, it could follow the lead of Duluth Area Chamber ... President Matt Baumgartner, who, in August, penned a commentary for the News Tribune urging federal mediation, if necessary."
From the editorial: Minnesota will likely be a national cautionary tale about lax oversight of public programs and taxpayer dollars."
From the editorial: "Before casting any ballot, it's good to be educated on the issues and candidates. The forums this coming week are valuable opportunities."