Northlandia: The biggest shoe in Duluth?
There was an old woman who lived in a shoe, and that shoe was in … Lakeside?
Patt asks: "One of my sisters saw a postcard showing a shoe-shaped house that apparently existed in the Piedmont Hillside area many years ago. The postcard was very old. Sadly, she did not buy it. Try as I might, I can not find anything about a brown, shoe-shaped house that once existed in Duluth. Does anyone know anything about this?"
This is Duluth! We have a library shaped like an ore boat, so why not a house shaped like a shoe?
(I'm kidding, and for the record, I've loved the Duluth library building since I was a kid.)
I followed up with Patt after her original email, and it sounds like she's done some asking around.
"I've asked elderly people around town, and also asked folks on Perfect Duluth Day, who also have a lot of knowledge about old Duluth buildings, and nobody's ever heard of it," she wrote. "I wonder if the postcard was an error, or a joke?"
Personally, I had never heard of a shoe-shaped house in Duluth. But I admit that my knowledge of Duluth's history before my lifetime is still growing.
So, I went to the person one goes to about these sorts of questions. I asked Tony Dierckins, who's about as close to an official city historian we have in Duluth. Dierckins runs the Zenith City Press and has published several books about Duluth and Northeastern Minnesota history.
He hadn't heard of a shoe-shaped house, either. But he graciously put out a call to the lithograph postcard collectors who helped him put together his book, "Zenith: A Postcard Perspective of Historic Duluth."
Neither of us expected much luck. But, an hour and a half later, Tony sent me this in an email:
"Success! Postcard collector extraordinaire Herb Dillon has the answer," he wrote.
It appears the shoe-shaped "house" that Patt's sister saw on a postcard was not in Piedmont but, in fact, in Lakeside.
"The shoe was part of a display at Conrad's Service Station, which also had a miniature cabin and miniature farm," Tony wrote. "(The shoe and farm) display later moved to the Loneyville Hotel at 7717 Congdon Boulevard, now the North Shore Cottages. I am guessing Conrad's was 1940s-'50s and Loneyville (was) 1960s but would have to go through city directories to make sure."
According to Duluth city directories from the early 1950s, the Conrad (or Conrad's) Service Station wasn't in Piedmont but rather in Lakeside, at 5310 E. Superior St. A Speedway gas station still stands at that address today.
As a matter of fact, Perfect Duluth Day did dig into the service station's history in a "Mystery Photo" post in 2017, and readers there were quick to identify it.
Tony was kind enough to send along copies of postcards that show the service station, the motel, the miniature farm and cabin — and, yes, the shoe, which evidently paid homage to the famous Mother Goose nursery rhyme. The trail goes cold after that. Readers, do any of you know where it ended up?
Patt, I'm guessing this was what your sister saw on that postcard — but, hey, you never know. I hope you'll send this column along to her, and please do check in again if you hear back!
Thanks again to Tony Dierckins for his help this week. Check out his site at zenithcity.com .
What do you wonder? Have an idea for a story? Keep 'em coming, Northlandians. Get in touch at northlandia@duluthnews.com or on Twitter @NorthlandiaDNT .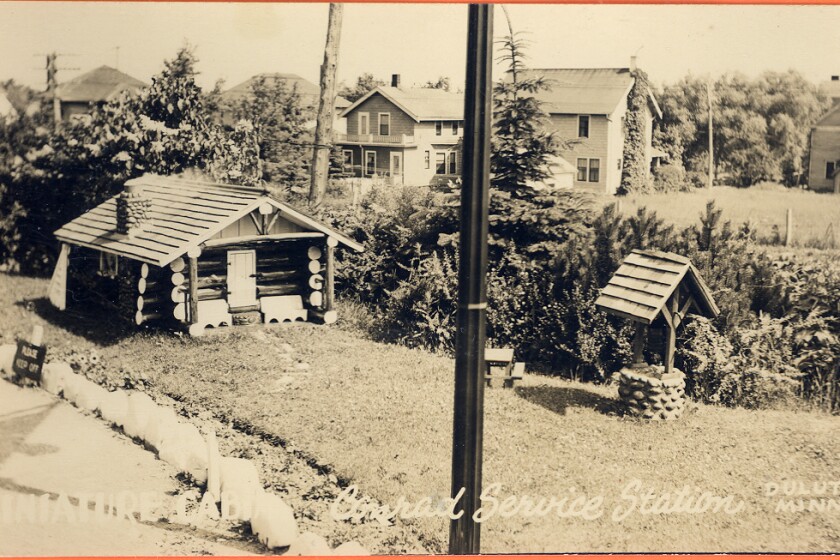 1
/
3:
A miniature cabin stood outside the Conrad Service Station at 5310 E. Superior St. in the 1950s. (Image courtesy Tony Dierckins)
2
/
3:
This postcard shows the miniature farm from the Conrad Service Station after it was relocated to the Loneyville Motel, 7717 Congdon Blvd. (Image courtesy Tony Dierckins)
3
/
3:
This is Northlandia. Each Monday, we try to quell your curiosity about local history, trivia, culture and lore. We also cover practical questions about topics that affect your daily lives as Northland residents.