National View: Summer heat and ongoing pandemic putting electricity at risk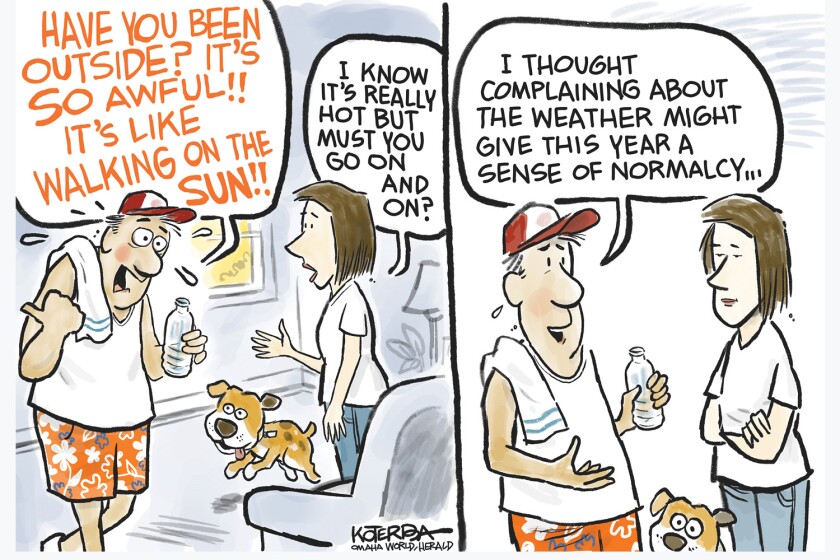 The coronavirus pandemic continues to pummel the U.S. economy. And with millions of Americans out of work, some tough times lay ahead. But overlooked in the pandemic's toll is another potential trouble spot. Right now, when Americans want to crank their air conditioning to survive the summer heat, there are many families that simply can't afford to do so.
Bloomberg News recently reported a disturbing snapshot of daily life in the United States. A full 50 million people across the nation are struggling to pay their monthly utility bills. That's one-third of all U.S. households. And yet, their electricity bills are about to jump roughly 25% due to peak summer usage. That's an enormous additional expense for millions of Americans — particularly the roughly 20 million who currently are unemployed.
A lot of families are facing an impossible choice during these summer months of coronavirus: Pay for food or pay for electricity? The Department of Energy has found many low-income families already spend almost 9% of their budget just on energy bills.
Back in May, Morning Consult reported that 47% of Americans said the impact of the coronavirus had increased their concerns about paying for household expenses, including electricity. Now that the summer is here, those hardships will likely increase.
Complicating things is that U.S. electricity prices are already becoming more volatile. Last year, the U.S. Energy Information Administration reported that the number of utilities filing paperwork to raise their rates reached its highest level since 1983. And in 2018, 87% of the utilities that filed rate cases were specifically looking to increase monthly costs.
Some states are already seeing the impact. California, which has rapidly transitioned toward an ambitious renewable energy plan, has seen its electricity rates jump 25% between 2013 and 2018. And California's electricity now costs roughly 50% more per kilowatt hour than the national average.
California's rising costs should serve as a warning. When Americans are struggling to put food on the table, the last thing they need is rising electricity prices.
A more realistic approach is needed, one that starts by considering the energy portfolio used in states holding electricity prices in check. Instead of prematurely retiring productive, longstanding power plants, these states are largely leaning on the baseload coal and nuclear power that have long underpinned America's power grid. Their approach — of carefully managing the integration of renewable power — is paying dividends. Regulators, policymakers, and utilities from across the country need to pay attention.
The affordability of the nation's energy mix is going to matter more than ever for the foreseeable future.
Which raises the question: Is the United States doing everything possible to ensure that Americans can pay their electricity bills? The answer appears to be just the opposite, since most of the "bold" new energy and climate plans being put forth seem to impose higher electricity costs.
The reliability and affordability of electricity across the nation has suddenly become more important than ever — now that the coronavirus has turned the U.S. economy upside down. Americans can't take their electricity for granted, and neither should Washington.
Terry Jarrett of Jefferson City, Missouri, is an energy attorney and consultant who has served on both the board of the National Association of Regulatory Utility Commissioners and the Missouri Public Service Commission. He contributes regularly to LeadingLightEnergy.com. He wrote this for the News Tribune.