Local View: Lake Superior, Minnesota's clean water cannot be for sale
From the column: "(The PolyMet agreement) is the face of corruption: Monied interests receive special privileges and can shape public policy while others are totally blocked out."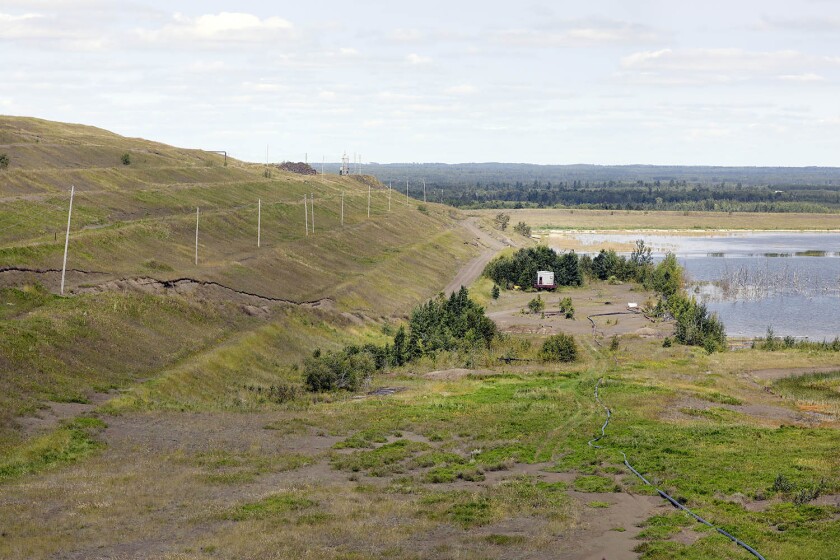 We are part of The Trust Project.
The world is entering into a major water shortage. Pew Research reports that over half the globe will be living in "water-stressed areas" by 2025. Currently, more than 2 billion people lack access to safe drinking water, and more than 2,300 people die daily from a lack of water. The impact of this anticipated shortage of water on the food supply will be staggering.
In spite of these dire warnings, Minnesota is essentially giving control of Lake Superior, one of the world's largest bodies of fresh water, to one of the world's most corrupt companies, Glencore.
Simply put, this is the power of money. This past May, the Hubert H. Humphrey School of Public Policy at the University of Minnesota published a report detailing the influence large contributors have on public policy, with the conclusion that monied interests are granted the power of shaping legislation.
After the Supreme Court issued its ruling in the Citizens United case in 2010, limits on corporate giving for politically independent expenditures were eliminated. Some states initiated reforms while others, including Minnesota, simply enjoyed the avalanche of these special-interest monies.
For instance, the four party caucuses in the Minnesota Legislature amassed more than $26 million for their campaigns in 2020, according to figures from the Minnesota Campaign Finance and Public Disclosure Board. Averaged out, this came to more than $130,000 per legislator, not including the money raised by individual candidates or their political party. This has clearly tilted power from the people to those with financial interests before the Legislature, thereby endangering the public's control of its own government.
Equally important is that long-term planning to avert disasters has been replaced by a focus on the very short term, including incumbency protection.
For three years, we have been attempting to obtain a legislative hearing on the dangers presented by the proposed PolyMet mine near Lake Superior. In addition, former Vice President Walter Mondale issued a strong warning against allowing this type of operation. Yet the leaders of both political parties in the Minnesota Senate and state House slammed all doors shut. They even denied a request to discuss developing a state water policy.
Govs. Mark Dayton and Tim Walz further ignored pleas from members of Minnesota's medical community, including from the Mayo Clinic, for a study on the threats to human health from poisons, including mercury and arsenic, that threaten to enter Lake Superior and the water supply for the Fond du Lac Tribe and the people of Duluth.
The governor and Legislature also stonewalled requests for a public discussion and turned a deaf ear to warnings from Tom Landwehr, a former commissioner of the Minnesota Department of Natural Resources, who said that the permitting system in Minnesota is wholly inadequate. "It doesn't look at economic, it doesn't look at cultural, it doesn't look at quality of life. It's a very narrow prescriptive. It doesn't look at health," he said.
In addition, PolyMet's agreement with the state puts the taxpayer, and not Glencore, on the hook for damages and does not even guarantee jobs.
This is the face of corruption: Monied interests receive special privileges and can shape public policy while others are totally blocked out. This corruption will continue as long as our elected officials feel they can escape accountability.
Consider this: Not a single legislator has been willing to challenge the leadership and publicly fight for a hearing. Nor has a single elected official, including members of the Minnesota congressional delegation, come forth to even question why Minnesota Is doing business with an international outlaw like Glencore.
Just a few months ago, one of the company's executives pleaded guilty in a federal district court to a bribery charge. More recently, another Glencore official agreed to turn state's evidence against other executives, also for bribery. A Google search will disclose a stunning list of international violations by the company, including child labor, breach of contract, fleeing environmental disasters, and bribing public officials.
And yet, in spite of the massive water crisis that soon will face us, Gov. Walz and both parties in the Legislature seem to be doing all in their power to turn over control of Lake Superior to this corrupt company.
We will continue to do all we can to sound the alarm and to encourage candidates to challenge incumbents who yield to this abuse of power. It is imperative that the public and the media join this battle to save our most valuable water assets and to restore integrity to our government.
Tom Berkelman was a DFL state representative from Duluth from 1977 to 1983. Arne Carlson was governor of Minnesota from 1991 to 1999. Janet Entzel was a DFL state representative from Minneapolis from 1975 to 1984. Chris Knopf is executive director of the St. Paul-based nonprofit Friends of the Boundary Waters Wilderness (friends-bwca.org). And Duke Skorich is president of Zenith Research Group in Duluth. They wrote this exclusively for the News Tribune.