Local Student's View: Schoolkids in Sweden don't fear shootings — unlike here
From the column: "In Sweden, my fears are irrational. However, they are anything but in the United States."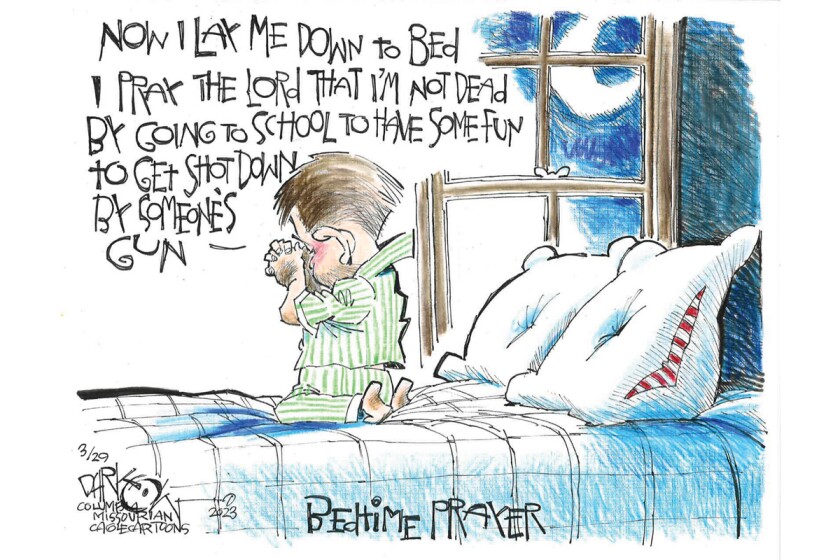 According to Gun Violence Archive, there have been 130 mass shootings in the United States in 2023. There have been more mass shootings than days since the beginning of the year. Despite the shocking number, there has been little to no change in this country's gun policies.
To put the inaction of the United States government into perspective, compare the U.S. to New Zealand and its dramatically different approach to gun violence. Less than a week after the 2019 mass shooting in Christchurch at two mosques, Prime Minister Jacinda Ardern and her cabinet agreed to reform the country's gun-restriction laws, which, at the time, like the U.S., had remained largely unchanged since 1992. It took just one mass shooting for that country to bring much-needed change to protect its citizens.
We have been in 2023 for three months and have experienced 130 mass shootings, including children's deaths, and our government still has not changed. Apparently, the deaths of 21 people in Uvalde — 19 of whom were under age 12 — wasn't enough for the U.S. government to determine change was needed.
To use the argument that Republicans use when discussing abortion laws, what if those children had grown up to change the world? How could we possibly take away a life that could one day do great things? One of the children in the Uvalde shooting wanted to become a marine biologist. Think of the amazing discoveries that student may have made. However, we will never know what any of them would have grown up to do.
Whose fault is that? An AR-15. Children should not have to go to school fearing for their lives every day.
I am 16 years old and have gone to school in the United States most of my life. This year I am living in Sweden. I am the only person in my class here who looks around the classroom and thinks about how I would escape or how I would hide in the event of a school shooting.
In Sweden, my fears are irrational. However, they are anything but in the United States. It is a national experience for kids to think about what they would do if someone came to their school with the intention of hurting them. I have always known that those fears should not be a common occurrence. However, living in Sweden has further opened my eyes to the scary reality of being an American student.
In Sweden, kids do not live in fear. They do not have to listen to teachers explain what to do if someone starts shooting. They have never had to practice barricading a door. They do not know that you should run in a zigzag if someone is shooting at you. It is something they have never had to think about.
But I know those things — and I think most American kids know them — because, rather than taking action to prevent the problem from happening in the first place, we're taught what to do when the inevitable occurs.
We need gun-control laws, and we need them now.
Samantha Laderman is a Duluth East High School student living and attending school in Uppsala, Sweden, this year, while her father is teaching at Uppsala University.