Beverly Godfrey column: Proctor students keep publishing streak alive
High school journalism class with a long history publishes its paper despite facing online learning and pandemic challenges.
On the front page of Volume 71, No. 7 are words that brought tears to my eyes: "The Mallet has not missed a deadline in 47 years. This edition keeps that streak alive."
Honestly, I teared up again just typing it.
Some journalists are said to have ink in their blood. Proctor High School teacher Nathan Johnson is one of them. Every year, he leads his students through nine issues of the school paper, each issue better than the last as the students learn over the course of the year.
He didn't want to stop that momentum. So when the COVID-19 pandemic shut down the building, it didn't stop these student journalists from documenting the times we live in. Paper copies should be delivered to about 550 students in grades 9-12 this week.
READ MORE: (From 2015) Proctor High School celebrates 90 years of The Mallet
In the days before online learning started, Johnson talked with colleagues about the newspaper. "Everybody I talked to said, 'You need to put one out,'" he said.
"I wanted to keep at least some sort of normalcy," Johnson said. "Kids are at home sitting at their kitchen table doing school right now, and they're cut off from their friends and teachers. And that was the big push."
Talk to Johnson for a minute and it becomes clear that he really, really — really — cares about not being the one to drop the ball. The paper, after all, has a long history.
The first issue of The Mallet newspaper was published in October 1925. It's named after the locomotive that sits by the city's golf course. It rhymes with "ballet." When I asked how that makes this year's volume 71, taking us back to 1949, and the deadline streak 47 years, taking us back to 1973, Johnson referred me to his father. Because, you see, the "ink in his blood" thing can be taken somewhat literally.
Phil Johnson was the school's journalism teacher for 32 years, from 1974 until his retirement in 2006, when his son got the job.
"The early history is kind of sketchy," Phil said. The Mallet began as part of the Proctor Journal. At some point in the late 1940s, it became its own publication; bound books of every issue dating back to that time reside at the school. Phil figures that's when someone restarted the volume number. And that no-missed-deadline streak? That started with Phil.
The Mallet has another fan in the school's principal, Tim Rohweder. He said he sees the paper as a record of the school, and he uses it when hiring new staff members to give them a sense of the school community, climate and culture.
"I think to have an edition come out during the COVID time is not only a testament to Mr. Johnson and his students, but also, it's going to be a great record of life at Proctor High School during this time," he said. "It's exciting, and I'm proud of them for getting her ready."
Rohweder regularly works with The Mallet staff as they figure out what stories to write. He said he enjoys giving students freedom.
"I don't think I would ever not let a student write a story and censor things," he said. "To me, it's a public learning experience."
Mallet staff writers Josie Maahs, 17, a junior from Pike Lake, and McKenzie Gunderson, 17, a junior from Proctor, will both be editors next year.
Josie said she'll miss writing about the regular events such as prom and spring sports. She'll miss the regular features page where students would be asked funny questions. "It's sad to not be able to do that," she said.
But she expressed hope that this issue will be more popular than usual since it's being delivered to students' homes.
"You feel like you're a part of that community," Josie said. "Getting that information from someone you would see in the hallway or talk to at lunch is just really important."
Josie's contribution to the paper was an article about media consumption and mental health. She also offered this advice: "Do your online school, just get it done and over with."
"I think it's just really important to still try and connect with people," she said. "We just gotta stick together. It's hard for everybody."
McKenzie favors opinion writing, letting readers know what she thinks about things. Her contribution to the latest issue was about things to do while you're bored during quarantine.
"We're just trying to keep everything as normal as possible," she said. "I think it's really cool that our teacher put in all the work to get the paper still out."
Nathan Johnson said his effort was helped by the fact teachers in Proctor already use the online learning service Canvas, and his students are accustomed to using Google Docs and other online products.
"It's a great program," Rohweder said. "You know, print media, obviously, is something a lot of schools are moving away from; they're doing more online. But we're committed to keeping the print media going and giving our kids opportunities to write. We're not going to let that stop. I'm excited to see what they produce here during this time."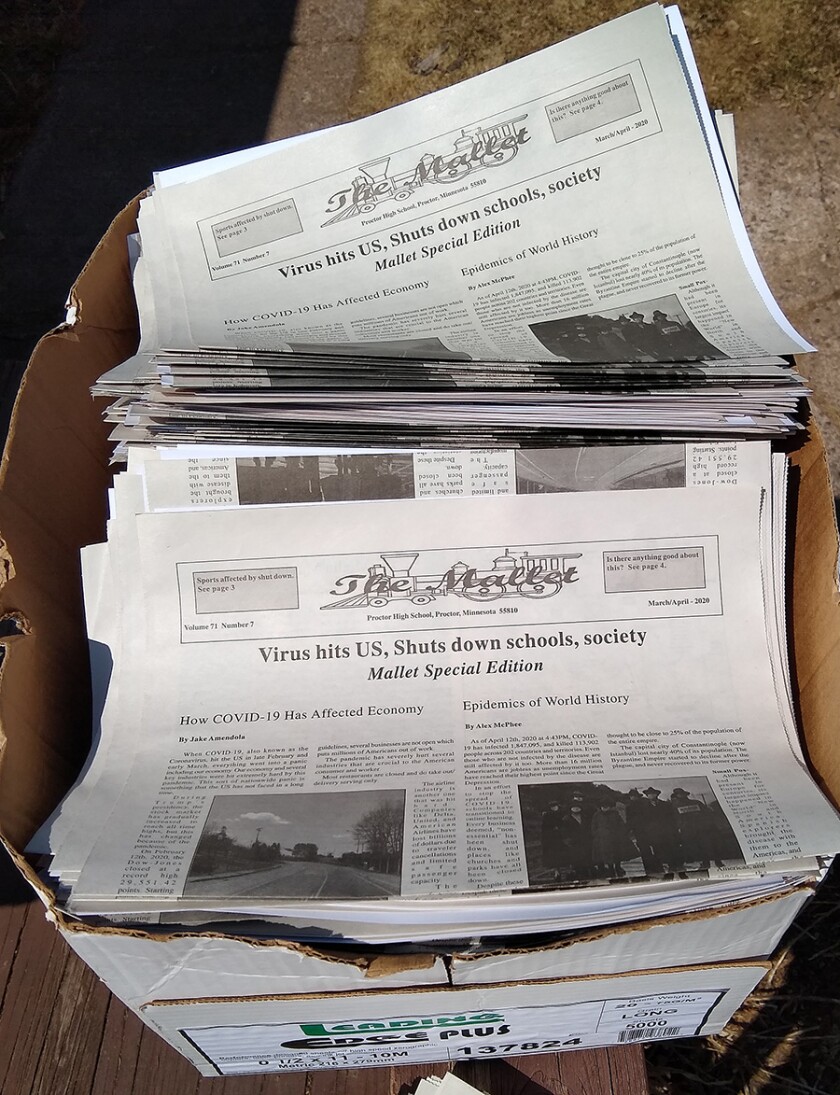 The history of it, the tradition, the responsibility of being the ones who record what happened — none of it is lost on any of them, be they teacher, retired teacher, principal or teenage student.
"I think students still like things on paper, and not just all online, even though it may not seem like that," McKenzie said.
Rohweder said he's hoping the class will publish one more paper this year to wrap things up in May, but at the time he was speaking, a lot was still undecided. Whether or not that happens, Nathan Johnson still isn't entertaining any talk of missed deadlines.
"It's out of our hands," he said. "That's not really in our control, so I would say we're OK. Maybe that's an artificial decision, but this is kind of an act of God that we're dealing with."
Online
The Mallet does have an online presence, too. Visit the school's website for more information: hs.proctor.k12.mn.us.
To purchase a copy of the newspaper for 50 cents, email Nathan Johnson at njohnson@proctor.k12.mn.us.
Beverly Godfrey is features editor of the News Tribune. Write to her at bgodfrey@duluthnews.com.