An evening at the Food Farm
The evening of Aug. 25, I enjoyed my favorite dining experience of the summer -- a "Farm to Table" dinner presented by At Sara's Table/Chester Creek Caf? at the Food Farm in Wrenshall.
The evening of Aug. 25, I enjoyed my favorite dining experience of the summer -- a "Farm to Table" dinner presented by At Sara's Table/Chester Creek Café at the Food Farm in Wrenshall.
At Sara's Table/Chester Creek Café is located on the corner of 19th Ave. East and 8th Street in the old Taran's building in Duluth. Chester Creek Café offers an eclectic menu that features many locally sourced ingredients including produce, eggs, poultry, pork, grass fed beef, fish and more.
The Food Farm, in Wrenshall, 30 minutes south of Duluth, is a certified organic farm. That means that all vegetables are grown pesticide-, herbicide- and chemical fertilizer-free. The Food Farm is a Community Supported Agriculture (CSA) participant. The farm partners with members of the community who contribute financially to the farm by purchasing shares of the farm at the beginning of the season. According to the Food Farm website, "The Food Farm offers summer and winter poultry and egg shares, enabling our members to receive fresh local food most of the year. Our weekly summer shares are delivered to 13 locations in Duluth, Superior, Cloquet, Esko, and Wrenshall. Some of our produce is also available at the Whole Foods Co-op in Duluth." The Food Farm is owned by Janaki Fisher-Merritt and Annie Dugan, and operated by Janaki, John and Jane Fisher-Merritt and Dave Hanlon.
This particular Saturday morning started out kind of gloomy, with rain showers off and on in the early afternoon. Just as I was thinking about the event possibly being canceled due to weather, I remembered the email that Chef Jillian Forte of Chester Creek Café had sent to attendees earlier that week. There was a simple message in that email: The event will go on, rain or shine! I thought, we are northern Minnesotans -- a little rain and mud has never stopped us -- and it didn't.
In addition to my work with Sustainable Twin Ports, I am the marketing specialist at Upper Lakes Foods. My Upper Lakes Foods colleague Jay McIntyre and I snagged tickets for this special Farm to Table event. We headed out to Wrenshall late afternoon, just as the rain clouds cleared and the sun began peeking out. As we pulled down this long, winding gravel drive we could see the vast fields of fresh, green produce. Folks were starting to gather and visit, there was acoustic guitar music, and Chef Jillian Forte and her team were busily preparing for our delicious meal.
Soon after our arrival, Chef Jillian announced that it was time to sit. A long table with white linen and wine glasses set the scene for the next couple hours. The sun seemed to dance on the towering sunflowers that bordered the table -- it was magic. Her team and its outdoor kitchen were no more than 30 feet behind us as they quietly prepared the meal. Each course was carefully paired with a special wine to complement and enhance the different flavors: a fresh carrot and cucumber salad, a trio of tomatoes, including a fried green tomato (my first one!), a salmon entrée with mushrooms, and a carrot dessert to conclude the meal. Chef Jillian explained each course as it came out, so we knew exactly what we were eating. Every ingredient possible had been freshly picked just moments before, and it was clear in the wonderful taste and freshness of the food. The evening concluded with local coffee, a campfire, and more great conversation.
Being involved in sustainability and foodservice locally, I am acutely aware that many in our community are looking for more locally sourced, organic and sustainable products for their families. This evening was a great example of how people coming together and sharing ideas, growing and supporting each other will lead to a stronger community for all of us.
For more information on the Food Farm, email info@foodfarm.us . For more information on At Sara's Table/Chester Creek Café and future Farm to Table events visit www.astccc.net
Cara Lindberg is the board president of Sustainable Twin Ports. She lives with her husband in the Duluth area. Cara can be reached at lindberg.cara@gmail.com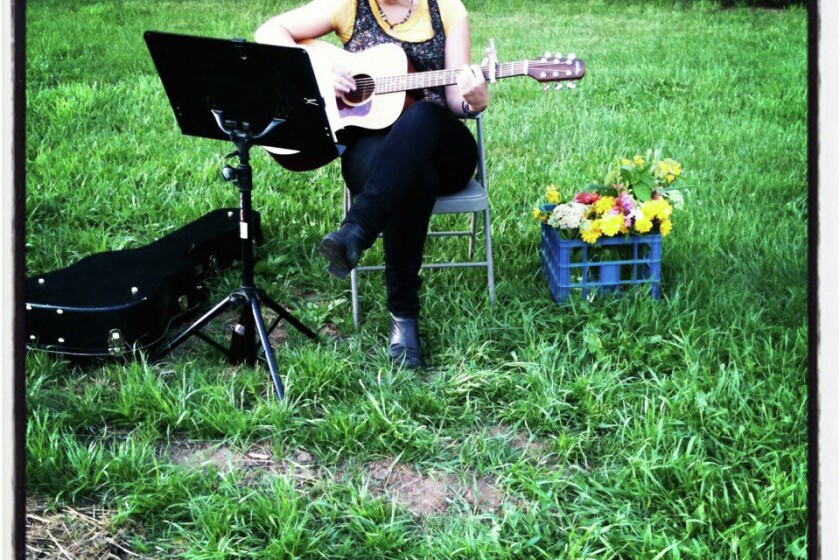 1
/
2:
Attendees were treated to guitar music while enjoying their outdoor meal.
2
/
2:
Fresh carrot and cucumber salad