Planned behavioral health center finds location in Duluth
A medical office on the Essentia Health campus has been selected to house Clarity Project — St. Louis County's big swing at addressing mental health and addiction.
We are part of The Trust Project.
DULUTH — A multimillion-dollar solution to mental health and addiction problems facing the Northland has found a home.
The long-planned Clarity Project, which will center service providers and telehealth in a single place, will be located at Essentia Health's Peerless Building, 532 E. First St.
"Locating this innovative space in the Medical District would reduce strain on emergency departments at Essentia and St. Luke's," Essentia spokesperson Tony Matt said, "and ensure that people seeking mental health care are treated in a setting specifically tailored to meet those needs."
Planning for the Clarity Project began six years ago, at a time when local emergency rooms were overrun with mental health visits — soaking up resources and even county jail beds with people in behavioral crisis.
"It was a revolving door we wanted to break," said St. Louis County Commissioner Patrick Boyle, a nurse practitioner representing eastern Duluth.
Boyle described the Clarity Project as "unique," with a host of community providers involved in its planning, including the Human Development Center, Center for Alcohol and Drug Treatment, Lake Superior Community Health Center, Duluth Police Department, College of St. Scholastica School of Nursing, and University of Minnesota pharmacy and medical schools.
"We're creating our own blueprint," Boyle said. "Something like the Clarity Project has never been done in Minnesota."
Issues with mental health and behavioral crises have only grown more pronounced during the pandemic, sources said, making the arrival of the Clarity Project welcome, even necessary, news.
"The big thing is to get this going by the end of the year," Boyle said, while noting the St. Louis County Board will have to approve spending for the project.
According to a health services survey, depression and anxiety levels in UMD students have increased at alarming rates since 2018.
The selected location for Clarity Project was revealed during a County Board workshop last week. The plan is for one floor of the 28,000-square-foot medical office building to be used to house the walk-in services.
"A person walking in will be able to talk with a care coordinator that can help assess the immediate needs of the person," said Gena Bossert, behavioral health director for St. Louis County Public Health and Human Services.
The centralized hub would feature crisis response and treatment teams. According to the presentation shared with the County Board, a goal would be to also bring primary and specialty care, and even dental care, to combine with behavioral health care services.
"I'm excited about this," Boyle said. "It's about time we started investing in mental health. It's been one of our community needs for a long time."
The project had been backed by $5 million in state bonding money secured in 2018 and 2020. But county administrators and Clarity Project planners appear ready to forgo the bonding funds in favor of launching the facility using $2 million of the county's $54 million in American Rescue Plan Act funding.
State bonding funds came with a responsibility to lease space for 37.5 years, a hurdle that federal funding eliminates in favor of a more palatable five- or 10-year commitment. Collaborative partners who are going to be in the building will all have leases.
Deputy county administrator Brian Fritsinger explained that the county and Essentia are in the process of assessing building improvements prior to building out the space based on individual provider needs.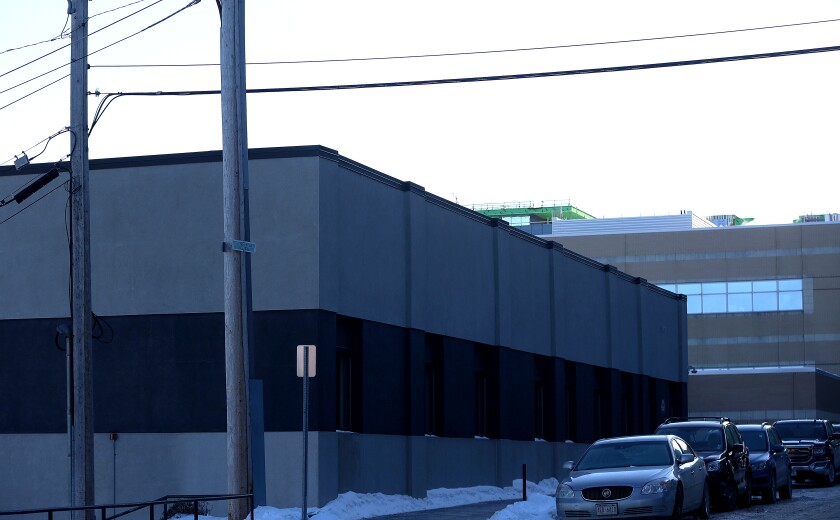 "The need for this type of service model has been in development for a long time," Fritsinger said. "The state recognized the need to look at innovative and creative ways, which were different from what has historically been offered."
State Sen. David Senjem, R-Rochester, wrote the legislation that provided the impetus to finding ways to create mental health hubs for all regions of the state. Northeastern Minnesota is notably one of the areas without access to a state-run community behavioral health hospital.
The health care provider anticipates continued intense need for critical care in the Northland.
Unlike those facilities, Clarity Project will not be equipped to provide overnight stays. Rather, it's envisioned as a regional center capable of triaging a person in crisis, while identifying a recuperative path all in one setting. Pharmacy and laboratory services are expected at the site.
"I am very excited to be moving forward and having a place people in our community can go to get immediate behavioral health care," Bossert said.
At Essentia, the move comes at a time of campus expansion and the construction of its new hospital nearby.
"The Clarity Project has the potential to make a pronounced — and lasting — impact on our region," Tony Matt said. "Essentia Health looks forward to advancing this work, which aligns with our mission of making a healthy difference in people's lives."