Minnesota nurses to vote Monday on strike
Members of the Minnesota Nurses Association will decide whether to strike following what they see as a lack of action from hospital executives during contract negotiations.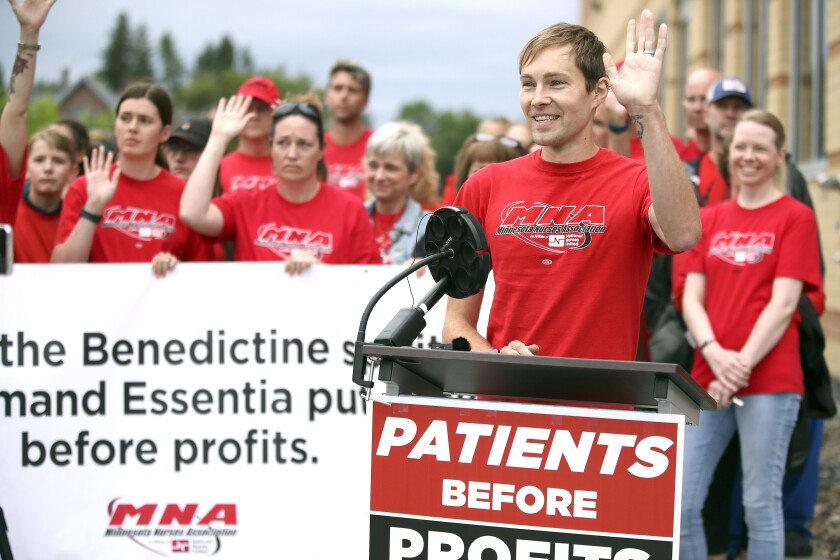 We are part of The Trust Project.
ST. PAUL — Minnesota Nurses Association members will vote on Monday to decide whether nurses will go on strike, MNA members announced Thursday morning at a news conference in St. Paul.
If a supermajority vote in favor of striking, 15,000 Minnesota nurses in the Twin Ports and Twin Cities would go on strike following a 10-day notice. According to MNA, the strike would be among one of the largest nurse strikes in U.S. history, and would be the first time Twin Cities and Twin Ports nurses acted together to strike in contract negotiations.
Minnesota Nurses Association nurses state low staff levels and retention rates, which put patients at risk, inspired the vote as they continue to negotiate new contracts. Additionally, Essentia Health nurses are writing to the Benedictine Sisters on the Board of Directors, asking them to advocate for staff and patients.
Nurses have been negotiating new contracts since March. Earlier this month, MNA members announced votes of no confidence in their hospital leaders, including St. Luke's co-CEOs and presidents Dr. Nick Van Deelen and Eric Lohn.
Frustrations raised by St. Luke's and Essentia nurses include inadequate and unsafe staffing levels, low wages and compensation, and lack of effort to retain nurses. The MNA slogan, "Patients before profits," refers to hospital executives taking home million-dollar paychecks while patients are overcharged and nurses are overworked, said Chris Rubesch, a registered nurse at Essentia and first vice president of the Minnesota Nurses Association, during the announcement of the vote Thursday morning in St. Paul.
"Nurses have one priority in our hospitals, to take care of our patients, and we are determined to fight for fair contracts so nurses can stay at the bedside to provide the quality care our patients deserve," he said.