Health Fusion: How women enhance the world of medicine
What's life like for a woman in medicine? A surgeon? In this 'Health Fusion' column, Viv Williams introduces you to a cardiothoracic surgeon who answers those questions and shares her thoughts on how the profession is changing for the better.
ROCHESTER — Recently, I had the opportunity to interview the first woman chief of the Division of Cardiothoracic Surgery at the University of Minnesota. Wow, was she an inspiration. Dr. Rosemary Kelly and I chatted about all sorts of things, including the importance of diversity in medicine (and in everything, for that matter) and what it's like to be the first woman in her position.
Before I get into details of our discussion, I have to share a little bit about her demeanor. Kelly is gracious, kind, super confident and a great listener. And listening, to me, is a quality that sets people apart from others. When you talk to someone who really listens to what you're saying, you feel as if you're the most important person in the world at that moment. Through listening, the listener tells you that you matter. And it can make the rest of your day sparkle. I bet Kelly has great bedside manner.
During our conversation, I asked Kelly what it was like to be a woman in medicine. A surgeon.
"It's a blast," says Kelly. "I think our society is starting to recognize the contribution women make and how it's different and yet it's equal. Woman bring a different perspective of our whole society. They have a strength. They're totally capable and confident and expert but they have a different perspective. And I think that different perspective actually makes us all better."
What is that different perspective? Kelly says women bring different skill sets, personalities and opinions to medicine. Such diversity brings in new ideas and offers patients the opportunity to interact with a healthcare provider that looks like them — to whom they can relate.
Kelly adds that women also bring new ways of doing things into medicine, such as figuring out how to build more life balance into people's lives. For example, many people want to be present when their kids have a piano recital. And that's not easy because many medical and surgical specialties are extremely time and energy demanding.
"The interesting thing is men want to be there too," says Kelly.
"We can do this if we do it together. If men and women both want to have time with family, then we support each other during those ebbs and flows and make sure you have the capacity to cover these totally worthwhile life events."
Even though work-life balance might be getting better in some ways, Kelly says the profession can still be challenging for many women.
"I think there are still barriers for women, because women in our society are still the primary parent and primary person at home," says Kelly. "We see that in every profession. Not just medicine. That's an additional confounder that women physicians still see because it's hard to be as present 1,000% at work when you know there are obligations at home."
Kelly's advice to women who want to go to medical school and become doctors is simply to go for it. She says if you work hard, find a supportive mentor and do good work, you'll reach your goals.
Kelly credits some of her success to the pioneering women in medicine who broke the glass ceiling a generation before her. But, in my eyes, Kelly is an example of what women or anyone can do if they're committed to reaching their goals at work and at home. She's a badass in the best way.
In April, I'll be starting a project geared toward helping women reach their goals — at work (want to clean up your wardrobe act?), home (need to finally organize that craft room?), in the gym (want to be able to lift that bag of water softener salt?), in the kitchen or the garden and more. Stay tuned for additional on how you can participate as our launch date gets closer.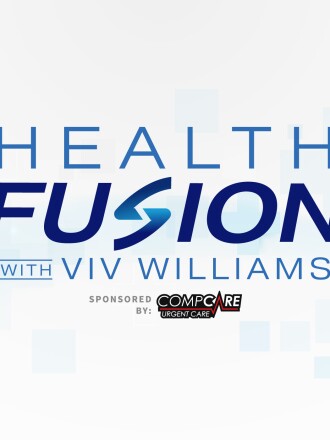 Follow the Health Fusion podcast on Apple , Spotify and Google podcasts. For comments or other podcast episode ideas, email Viv Williams at vwilliams@newsmd.com . Or on Twitter/Instagram/FB @vivwilliamstv.
When arctic blasts plummet temperatures, stepping outside can be dangerous. In this Health Fusion episode, Viv Williams talks to a researcher about what intensely cold air could do to anyone's lungs.