Essentia Health hires traveling nurses to aid staffing shortages
A post-Thanksgiving case surge would strain the local health care systems, which are already experiencing a high number of hospitalizations.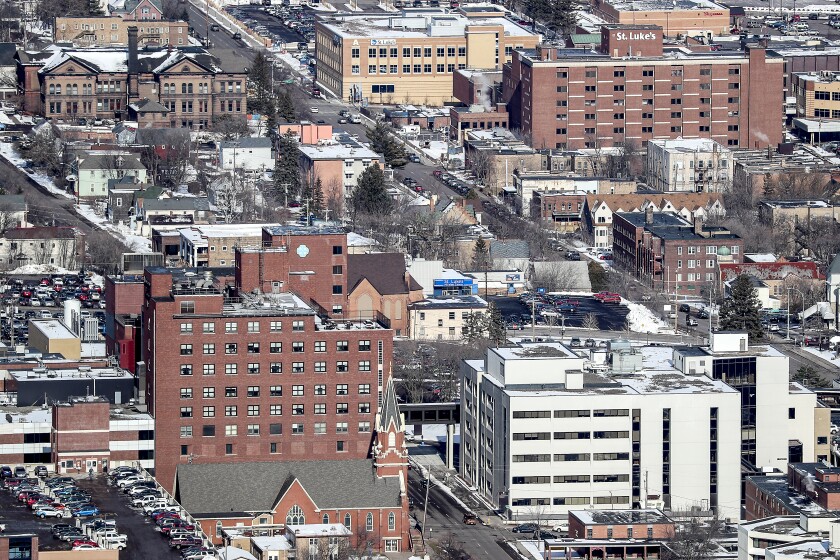 A hospital's staffing level often determines its bed capacity rather than the number of beds available.
Essentia Health and St. Luke's hospital, the Duluth-based health care systems, have been at or near capacity for some time now. And like most health care systems, they've had staff who are either sick with COVID-19 or in quarantine and cannot show up for work.
To help with that, Essentia Health has hired 24 traveling registered nurses to work in the Twin Ports and is looking to hire 19 more, both to fill holes in staff scheduling as well as to increase bed capacity if needed, said Essentia Health Chief Human Resources Officer Diane Davidson.
"Stable, but challenging," is how Davidson referred to the health care system's current staffing status. "So the fact that we've been able to attract these travelers is important to us."
The nurses are coming from all over the United States and often from COVID-19 hot spot areas where they've cared for patients with COVID-19. Essentia Health is primarily utilizing the traveling nurses in intensive care units and medical-surgical units.
The number of registered nurses who cannot work because they have tested positive for the coronavirus or are in quarantine varies by the hour, Davidson told the News Tribune.
"Earlier this month we had a significant number out, but fortunately that number is beginning to decline," she said. "If people stay safe and are vigilant over the Thanksgiving holiday we'll look at having very few RNs out on quarantine by the beginning of December."
Across the entire Essentia Health system, which includes 14 hospitals and 70 clinics in Minnesota, Wisconsin and North Dakota, almost 100 registered nurses were out due to COVID-19 reasons in early November. Only a fraction of those nurses worked in the Twin Ports.
Essentia Health has about 1,400 registered nurses work in Duluth and Superior.
St. Luke's hospital in Duluth began trying to hire six traveling nurses as well as a traveling lab position about a month ago, but so far hasn't had any success.
Both health care systems are working with agencies that connect them to nurses who travel for work. With a long streak of cold months ahead, one of the agencies told St. Luke's that hospitals in northern climates are having a harder time recruiting traveling nurses.
Mollie Lucia, a recruiter at St. Luke's, said the number of registered nurses out due to COVID-19 reasons fluctuates on a day-to-day basis and declined to share a figure.
Since the pandemic began, 40% of hospitalizations from COVID-19 in St. Louis County have occurred in the first three weeks of November, said St. Louis County Public Health Division Director Amy Westbrook in a Tuesday news conference with local leaders and hospitals.
"That is very concerning," Westbrook said. "As we continue to see community transmission spread, we, unfortunately, continue to see hospitalizations and our deaths increase."
About 10 people are hospitalized for COVID-19 reasons in St. Louis County every day.
Still, the majority of people who are hospitalized locally and across the state are not COVID-19 patients.
About 30% of Essentia Health's hospitalized patients have tested positive for the coronavirus, said Dr. Dawn Droter, division chair of hospitalist services, on Tuesday.
"We're needing that space and primarily staff to care for those patients," Droter said. "But I think it's important to realize that staffing is a very important limiting factor for us. Even though at times we have the physical beds we may not have the nursing staff, other supporting staff — physicians, respiratory therapists — to care for the number of patients we'd like to be able to care for."
On Monday, the state of Minnesota reported that more than 7,000 people were hospitalized across the state, about 2,000 of them COVID-19 patients.
Should the region experience a significant increase in coronavirus cases following the Thanksgiving holiday, both Droter and Dr. Nicholas Van Deelen, the chief medical officer at St. Luke's, said it would strain the health care systems, especially at a time when the number of hospitalizations is already high.
Hospitals would lean on their surge plans should that happen, Van Deelen said. That would mean more postponed surgeries for people who need them and less staff available.
"It's important to remember that across the state of Minnesota, health care systems are really at capacity," he said. "We're all struggling with the staffing needed to actually address the capacity levels we're at currently. A much more significant spike (would) result in a change that really is a negative for patient care."
For those reasons, doctors, epidemiologists, public health officials and others continue to make the plea for people to stay home and not travel or gather for the holiday.