Duluth first responders kept busy with medical calls as COVID-19 cases surge
Stringent policies have helped the Duluth Fire Department avoid any major outbreaks among staff, Chief Shawn Krizaj said, even as the agency nears the end of another record-breaking year.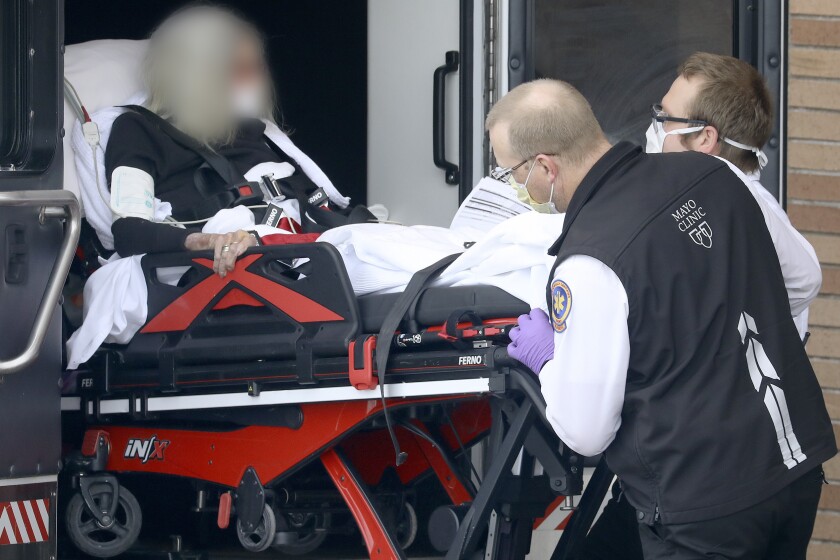 The calls are becoming routine for the Duluth Fire Department at this point.
A patient has tested positive for COVID-19 and is having trouble breathing. A resident has suffered a fall and needs help getting up at a long-term care facility where there is a known outbreak. Someone at a private home is experiencing any of the wide range of symptoms associated with the virus.
With virtually every call, it's become standard practice for 911 dispatchers to relay critical information about potential COVID-19 exposure risks — details that are deemed as critical and essential as the nature and location of the incident itself.
As the Northland experiences a major surge in COVID-19 spread, filling hospitals and leading to renewed closures of many businesses and schools, first responders say they are sparing no precautions when it comes to even the most basic of calls.
"Even a non-COVID call, where we're dispatched to a car accident to go help with a patient," Fire Chief Shawn Krizaj said. "You could find out later that that person was actually positive, so we're taking COVID precautions on calls even when we're not necessarily prompted."
The virus, and the many protocols that come with it, have only complicated what appears to be another record-setting year for the department. Based on call statistics heading into December, the agency expects to set new high-water marks in medical runs and total call volume.
It's difficult to measure the precise impact of COVID-19 due to the various methods used to log calls and the fact that one or more agency can arrive on the scene of any incident. Officials at the Mayo Clinic Ambulance Service, which handles patient transport, could not be reached for comment in time for this story.
But in Duluth alone, the fire department had been dispatched to at least 8,435 medical calls as of earlier this week. By year's end, officials expect that number to surpass last year's total of 9,183.
All fire department calls in 2020 sat at 12,645 — a number that was also on pace to top last year's total of 13,703 and 2018's sum of 13,255.
"We are definitely seeing more runs in general," Krizaj said, "and we've definitely got more fire-EMS calls."
Officials explained that statistics can fluctuate based on myriad factors; a major snowstorm, such as last year's post-Thanksgiving blizzard , is enough to skew numbers for a month. But the department saw a noticeable uptick starting in July, when firefighters were dispatched for 826 medical calls, around the time cases started accelerating in St. Louis County.
New protocols limit exposure, infection
The numbers, though, may not reflect the true impact of COVID-19, as it's believed some people could be avoiding calling 911 or seeking medical treatment due to fears of exposure.
"We've been trying to keep our personnel safe, to keep them from getting sick. But the other concern is not spreading it," Krizaj said. "If a firefighter has asymptomatic COVID, then they could be exposing a patient when they're working in close quarters, like on a car accident. So we're trying to think about safety in both directions — the firefighters and the community."
Krizaj said it hasn't been that much of an adjustment, considering firefighters have long worn some masks on some medical calls, and past pandemic threats such as the swine flu and SARS have helped them prepare for the major test brought on by COVID-19.
Citing extensive safety protocols, Krizaj said the department has been fairly successful in avoiding large outbreaks that could affect the agency's ability to respond. He said there had been eight confirmed cases among staff members as of early this week.
But it's taken significant effort to keep those numbers down.
There have been physical changes: A training room at the downtown headquarters has been repurposed to create additional living and bedroom space for better crew separation.
There have been changes in vehicles: Firefighters are often traveling separately to routine calls by pickup trucks, each of which are sanitized between runs.
There have been changes in staffing procedures: Instead of working throughout the city, firefighters can only staff fire halls in one of four zones, reducing the risk of spread among multiple facilities.
Krizaj said the department hasn't faced any shortages in personal protective equipment, having monitored the COVID-19 situation and ordering some 30,000 N95 respirators back in February.
"Back then, there were so many unknowns," he said. "Certainly, there still are some unknowns, but we've tried to adjust to the best practices of (the Minnesota Department of Health and the Centers for Disease Control and Prevention), and I think, in general, we've erred to the more cautious side of those guidelines. We've been a bit ahead of the curve and implemented things before they became recommendations."
Duluth police rebounding from outbreak
Meanwhile, the Duluth Police Department is instructing staff that it will maintain its emergency schedule into at least January, spokeswoman Ingrid Hornibrook said.
The department was forced to move to a five-days-on, 10-days-off rotation last month in an effort to tamp down a COVID-19 outbreak among staff. At its peak, at least 29 staff members were in quarantine due to either a positive test or suspected exposure.
All employees are being instructed to work from home, if possible. Investigators can be called upon to work patrol shifts, if needed to maintain minimum staffing levels. Many non-emergency calls are being handled through online reports and phone calls, rather than in-person responses.
Hornibrook did not have an exact number of people in quarantine this week, but said it's "way down," indicating the changes have made an impact.
"We're still able to staff investigations and patrol," she said. "Our deputy chiefs have worked hard to come up with a schedule that keeps the ball rolling and maintains the same level of service, because the most important thing to know is that we'll still be there for the community."